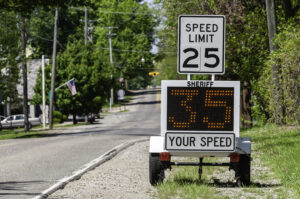 NHTSA reports highest estimated traffic fatalities since 2002, speeding a factor in more than a quarter
By on
Announcements | Education
The National Highway Traffic Safety Administration (NHTSA)'s early estimates of traffic fatalities for the first quarter of 2022 show that 9,560 people died in motor vehicle traffic crashes, which is the highest number of first-quarter fatalities since 2002.
The estimate is a nearly 7% increase compared to Q1 2021 projections of 8,935 fatalities.
"As of the first quarter of 2022, there have been 7 consecutive quarters of increases since the third quarter of 2020," the report states. "The third and fourth quarter of 2020 and the first and especially the second quarter of 2021 showed significant increases in fatalities as compared to the corresponding quarters of 2019 and 2020. The percentage increase in the second quarter of 2021 is actually the highest quarterly percentage increase in FARS [Fatality Analysis Reporting System] data recorded history."
NHTSA recently began breaking out fatality trends by state in its quarterly estimates. While fatalities increased nationwide, 19 states and Puerto Rico saw traffic deaths decline during the period. Twenty-nine states and the District of Columbia are projected to have an increase in fatalities.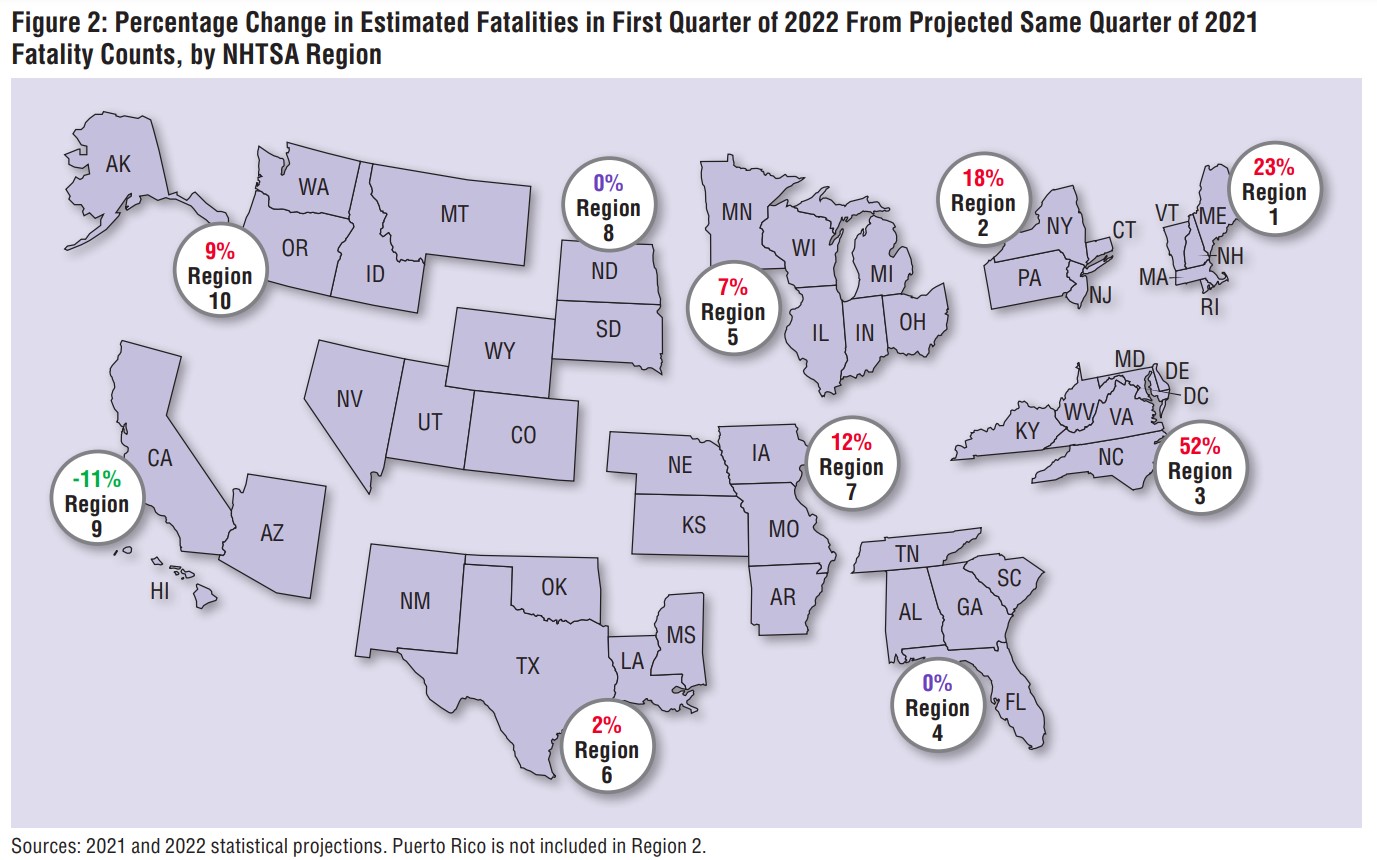 "The overall numbers are still moving in the wrong direction," said NHTSA Administrator Steven Cliff, in a statement. "Now is the time for all states to double down on traffic safety. Through the Bipartisan Infrastructure Law, there are more resources than ever for research, interventions and effective messaging and programs that can reverse the deadly trend and save lives."
The Bipartisan Infrastructure Law, also known as the Infrastructure Investment and Jobs Act, makes significant investments in highway safety. In January, U.S. Transportation Secretary Pete Buttigieg announced the National Roadway Safety Strategy (NRSS), which includes a special focus on reducing traffic fatalities.The 42-page plan focuses on five objectives – safer people, roads, vehicles, speeds, and post-crash care. The objectives correspond with the U.S. Department of Transportation-wide "Safe System Approach."
Last month, as part of the NRSS, NHTSA launched a public education campaign to address one of the most dangerous driving behaviors in the U.S. – speeding. According to NHTSA, 11,258 deaths and 29% of all traffic fatalities in 2020 were related to speeding, which was a 17% increase over 2019.
A study released in June by the Insurance Institute for Highway Safety (IIHS) states that speeding increased during the morning and afternoon commuting hours during the COVID-19 pandemic and had not yet returned to pre-pandemic levels. And CCC Intelligent Solutions' 2022 Crash Report found that speeding, as well as other risky behaviors like alcohol and drug use, "were tied closely to the COVID-19 pandemic and key factors driving increases in motor vehicle fatalities and motor vehicle accident severity over the past two years."
NHTSA's Speeding Wrecks Lives campaign "aims to change general attitudes toward speeding and remind drivers of the deadly consequences." The administration's regional offices are also helping states with NHTSA formula grant funds to address speeding, impaired driving, and vulnerable road user protection and to reach over-represented and underserved populations, according to the release.
IMAGES
Featured image credit: RiverNorthPhotography/iStock
NHTSA Q1 2022 traffic fatalities by region (Taken from NHTSA's "Early Estimate of Motor Vehicle Traffic Fatalities for the First Quarter of 2022" report)
Share This: