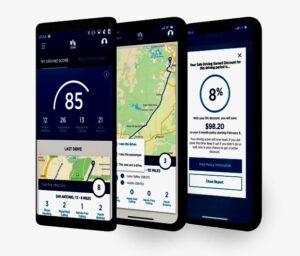 USAA has become one of the first auto insurers to implement automatic crash detection technology as part of its telematics app, "an innovation that simplifies and expedites the claims process," the carrier has announced.
Crash detection, incorporated in USAA's optional SafePilot app, uses smartphone sensors to detect a possible collision and asks the driver to verify whether a crash has occurred. If so, the app offers safety guidance, the ability to dial 911, and the option of filing a claim on the spot, "via a streamlined process."
Luke Harris, USAA's Vice President of Innovation, told Digital Insurance that the technology can make the claims process faster.
"The traditional claim process can be highly manual and involves a series of questions and answers to properly investigate the claim," Harris told the publication. "The availability of telematics data provides insights into accidents that can help reduce the number of questions and time involved in investigating the event, which allows our claims team to focus their time on addressing our members' specific needs and streamlining the process of getting them back on the road."
The documentation on SafePilot on the USAA website does not offer detailed information about the app's process for filing claims, including whether the app provides information about nearby collision repair shops, or with whom the app's data is shared. The terms and conditions for SafePilot require consent to "the transmittal, download, retrieval, access, storage, and use of the data by USAA and our third party service providers."
USAA's announcement also does not make clear whether crash detection is an opt-in or opt-out product, or whether it is a mandatory part of SafePilot. Questions submitted to USAA by Repairer Driven News were not answered by deadline.
In a press release, USAA said the technology "comes at a critical time," as the volume of accidents surpasses pre-pandemic levels. It said that it handled 500,000 more claims in 2021 than in 2020, "a trend felt broadly as pandemic restrictions were lifted and more cars returned to the roads."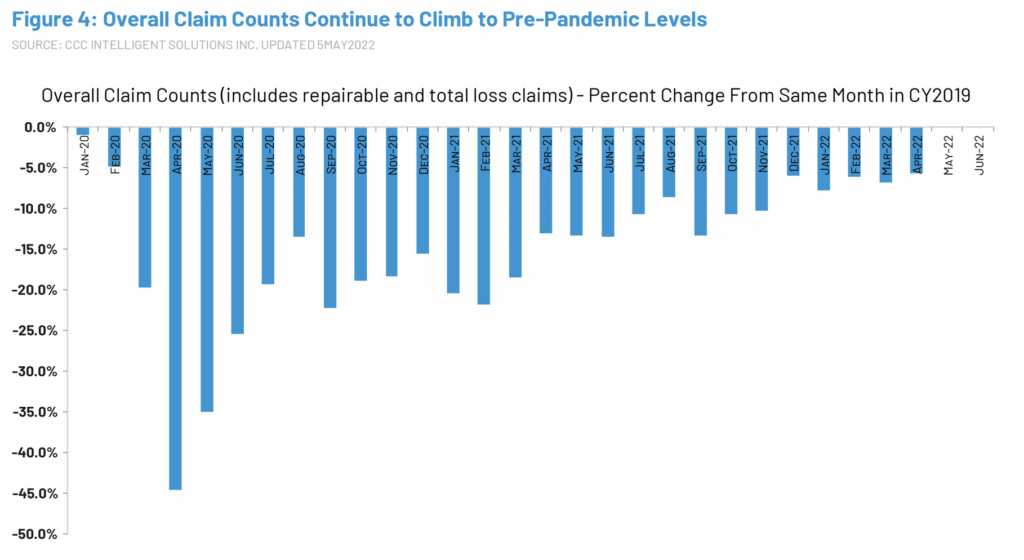 In a June update of its 2022 Crash Course report, CCC Intelligent Solutions noted a similar trend in claim counts and miles driven, in spite of higher gas prices and a continuation of remote work.
Based on several sources, including U.S. Department of Labor statistics, CCC estimates that 25% of the workforce is still working remotely. "Data from numerous analysts suggests nearly 40 percent of jobs in the U.S. could be done remote; and office occupancy data from Kastle Systems over 40 percent as of Q2 2022," the update says.
Yet the initial reduction in traffic appears to have stabilized as people take additional trips during the work day for other things, said Crash Course author Susanna Gotsch in a video accompanying the update.
USAA said rising premiums, a reflection of higher claim counts, and accident severity are prompting drivers to adopt SafePilot – a behavior-based insurance (BBI) that provides discounts for safe driving behaviors.
It said enrollment has increased by 200% from 2021 for the app, which is now offered in 43 states and Washington, D.C. There are plans to expand SafePilot to "nearly all states" in 2023, USAA said.
The app collects "date and time as well as driving behavior information relating to your vehicle including but not limited to speed, acceleration, braking, swerving, cornering, distance driven, location, handheld calling, hands-free calling, phone handling and other driving related data," according to the program terms and conditions.
The carrier is also offering usage-based insurance (UBI), a product it acquired when it bought smartphone telematics insurer Noblr in 2021. Its UBI determines rates based on miles driven and safe driving behaviors. It is currently available in 10 states with plans to expand to "the majority of states" in 2023, USAA said.
"This product is becoming popular for members now working from home or who use other forms of transportation (i.e., bike, public transportation) as a primary means of travel," the carrier said.
Cambridge Mobile Telematics' DriveWell Auto app also offers an automatic crash detection and first notice of loss (FNOL). DriveWell is used by such major auto insurers as State Farm, Liberty Mutual, and Nationwide, as well as regional carriers like Plymouth Rock, Mercury, and Erie, and insurtechs like Marmalade. The company works with 21 of the 25 largest U.S. auto insurers.
Matt Fiorentino, senior director of marketing for CMT, told Repairer Driven News in April that "automatic crash detection and digital FNOL are available today through the DriveWell platform on IoT [internet of things] devices like smartphones and Tags." The platform is offered on an opt-in basis, he said.
More information
USAA increases max discount for telematics insurance amid booming demand
Images
Featured image: USAA's SafePilot driver monitoring app now includes crash detection technology. (Provided by USAA)
Graph provided by CCC Intelligent Solutions.
USAA Launches Telematics App SafePilot in Seven New States
Members in these states now eligible to receive discounts up to 30% off auto policies
SAN ANTONIO, May 19, 2021 /PRNewswire/ — USAA members are showing an increased interest in behavior- and usage-based insurance programs. To accommodate growing demand, today USAA is announcing the expansion of its SafePilot program in seven new states.
The new states include Alabama, Colorado, Minnesota, Nebraska, Nevada, Oklahoma and Utah, with the program now offered in 23 states total.
The USAA SafePilot™ app instructs, inspires and rewards safe driving habits to help keep drivers safe on the road while lowering insurance premiums. Members who enroll in SafePilot are now eligible for initial policy discounts up to 10% for signing up for the program, and continued policy discounts up to 30% for safe driving behaviors.
USAA recently shared that SafePilot enrollments grew over 200% in 2020, and that nearly half of the new policyholders in states where the program was available opted-in to the program.
"COVID-19 has impacted the lives and finances of many Americans, and we are operating in an increasingly digital world accelerated by the pandemic," said Jim Syring, USAA P&C President. "We are excited to bring SafePilot to more members as part of our commitment to provide competitive products and services that support the military and their families, and to deliver best-in-class digital offerings based on current demands."
SafePilot is currently available in Alabama, Alaska, Arkansas, Arizona, Colorado, Iowa, Idaho, Kentucky, Maryland, Minnesota, Missouri, Montana, Nebraska, New Mexico, Nevada, Ohio, Oklahoma, Oregon, South Dakota, Tennessee, Texas, Utah and Virginia, and is launching in most states throughout 2021 to accommodate growing demand.
In addition to discounts, members may be eligible for extra savings through bundling their auto and homeowners' insurance.
September 22, 2021
Daily driver enrollment is 203% higher than in 2020
SAN ANTONIO – (September 22, 2021) Following increased member demand for more personalized auto insurance, USAA is announcing its telematics app SafePilot has launched in the majority of states.
SafePilot is now available in 34 states, with plans to roll out even more broadly throughout the rest of the year. Daily driver enrollment year-to-date is 203% higher than in 2020, and policy growth year-over-year is nearly 75%, with almost half of new policyholders opting into the program.
Where can I get my car repaired, and what are the benefits of using a USAA-preferred shop?
You have the right to use the shop of your choice to repair your vehicle. We're prohibited by law from requiring that repairs be done at a specific shop. Your policy will cover the reasonable costs of repairing your vehicle no matter where you go. If you prefer assistance, USAA can provide access to a network of qualified service providers.
With a USAA-preferred shop, you get:
A lifetime warranty.
Convenient scheduling.
An Enterprise Rent-a-Car onsite or nearby.
An estimate that's available on usaa.com or the USAA Mobile App.
Payments made directly to the preferred shop on your behalf. You only have to pay your deductible, if applicable.
Share This: