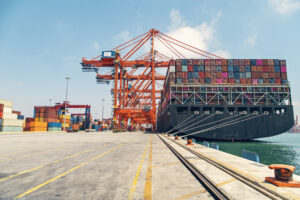 Shipping industry analysists and executives say there might be a "light at the end of the tunnel" for supply chain disruptions, specifically in ocean shipping and trucking drayage.
HCS International President and CEO Steve Hughes tells Repairer Driven News the semiconductor shortage is still a major problem for the automotive industry the issue has been "fluid."
"The industry has been reacting, and has to react, almost on a daily basis since the early days of COVID," Hughes said. "It's been an evolving issue. We had 109 ships at LA Long Beach in January and now there's 10. That's nothing compared to six months ago. That's a huge change for us going on in LA Long Beach but we've got a record number of ships at anchor around the nation now, I think it's 155 right now, and that's because a lot of the importers decided to avoid the West Coast to stay away from problems that may come up from the contract negotiations that are going on right now."
During an Aug. 24 webinar held by the Auto Care Association, a panel discussed the current status of ocean shipping and the outlook for the coming months through the start of 2023. Panelists included Port of Long Beach Operations and Administration Deputy Executive Director Noel Hacegaba, Cargomatic Head of Strategy Weston LaBar, and S&P Global Market Intelligence Maritime, Trade and Supply Chain Vice President Peter Tirschwell. Hughes served as the moderator.
In summary of the COVID-19 pandemic's effect on the supply chain and shipping system, Tirschwell said one major difference between pre- and post-pandemic is a lack of recovery and normalcy to the flow of cargo, equipment and ships after periodic disruptive shocks to the container system.
What has been the new normal over the last two years, Tirschwell said, is a rapid succession of shocks to the system that happen so quickly there's no time in between each one for adjustment. Those have included the extreme increase in inventory volume because of a shift in spending patterns, the Suez Canal shutdown and various pandemic-related shutdowns, and significant West Coast rail bottlenecks, he said.
During the first half of this year, there was an overabundance of inventory orders by retailers that resulted in a pile-up of containers at ports, railheads, and distribution centers. "There was, and remains, a significant mismatch between inventories that were ordered and brought into this country and the merchandise that consumers want to buy," Tirschwell said.
The result was that import containers sat at terminals because the merchandise wasn't needed, which was the root cause for a backlog of ships sitting at ports, he added.
The panel said there's now a "deluge" of empty cargo containers covering up ports after retail inventory is sold off at discount without any incentive for carriers to come get them. Last year, when the highest freight shipping rate topped out at around $30,000 per container "carriers were racing empty containers back to Asia… to capture unprecedented, record high shipping rates." And, due to Asia more than doubling the number of containers they manufactured last year, they also don't need empty containers, Tirschwell said.
Imports so far this year, compared to 2019, are still up nearly 30%, which puts a great deal of pressure on a system that wasn't able to "flex up" to handle the increased demand due to the pandemic and a significant labor shortage, he added.
Hacegaba said the surge in imports that began in December 2020 carried the U.S. through 2021 and the first half of 2022. It's still yet to slow down, too, with container volumes up 5.3% as of June 30 over last year, which was already a record, he said.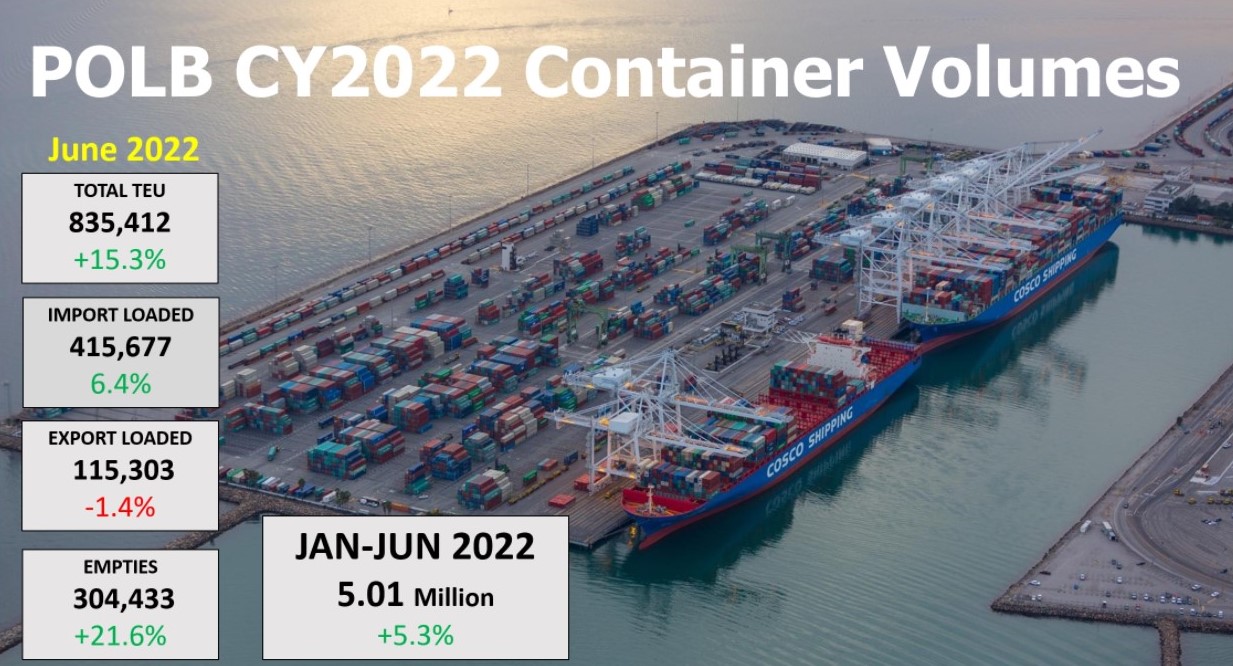 "I do believe that, at some point this year, the weight of inflation, the changes in discretinary spending, the outwork on the economy is going to take a toll. Shippers are already reporting in quarterly earnings reports that they were over-aggressive on inventory. …I believe that towards the end of this year, we're going to start see a softening."
Port of Long Beach took three "major" actions to address the pile up: repurposed vacant land inside the port beginning with 20 acres and expanded that to more than 130 acres to accommodate 1 million TEU (20 foot containers) per year, expanded the port's operating hours, and are imposing a fee on ocean carriers who leave empty containers at port, Hacegaba said. The result was a 21.6% decrease in empty containers at the port as of June compared to November 2021.
The biggest remaining issue is fluctuation in volume that truck drivers can't match, LaBar said. On top of that, there's congestion at many terminals with an average time of 86 minutes to get trucks through and 26% of the transactions taking two hours or longer. And while some have said driver shortages are part of the supply chain disruption, LaBar disagrees.
"Adding more drivers doesn't necessarily fix the problem," he said. "The lines just get longer."
As a solution, some companies, including Cargomatic, are moving cargo off the docks for customers to pick up from there.
Hughes told RDN that drayage trucking is being stressed and "our members in the automotive aftermarket are responding as best they can given the circumstances." He thinks there is going to be a big dropoff in automotive sector cargo imports during Q4 2022.
"Our industry has always been [of the mindset that] we want to keep our inventory trends as high as possible. …What's happened over the last year or so is so many people have been out of inventory and lost sales that they've turned to what is now commonly referred to as a 'just in case' inventory model. …That's part of why we have so much inventory in warehouses."
Tirschwell noted during the webinar that U.S. exports haven't grown anywhere near as much as imports have grown over the past two to three years and, as a result, "a much larger percent" of cargo containers going out are empty. He anticipates a second wave of empty containers piling up. "In no way, shape or form are we out of the woods yet," he said, adding that "more hassle" will continue at least through the end of the year and into early 2023.
LaBar thinks there will be "a lot of trial and error moving forward" and noted that beginning Jan. 1, 2023 roughly a third of U.S. cargo trucks won't have access to ports in California because they'll essentially become illegal in the state. That's due to passage of the California Air Resources Board (CARB)'s Advanced Clean Fleets Rule, which requires drayage trucks to have a 2010 or newer model year engine and "a transition from the conventional combustion technologies to zero-emission everywhere feasible."
RDN reached out to a couple of OEMs – General Motors and Toyota – to ask about their solutions to supply chain disruptions, the semiconductor chip shortage, and their outlook on the issues moving forward.
OEMs have been faced with a tough challenge due to the semiconductor chip shortage: eliminate parts and features to get vehicles to consumers faster or halt production. This summer, due to the continuing chip shortage, GM began building some 2022 Chevrolet Equinox and GMC Terrain vehicles without Rear Cross Traffic Alert and Lane Change Alert with Side Blind Zone Alert, a spokesman for the OEM previously told RDN. GM said changes to affected vehicles will be reflected on their build record (invoice) and window label.
"Our production has been relatively strong and stable since the third quarter of last year," GM spokesperson Sabin Blake told RDN last week. "Outside of a few instances, all GM North American assembly plants have been running regular production since November 1, 2021. However, short-term supply disruptions continue to occur. We are actively working with our suppliers to resolve issues as they arise to meet pent up customer demand for our vehicles."
In March, Toyota said it was facing "intermittent production delays due to many supply chain disruptions" and was "working diligently to do everything possible to lessen the inconvenience" to its customers and suppliers. The intermittent delays remain due to supply chain disruptions, according to Toyota spokesperson Victor Vanov.
"To minimize the impact, our teams are working diligently to do everything possible to lessen the inconvenience to our customers and suppliers," he told RDN. "As the state of the supply chain remains fluid, we are still confirming the production outlook for September in North America. …There is no impact to standard features on our vehicles at this time, and while it varies from product to product, certain premium features could be impacted, however safety and quality will not be compromised. Safety, quality and customer satisfaction is our top priority, and we will always deliver completed products to customers with all features. We will not inconvenience customers by retrofitting certain features on our products by asking them to return to the dealership."
Bloomberg reported earlier this month that global chip sales growth had been decelerating for six months and semiconductor sales rose 13.3% in June compared to June 2021.
IMAGES
Featured image credit: bfk92/iStock
Container volumes slide (Screenshot taken from webinar)
Share This: