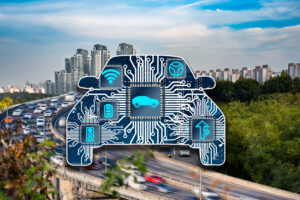 As the COVID-19 wages on, its effect on the manufacture of semiconductor chips continues to leave OEMs with two choices – leave advanced features, such as heated seats, park assist, and more off of their vehicles to get them to consumers faster or halt production altogether. And collision repairers are faced with figuring out if parts that show up in relation to VINs are actually on the vehicles or not.
OEMs have also been competing with increased semiconductor demand by consumer electronic companies throughout the pandemic as employees shifted to working from home and students largely attended classes remotely. In addition to that, the Russian invasion of Ukraine has recently shut down European factories that produce automotive components, according to Forbes.
So how does that affect repairs to these new vehicles post-collision? Sources told Repairer Driven News it will likely affect – and in some cases already has affected – estimating, parts sourcing, and repair plan processes.
"I could think of some situations where some manufacturers are going to be delivering cars without certain options today but then they go, 'OK, it's an I owe you later on,'" said Database Enhancement Gateway (DEG) Administrator Danny Gredinberg. "The scenario could be, how does a repairer know if something's missing or not? …I haven't personally run across anything from an estimating standpoint that would directly affect it other than verifying everything on the vehicle whether it's part numbers and the actual component of the car versus what the system may be suggesting. …Have the dealership always verify the part number or the part you're ordering to the specific VIN of the vehicle to make sure it's applicable or not."
While Gredinberg doesn't see the check-in process being delayed, it could likely make the repair blueprinting, parts mirror matching, and/or parts sourcing take longer. "Extra time upfront spent is always going to be the saving grace because there's nothing worse than waiting two or three weeks for your part to finally show up and then it's the wrong part," he said, adding that it could be time spent waiting on a part that wasn't there to begin with.
Michael Bradshaw, with K&M Collision in Hickory, North Carolina, said he's already seen part codes show up in connection to VINs when the parts aren't actually on the vehicles.
"You're kind of accustomed to seeing certain options come with those trim levels and so I think maybe as an estimator you've really got to be more in tune," he said. "Because what we're seeing is, essentially, it'll still be optioned as the same trim level but maybe some of the technology features have been deleted from that trim level because they [OEMs] don't have them. That would be the biggest hurdle in my mind and just having to be more cognizant of VIN and option decoding to really look at what features that vehicle is equipped with and how that may differ from the norm. …It changes how you have to handle the vehicle and what those calibrations or inspection procedures may look like."
CCC Intelligent Solutions' most recent Crash Course report states the average new vehicle manufactured today contains more than 1,000 semiconductor chips for interior lighting, engine cooling, battery management, tire pressure monitoring, seat control; oil, fuel, and water pumps, ADAS features, and more.
"Production of new vehicles featuring some of these technologies declined, however, due to shortages of semiconductor chips, which began to plague auto manufacturers in 2020 and 2021, resulting in nearly 10 million fewer new vehicles produced globally," Senior Director and Industry Analyst Susanna Gotsch wrote in the report. "Fewer vehicles available for sale at a time when demand was strong encouraged automakers to shift available chips to produce their most profitable and expensive vehicles, driving more consumers into the used vehicle market. Used vehicle prices and their retention values soared in 2021 and with available inventories of both new and used vehicles anticipated to remain tight through 2022, used prices and retention values are expected to remain elevated through 2022."
Mitchell International Database Development and Industry Relations Senior Director Jerry Gastineau said shops are having to wait on OEM parts to come in, either due to the chip shortage or the overall global supply chain issues depending on the part, or they may have to make the decision to use aftermarket or salvage parts instead. They might also consider repairing a part rather than replacing it, which slows down the estimating process, he said.
"Recently, we've been noticing changes in the parts catalogs from the manufacturers," Gastineau said. "We can't draw a clear causation because they haven't told us; it's just our observation that it seems like they're recognizing there are changes in production because …the date break is indicating that they've changed the part somehow and maybe that's a part that had a semiconductor chip in the first part [production run] and doesn't in the second."
While data trends on parts usage, cost, and cycle time were "creeping a little bit" last year, talking to repairers shows the impact is more severe than the numbers reveal, according to Gastineau.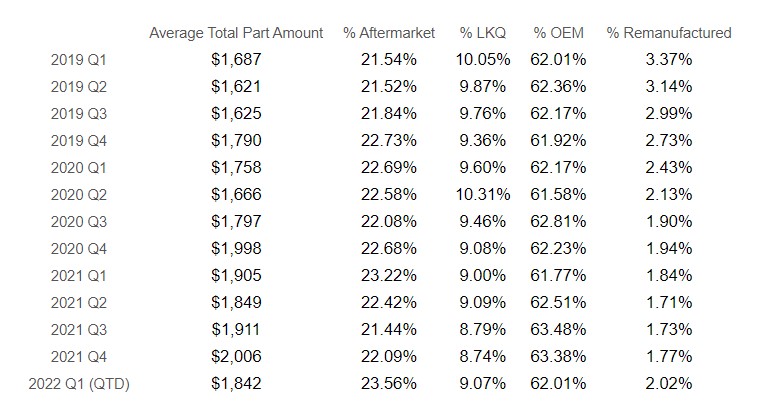 "Going forward in this new world, if it's a component that could potentially have a chip in it, which is a lot of components now… some extra care should be taken," he said. "Since vehicles are being shipped incomplete, it could be that the VIN decode and the options expected aren't actually what's on that car. …The appraiser should carefully examine which features are on the car and if that impacts parts ordering and parts sourcing, spend the extra time to make sure they're trying to source the correct part that actually matches the feature on the car because it could be different."
According to Forbes, within the past month, Ford, General Motors, Porsche, and Toyota have had to reduce production speed or halt operations at some plants due to the lack of chips.
GM Authority reports that GM has omitted several features in six of its 2022 model year Cadillacs including heated steering wheel, heated front seats, ventilated front seats, heated outboard rear seats, rear park assist, and front and rear park assist due to the chip shortage. Nine Chevrolet 2022 models and six GMC models have also been affected by omissions of most of the same features.
"Overall, we have seen better consistency in semiconductor supply through the first quarter compared to last year as a whole," GM spokesperson Sabin Blake told RDN. "This has translated into improvement in our production and deliveries during the first three months of the year. However, there is still uncertainty and unpredictability in the semiconductor supply base, and we are actively working with our suppliers to mitigate potential issues moving forward."
Toyota said in January it "expects to miss its annual 9 million vehicle production target slated for September because competition for semiconductors meant it didn't have enough to ramp up car output to offset production lost during the pandemic last year," according to Reuters. While global production was predicted to be higher than last year, the number of cars rolling off the line in February was expected to be 150,000 fewer than it had initially planned.
Toyota spokesperson Victor Vanov told RDN that the company's North American plants "continue to face intermittent production delays due to many supply chain disruptions."
"To minimize the impact, our teams are working diligently to do everything possible to lessen the inconvenience to our customers and suppliers," he said. "As the state of the supply chain remains fluid, we are still confirming the production outlook for April in North America.  We do not expect any impact to employment. Toyota is committed to long-term employment stability."
Porsche spokesperson Marcus Kabel had similar remarks. "We are closely monitoring the situation regarding semiconductors in order to limit the impact on our production as much as possible. The Volkswagen Group is counting on a gradual recovery in the supply of semiconductors in 2022. The supply situation with semiconductors will initially remain tense: there are still major risks due to the corona pandemic – for example due to the spread of the Omicron variant – which could have a negative impact on the situation."
Forbes says Ford plans to deliver its new Explorer without rear seat climate controls and last year decided to delete the stop-start feature in its F-150s. Ford didn't respond to a request for comment from RDN.
Some parts can later be retrofitted and some OEMs are offering credits to buyers to spend on other options to make up for the missing features, according to Forbes and Edmunds. Edmunds also reports that OEM Genesis has chosen a different route with some of its models in response to the shortage. It chose to downgrade the safety systems on its G80 sedan and GV70 and GV80 SUVs from Highway Driving Assist II (HDA II) to a lower-level HDA system in the G80 and GV80 models, according to Edmunds. The GV70 will lose HDA II from its list of optional features.
Nearly all of the 19 OEMs that spoke to Consumer Reports about the issue in October said the chip shortage wouldn't affect safety equipment.
Global consulting firm, AlixPartners, reported in September that OEMs lost an estimated $210 billion in 2021 – an increase of $100 billion over its May 2021 estimate – and lost out on producing 7.7 million vehicles due to the chip shortage.
IMAGES
Featured image credit: Jae Young Ju/iStock
Average part costs and usage type data table (Provided by Mitchell Auto Physical Damage Claims Performance Director Ryan Mandell)
More information
Inflation: What are the causes & how should shops plan ahead?
Chip shortage bad news for OEMs, car buyers, but okay news for shops?
Share This: