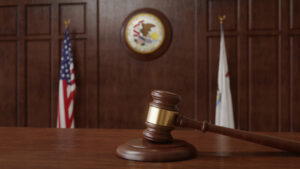 State Farm faces possible class action suit over 'arbitrary' adjustment of total loss claims
By on
Insurance | Legal
State Farm is facing a proposed class-action lawsuit that accuses the nation's largest auto insurer of systematically underpaying thousands of total loss claims by applying a percentage discount to the value of comparable vehicles to account for "typical negotiation."
The plaintiffs accuse State Farm of conducting a "blatant and unlawful scheme" by directing its third-party data provider to apply "a deceptive, arbitrary and baseless 'typical negotiation adjustment'" to its researched values.
The across-the-board adjustment of 4-11% applied to used vehicles' internet prices, used in setting actual cash value (ACV), "is based on no negotiations, typical or otherwise, and does not reflect market realities," the suit states.
"This sliding percentage scale does not reflect 'actual value' of the vehicle … or any 'typical negotiation,' but rather is meant to ensure that Defendant's total loss payments are significantly reduced," the suit states.
It claims that the practice is not allowed under State Farm's own policy language, nor under relevant state insurance laws and regulations.
The 20 plaintiffs, each from a different state, are seeking class status for "All persons insured by Defendant in any state who, from the earliest allowable time through the date of resolution of this action, received a first-party total loss valuation and payment on an automobile total loss claim that included a 'typical negotiation' or similar adjustment.'"
On behalf of the proposed nationwide class, the suit accuses Illinois-based State Farm of breach of contract, breach of covenant of good faith and fair dealing, unjust enrichment, and violations of Illinois' Consumer Fraud and Deceptive Business Practices Act, 815 ILCS 505/2.
The 402-page lawsuit, filed in the U.S. District Court for the Northern District of Illinois, also proposes subclasses for 45 states and the District of Columbia, if necessary, and repeats its charges for each subclass.
The suit seeks unspecified damages, costs, and pre- and post-judgment interest, as well as an injunction against State Farm.
The discounts that State Farm instructs its data provider, which the suit claims is Audatex or AudaExplore, to apply are not based on negotiations and do not reflect market realities, the plaintiffs claim. They note that State Farm is ignoring the realities of no-haggle pricing that has become common in the used-car market.
"Particularly during the COVID-19 pandemic, and the related supply chain problems with parts such as electronics for vehicles, used cars have been selling for a premium, with sale price typically increasing from posted price if it changes at all," the suit states.
Although State Farm offers an appraisal clause, the plaintiffs allege that the insurer is aware that the cost to the consumer of hiring an appraiser would likely outweigh the difference in ACV being sought.
"As designed by Defendant, the appraisal provision prevents Plaintiffs and the Class from effectively vindicating their rights under the Policy," the suit states.
The plaintiffs claim that State Farm does not apply percentage reductions to ACVs in California, under the terms of a settlement reached in a 2008 lawsuit. While admitting no wrongdoing, State Farm paid $15 million to California residents as part of that settlement, according to court records.
Included with the suit is documentation from each of the 20 plaintiff's claims, related to total loss declarations made between Feb. 26, 2017 and May 22, 2021. For example, in determining an ACV for a 2010 Toyota Camry SE 4D Sedan owned by plaintiff Bernadette Williams, AudaExplore relied on two comparable vehicles, one advertised for $7,894, and the second for $9,995.
AudaExplore adjusted the first vehicle's value up by $325, to account for differences in vehicle descriptions, bringing the comparable value to $8,219. It then applied an unspecified adjustment for "typical negotiation" that brought the value to $7,587 – a reduction of 7.7%.
Similarly, differences in vehicle descriptions brought the second vehicle's comparable value down to $8,915, which was then subjected to a "typical negotiation" adjustment. The value used for the purpose of determining ACV was reduced to $8,915, a reduction of 7.3%.
"The vehicles with lesser value are subject to a greater percentage reduction, with the percentage adjustment becoming lower as the value of the 'comparable vehicles' increases," the lawsuit alleges. "This percentage reduction artificially reduces the total-loss payment for the totaled vehicle."
More information
Click to access 1-22-cv-01422-2.pdf
Appeals court reinstates parts of class action total loss suit against Geico
N.Y. drivers seek class action against Progressive for systemically underpaying total loss claims
Images
Featured image provided by HT Ganzo/iStock
Share This: