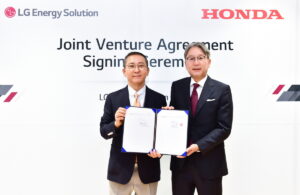 Honda and LG Energy Solution (LGES) announced Monday that they will invest up to $4.4 billion in a new factory to produce lithium ion batteries to power Honda and Acura electric vehicles (EVs) sold in the North American market.
The partners said they expect to begin construction in early 2023 at a U.S. site that is yet to be finalized. Mass production of advanced battery cells is expected to begin by the end of 2025.
The joint venture plant aims to have an annual production capacity of approximately 40-gigawatt hours, which translates into enough for a run rate of at least 400,000 vehicles a year. All of the pouch-type batteries will be supplied exclusively to Honda plants in North America, the OEM said.
LG and Honda said they decided to build the plant in the U.S. based on the shared belief that expanding North American vehicle production and ensuring a timely supply of batteries would best position the companies to capitalize on the growing market for EVs.
"Our joint venture with Honda, which has significant brand reputation, is yet another milestone in our mid- to long-term strategy of promoting electrification in the fast-growing North American market," Youngsoo Kwon, CEO of LG Energy Solution, said in a statement. "Since our ultimate goal is to earn our valued customers' trust and respect, we aspire to position ourselves as a leading battery innovator, working with Honda in achieving its core initiatives for electrification, as well as providing sustainable energy solutions to discerning end consumers."
Toshihiro Mibe, president, CEO and representative director of Honda Motor Co., said, "Honda is working toward our target to realize carbon neutrality for all products and corporate activities the company is involved in by 2050. Aligned with our longstanding commitment to build products close to the customer, Honda is committed to the local procurement of EV batteries which is a critical component of EVs. This initiative in the U.S. with LGES, the leading global battery manufacturer, will be part of such a Honda approach."
Honda has previously announced plans to build some 800,000 EVs in North America by 2030. It anticipates that EVs will account for 40% to 50% of its total production in the market by that date.
The OEM has said it intends to achieve carbon neutrality for its products and corporate activities by 2050, and to sell nothing but battery-electric and fuel cell EVs in North America by 2040.
North American battery production is a key requirement for federal tax incentives under the recently enacted Inflation Reduction Act (IRA). Under the legislation, to qualify for up to $7,500 in tax credits, EVs must incorporate battery materials sourced from countries the US has a trade agreement with – which excludes China – and a certain percentage of the battery must be made in North America.
The IRA provides OEMs with another incentive to locate battery plants here as well: $35 per kilowatt hour (KWh) in tax credits to manufacturers for each U.S.-produced battery.
California last week announced that its California Air Resources Board (CARB) had approved a rule banning the sale of all new gas-powered cars by 2035. Honda issued a statement in support of that rule, which it said represents "an ambitious but important milestone in the future of clean mobility."
The statement went on to say, "while we fully share the goals of the recently revised federal EV tax credit, the reality is that very few to no electric vehicles will be eligible for this critical incentive in the near term. Today's action by California makes it more important than ever for policymakers to enact complimentary policies that will accelerate – not decelerate – the adoption of electric vehicles. Honda has a long history of working alongside the state of California, and we look forward to continued collaboration with the state and other stakeholders on the best ways to achieve our shared climate goals."
Earlier this month, Honda said that it would be bringing its first all-new, fully electric vehicle to market in 2024. Named the Acura ZDX, the vehicle is being co-developed with General Motors, using GM's global Ultium EV platform.
Plans call for Acura to launch additional EV models starting in 2026 based on the company's own global e:Architecture, Honda said.
"The Acura ZDX represents the start to what will be an accelerated path toward electrification by the end of the decade and the key role the Acura brand will play in our company's global goal to achieve carbon neutrality in 2050," Emile Korkor, assistant vice president of Acura National Sales, said in a statement.
Images
Featured image: Youngsoo Kwon, CEO of LG Energy Solution, and Toshihiro Mibe, President, CEO and Representative Director of Honda Motor Co. (Provided by Honda)
Share This: