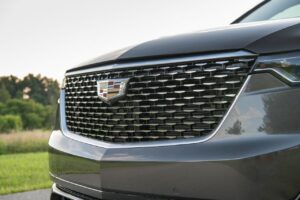 On certain General Motors vehicles, something as simple as a bent license plate can trick a forward collision warning system into giving false warnings, GM has advised its dealership service technicians.
According to an article in GM TechLink, "outside factors may influence a collision warning, which may occur when coming to a stop and there is not a vehicle or object in front of the vehicle."
If a false collision warning is present, technicians are advised to perform a visual inspection of the vehicle to check for any conditions that might be interfering with the system's operation. "Exterior conditions or objects, even a small bend in a license plate or a dirty camera or sensor, can affect the Driver Assistance systems," GM said.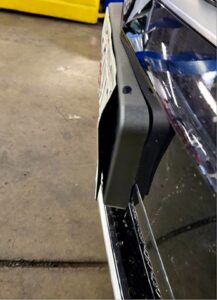 The advisory directs techs to refer to the diagnostic aids in the appropriate Service Information for the vehicle for more information.
When a false warning occurs, no DTCs will be set, because the system assumes that the sensors are working properly. However, GM said, the condition "usually can be easily duplicated when driving the vehicle."
When the system detects a vehicle ahead and determines that a collision is imminent, it provides an audible warning or a tactile vibration of the Safety Alert Seat, as well as a visual alert on the windshield or in the Head-Up Display, if so equipped. The timing distance for the system can be set to Far, Medium or Near using the button on the steering wheel, which also functions as the Adaptive Cruise Control following gap setting.
GM notes that the system also works with other advanced driver assistance systems (ADAS) features, such as adaptive cruise control.
While the advisory specifically refers to the Forward Collision Alert system (RPO UEU) available on 2020-2023 Cadillac XT6 models, it would seem to have broader applicability for repairers. The specified system uses a windshield-mounted frontview camera, or, on models equipped with the Enhanced Automatic Emergency Braking system (RPO UGN), the frontview camera, the long range radar sensor module and two short range radar sensor modules to detect vehicles and other objects in the lane ahead.
The article provides a recent example from a dealership, where a front license plate with bent corners was affecting system operation, resulting in a collision warning without anything in front of the vehicle. When the front license plate, not the bracket, was removed, the symptoms were no longer present and the Forward Collision Alert system operated properly.
"Always check for any vehicle damage that could affect camera or sensor operation," GM said. It also notes that, for object detection and braking systems on the rear of the vehicle, "common items such as a hitch receiver or bike rack also may result in unwanted object detection."
GM also provided instructions on how to change the system's settings. To change the Automatic Emergency Braking and Forward Collision Alert system setting to Alert and Brake, Alert, or Off, go to Settings > Vehicle > Collision/Detection Systems > Forward Collision System.
Images
Featured image: The grille of a 2022 Cadillac XT6. (Provided by Cadillac)
A bent license plate resulted in a collision warning without any object being in front of the vehicle, GM said. (Provided by GM)
Share This: