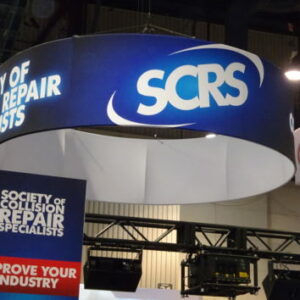 The Society of Collision Repair Specialists (SCRS) has announced its lineup of speakers for the IDEAS Collide Showcase at the 2022 SEMA Show on Nov. 4.
The showcase will take place from 10:30 a.m.-12:30 p.m. in the Upper South Hall of the Las Vegas Convention Center, Room S233.
The one-of-a-kind event features nine fast-paced presentations designed to stimulate thought, innovation, and resolution of business challenges with brash, outspoken, and provoking concepts from thought leaders both in and out of the industry, according to an SCRS news release.
Explore and register for the IDEAS Collide Showcase, and other SCRS Repairer Driven Education offerings at the SEMA Show by visiting scrs.com/sema-rde-registration. To add sessions to your "Map Your Show" schedule, click here.
"The goal with this program has always been to get people to stop and think," said SCRS Chairman Bruce Halcro. "The format of this event is the key, and what makes it so special. The short, fast-paced delivery allows attendees to consume a lot of unique thoughts, and potentially be exposed to subject matter they might not otherwise have chosen to participate in if [it] were a longer, singularly focused session. We frequently get comments from participants how they were surprised at the topics they enjoyed the most, and I credit that to the exposure they get to so many speakers in this two-hour showcase."
The IDEAS Collide Showcase is included the Full Series Pass, which also includes one regular session in each available time slot, access to each session of the OEM Collision Repair Technology Summit, and one ticket to the Sky Villa after-party on Thursday night. It is not necessary for you to select individual sessions. Your pass will allow you VIP access to all your sessions. To register for a Full Series Pass, click here.
The showcase will feature the following speakers and topics:
"A Pattern of Basic Assumptions" with Jeff Peevy, I-CAR Vice President Technical Products, Programs & Services, I-CAR
"The single most limiting element to business performance is an unrecognized pattern of basic assumptions," the release states. "These assumptions create the framework for the cultures you live in, at work and at home. Becoming aware of these assumptions allows individuals and groups to be open to learning, adapting, and championing new challenges."
"The Psychology of Money" with Scott Broaddus, CFP/partner at Irongate Capital Advisors
"Every day we are bombarded with world news and how it may impact our financial health. Join investment advisor Scott Broaddus who will share how personal biases and emotional factors play important roles in how we make financial decisions and how to think more rationally about money."
"Vehicle History Reports: How to Turn the Tables and Make Them Work to Your Advantage" with Thomas Allen, Condition Now LLC founder/CEO
"Vehicle history reports have had tremendous effect on the collision industry and its customers. In this session, Tom Allen will explore the possible sources of initial damage records and the result these damage records have on vehicle values and customer satisfaction. Understand why OEM-certified shops represent the best way forward to present an opt-in solution for consumers to clarify incomplete or erroneous damage information; and how, if adequately documented, repair facilities can present solutions to consumers to mitigate the damage information that makes its way onto the vehicle's permanent record resulting in a more positive experience."
"I'd Rather Be Eating Chicken Sandwiches in Fancy Shoes than Getting My Car Fixed" with Mike Wandrey, Shop Fix Academy/Pro-Collision
"Why does Chick-fil-A and Nordstrom's have better reviews, better quality, and more loyal customers than body shops? Change the culture, purpose, and mission of your center and start having raving fans that will happily pay the difference."
"Evaluating 'Will' and 'Skill' for the Perfect Hire" with Dave Gruskos, Reliable Automotive Equipment, Inc. president
"The labor pool is an increasing challenge for many businesses seeking out experienced replacements for open roles within the repair facility. Sometimes the answer for hard-to-fill positions comes in expanding the search to other service-oriented businesses and focusing on the right attitude and approach, with a recognition that we can develop skills. In this session, we will explore effective hiring practices being employed by a growing list of businesses that have successfully hired employees into the collision industry by prioritizing key attributes and traits that can be built upon."
"Spray Gun Science" with Brady Haislet, 3M application engineer
"While well over a century old, spray gun technology continues to evolve. But how much do you really know about this piece of equipment so critical to the success of your business? This session will begin with the science behind spray gun anatomy and operation, review the types of spray equipment used in our industry, discuss the ownership experience, and conclude with research-supported tips that will have you reducing consumption and maximizing efficiency without sacrificing performance."
"Building an OE-centric Calibration Center" with Greg Peeters, Car ADAS Solutions CEO
"Calibrations might just be one of the most critical elements of the modern repair process. For every repair facility who has ever felt lost on where they could find help in performing the task, another business has wondered if there was a viable business in opening a dedicated calibration center. Greg Peeters with Car ADAS Solutions walks through the vision on how to define the opportunity and determine the ROI, in both an internal and stand-alone model. Considerations such as zoning, location, size, floor, walls, lighting, ceiling, overhead door, and more…all per OE the procedures and specs! Learn the profile of a Calibration Technician that matches their process and need for documentation. Learn more than you ever even thought you needed to know!"
"Modern Glass Replacement" with Ryan Mandell, Mitchell International director of claims performance
"The session would be designed for those already in the glass business as well as those considering adding glass to their repair operations. How a proliferation of new technology has changed the glass replacement business and how to leverage OEM repair information to ensure proper and safe repairs." 
"Making Safety Inspections a Non-negotiable Item" with Mike Anderson, CollisionAdvice.com president  
"Most, if not all, OEMs have safety inspections that need to be performed when a vehicle is in a collision whether the airbags deploy or not. In this event, Mike Anderson of Collision Advice discusses these safety inspections, what is involved and what components need to be inspected. He'll also discuss how to educate consumers and insurers about these inspections in a way that educates, not alienates. This session will be Mike's impassioned plea to the claims and repair industries to place consumer safety at the forefront, by performing critical steps to ensure safety."
All eight 2021 IDEAS Collide presentations are available on SCRS' YouTube channel. They include discussions on repairing vehicles with ADAS, recommended materials for aftermarket body repair, using AI to increase repair plan thoroughness, data security, and much more.
IMAGES
Featured image: The Society of Collision Repair Specialists logo over its SEMA 2017 booth. (John Huetter) 
More information 
All IDEAS Collide presentations now available on the SCRS YouTube channel
Share This: