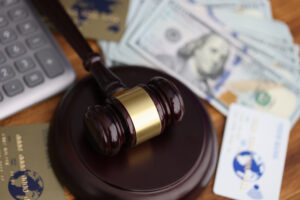 A former bookkeeper for a New Mexico auto body business has admitted to defrauding the company of more than $2 million over the course of seven years, in an episode that one audit expert said underscores the need for internal financial oversight and division of responsibilities.
In a plea agreement, Christina Joyner, 47, of Rio Rancho, New Mexico, admitted that she stole $2,025,165 from Quanz Auto Body between July 2014 and September 2021, according to a plea agreement filed in the U.S. District Court of New Mexico.
Joyner worked for 25 years as a bookkeeper for Quanz Auto Body, and was responsible for keeping the books of four company locations, according to court records. She pleaded guilty to wire fraud on Sept. 6.
Joyner faces up to 20 years in prison at sentencing, according to a statement issued by U.S. Attorney for the District of New Mexico Alexander Uballez. A sentencing date has not been scheduled.
According to a statement from Uballez, "Joyner admitted to issuing checks to herself and coded them to give the appearance they were for legitimate business expenses. Joyner then would deposit the checks electronically through a mobile banking app and immediately withdraw the funds the same day."
She was authorized to sign company checks on behalf of Quanz, according to the plea agreement and other court documents, but was not authorized to sign checks issued to herself, apart from normal payroll.
Joyner also admitted to using company credit cards to make personal, online purchases without Quanz's knowledge, and to sometimes keeping money from cash transactions for her personal use.
The former bookkeeper "emailed reminders to herself to modify entries in the accounting software, and used her position to manipulate the software to conceal her personal use of Quanz funds," Uballez said.
Quanz was acquired by Crash Champions in December 2021.
Josh Zimmerman, Audit Principal at Handwerger, Cardegna, Funkhouser & Lurman, P.A., of Timonium, Maryland, told Repairer Driven News that the case illustrates the dangers of not segregating financial responsibilities.
"The thing that really sticks out here, and what I think is the most important lesson for any business owner, is the development of internal controls that include the segregation of duties," Zimmerman said. "One person should not have the ability to receive cash, deposit it, and then also have access to make journal entries in the accounting system. By allowing all this, the opportunity is being created for someone to misappropriate assets."
Zimmerman acknowledged that many smaller businesses cannot afford enough employees to adequately separate those responsibilities. "This is where the owner will need to be more active in the business through a review process – reviewing bank statements and reconciliations, reviewing journal entries on a monthly basis along with the monthly financial report for any unusual items. The owners know the business the best and can usually determine if something 'doesn't feel right' when it comes to their internal financials."
This type of review not only helps detect fraud but can act as a deterrent against fraud, "since it shows the staff that someone is reviewing the work performed," he said.
Zimmerman offered some guidance for business owners who are not conducting such reviews but would like to begin.
"I would say the biggest thing would be to look at bank statements and journal entries on a monthly basis," he said. "They could even ask for this in their monthly reports they get from their internal accountant.
"Another suggestion we give to some of our smaller clients is to have the bank statement sent to the owners' house instead of the business address. This assures that they will be the first to review the bank statement before anyone else can (there are so many technologies now that allow for changing of PDFs, that having the owner be the first person to touch the statement is a good control)," Zimmerman said.
If the review turns up something that looks out of place, it may be time to seek an explanation from the person doing the work, or to call in the company's outside accounting firm, if it has one.
"I know sometimes that is difficult if they suspect theft," Zimmerman said. "In audits, we have something called 'professional skepticism,' which means that even if you trust the person working for you (in our case, our clients), you still need to verify what they say and obtain documentation of it.
"Each journal entry that was made should have some support for it, so if the person doing the work is making the entry, they should be able to provide supporting documentation for it," he said. If the documentation is substandard or missing, the owner could get the outside accountant involved. Many firms can do an agreed-upon procedure to look at certain items, rather than conducting a whole audit, he added.
More information
Rio Rancho bookkeeper pleads guilty to defrauding employer
https://www.justice.gov/usao-nm/pr/rio-rancho-bookkeeper-pleads-guilty-defrauding-employer
Images
Featured image by sikhan Kuprevich/iStock
Share This: