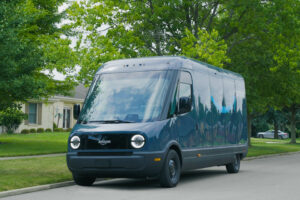 Mercedes-Benz and EV startup Rivian Automotive are partnering to produce a line of electric vans, the two OEMs have announced.
Subject to further negotiations and regulatory approval, the companies plan to establish a joint venture factory in Europe to produce large electric vans that will be sold under the Mercedes-Benz and Rivian brands. The factory is to be operational "in a few years," the companies said in a joint press release.
Mercedes-Benz and Rivian signed a Memorandum of Understanding on the partnership last week. Financial terms were not disclosed.
The OEMs said they will look for ways to leverage shared investments and shared costs, and will "pursue operational synergies to rapidly scale electric van production." They said they would explore other opportunities that might result from the joint venture.
"Rivian was created to encourage the world to transition away from fossil fuel consumption by creating compelling products and services. We're delighted to be partnering with Mercedes-Benz on this project," RJ Scaringe, Chief Executive Officer of Rivian, said in a statement. "Mercedes-Benz is one of the world's best known and respected automotive companies, and we believe that together we will produce truly remarkable electric vans which will not only benefit our customers, but the planet."
The joint venture supports Mercedes-Benz's intention to build all of its mid-size and large vans on EV platforms from 2025 onwards, the company said.
"As a pioneer in the field of locally emission-free transportation Mercedes-Benz Vans has gained broad experience in producing and launching eVans since 2010. Now we are accelerating the transformation to a fully electric product portfolio," said Mathias Geisen, Head of Mercedes-Benz Vans. "I am delighted that as part of this transformation we are now joining forces with Rivian – a highly dynamic and inspiring partner with a strong technology position. We are sharing investments and technology because we also share the same strategic ambition: accelerating the electrification of the van market with sustainable and superior products for our customers."
The new venture will produce two large vans, one based on VAN.EA (MB Vans Electric Architecture), the electric-only platform of Mercedes-Benz Vans, and the other based on the second generation electric van, Rivian Light Van (RLV) platform.
Rivian is currently building the Electric Delivery Van (EDV), a last-mile delivery van, for Amazon, as well as the R1T pickup truck and R1S SUV. Mercedes produces four electric vans: the eVito Panel Van, the eSprinter, the eVito Tourer, and the EQV; none of which are currently offered in the U.S. market.
Analysts called the partnership a good move for Rivian, which has seen its shares fall nearly 64% this year as it struggles to ramp up production amid supply chain disruptions and rising materials prices.
Wedbush Securities analyst Daniel Ives told Dow Jones Newswires that the deal gives Rivian its first key international footprint to meet the growing global demand for EVs. "We view this as a smart strategic move by Rivian to penetrate Europe while ramping production of the EDV [Electric Delivery Vehicle] platform to meet its long-term growth and profitability targets," he wrote in a note published Monday.
More information
"Mercedes-Benz Vans and Rivian move to partner on electric van production"
https://media.mbusa.com/releases/release-5aa4e93e73d1a130044b1a6f010b56eb-mercedes-benz-vans-and-rivian-move-to-partner-on-electric-van-production
Images
A Rivian Light Van last-mile delivery van, produced for Amazon. (Provided by Rivian)
Share This: