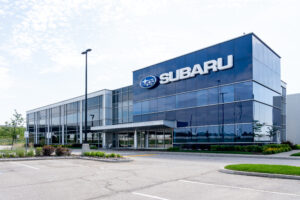 Subaru Canada has launched a new collision website and certified shop locator to support the Subaru Certified Collision Repair Network.
The collision website "will educate Subaru drivers about the benefits of choosing a Subaru Certified repair facility when a collision occurs and link them to the new Subaru online shop locator," a news release from the OEM states. "This locator is aimed to help owners quickly and easily find the closest Subaru Certified facility utilizing their postal code, Subaru model and vehicle year."
According to Subaru Canada, the program ensures shops have the tools, equipment, training, facilities, and processes necessary to fix Subarus according to OEM repair procedures, which "are essential to the vehicle's fit, finish, durability, functionality, value, and safety." Certified shops will also be able to order exclusive Subaru Certified Collision Centre Program signs and have access to marketing tools.
"Our partnership with Certified Collision Care and new online resources reinforce Subaru Canada's dedication to providing the highest quality service and repair for all Subaru customers," said Floyd Jones, after sales, I.T. & business services Academy & Customer Experience vice president, in the release. "We are also pleased that it provides the Canadian Subaru dealer network another valuable tool to deliver on commitments to their customers throughout the ownership lifecycle."
The mission of the certified program is "to raise the industry's technical capability and business operating standards," the OEM said. "Our objective is to ensure each repair business that is certified has what is necessary to properly and safely repair current and future vehicles manufactured by the participating Automakers; provide consumers with an exceptional experience and offer employees a career opportunity within a professionally operated business."
The collision site includes steps for consumers to take if their vehicle is involved in a collision. The first is to understand the insurance policy regarding what part types, whether OEM or aftermarket, will be approved, and basic customer repair rights — most notably, the right to choose the shop that makes the repairs.
Certified Collision Care is the OEC-owned Canadian division of Assured Performance Network, which also administers Canadian OEM certification programs for Fiat Chrysler, Ford, Kia, Nissan, INFINITI, Toyota, Lexus, Honda, Acura, Hyundai, and Genesis. Subaru's program first launched last September.
IMAGES
Featured image credit: Subaru Canada, Inc. Corporate office in Mississauga, 2021. (Credit: JHVEPhoto/iStock)
Share This: