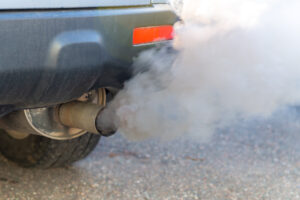 Keyless ignition automatic engine shutoff to be required by Nov. 2023 in effort to curb carbon monoxide, rollaway deaths
By on
Legal | Technology
By November 2023, the U.S. Department of Transportation (USDOT) must release new keyless ignition vehicle safety regulations, which will include requiring OEMs to install a system that would automatically shut engines off if they're left idling for too long.
The decision, according to Safety Research & Strategies (SRS), came after more than a dozen years of back and forth by the National Highway Transportation Safety Administration (NHTSA) in addressing carbon monoxide and rollaway injuries and deaths caused by drivers not realizing they didn't turn their vehicles off.
"In the interim, some automakers have responded to the latter with automatic-park or automatic electric parking brake countermeasures, and some have equipped their keyless vehicle with automatic engine shutoffs," the SRS article states. "But the implementation is spotty across the fleet, and few address both."
Congress' ruling on the issue came in the November 2021 passage of the "Infrastructure Investment and Jobs Act." The period of time that vehicles would be allowed to idle without automatically shutting off will be up to Secretary of Transportation Pete Buttigieg "as necessary to prevent, to the maximum extent practicable, carbon monoxide poisoning," according to the law. He will be able to designate varying periods of time for different types of vehicles, if he chooses, depending on the rate at which the vehicles emit carbon monoxide.
The new regulations would take effect, unless otherwise stipulated by Buttigieg, on Sept. 1 of the first calendar year after the regulations are penned.
As for the prevention of vehicles rolling away, Congress approved requiring Buttigieg to conduct a study of the federal regulations currently in place "to evaluate the potential consequences and benefits of the installation by manufacturers of technology to prevent movement of motor vehicles equipped with keyless ignition devices and automatic transmissions."
Instances that Congress wants to be studied include: when transmissions aren't in park, vehicles aren't exceeding a certain speed (Buttigieg will determine the speed at which vehicles can be "safely locked in place"), the driver seat belt is unbuckled, the service brake isn't engaged, and the driver door is open. Buttigieg has one year from the completion date of the study to report the findings to Congress.
The law also requires NHTSA to conduct a study by November 2024 on how vehicle recall notices could more effectively reach vehicle owners, be more easily understandable, and "incentivize vehicle owners to complete the repairs described in the recall notices."
NHTSA's website states that keyless systems "differ in alerts given to the driver if an unsafe condition occurs (e.g., not putting the transmission in 'park' before shutting down the engine—or propulsion systems for electric/hybrid vehicles—or leaving the vehicle while the engine is still active)." The administration encourages drivers to refer to their vehicle's owner's manual for more details about the system's operation in both normal and emergency situations.
Although NHTSA didn't respond to Repairer Driven News by publication deadline on the carbon monoxide and rollaway issues, its website confirms the administration has concerns about both. "NHTSA's concerns are drivers who shut off the engine without putting their vehicle in 'park' and walk away from the vehicle, leaving it prone to roll away; drivers who do put their vehicles in park, but inadvertently leave the engine active, increasing the risk of carbon monoxide poisoning in a closed environment; and drivers who do not know how to shut down the engine of their vehicle in the event of an on-road emergency."
The first publicly acknowledged carbon monoxide deaths occurred in 2006 involving a Toyota Avalon unintentionally left running in an attached garage, according to SRS, and in 2020 model year vehicles the OEM included an automatic engine shutdown feature. RDN asked Toyota for information about what safety features their keyless ignition vehicles include to ensure consumers know their vehicle is still running, or that the vehicles are shut off automatically after idling, and to prevent rollaways. The OEM declined to comment.
In response to RDN asking Stellantis about what safety features are includes on its keyless ignition vehicles, the OEM stated: "Stellantis vehicles meet or exceed all applicable federal safety standards. We continually seek new ways to provide our customers with a superior ownership experience, but future product plans are revealed in accordance with scheduled announcements."
"…[D]rivers are responsible for the safe operation of their vehicles. However, we offer auto shut-off technology in addition to keyless ignition systems that deliver warnings (visual and aural) if the driver's seat belt is unbuckled and his/her/their door is opened while the vehicle's engine is running."
To try and prevent rollaway, Stellantis vehicles are equipped with Auto Park Brake, which "applies the parking brake automatically when the vehicle is secured, i.e. 'Park' is chosen with the gear-selector" and Safehold. Safehold "engages the parking brake automatically if the vehicle is left unsecured while the ignition is in the ON/RUN position – provided the vehicle is at a standstill, there is no attempt to depress the brake or accelerator pedals, the driver's seat belt is unbuckled, and his/her/their door is open."
Stellantis also noted that all of their owner's manuals state: "Never use the PARK position as a substitute for the parking brake. Always apply the parking brake fully when parked to guard against vehicle movement and possible injury or damage."
SRS says Ford and General Motors "quietly released" automatic engine shutdown features in their 2013 model year vehicles but GM and Ford didn't get back to RDN on what features are included on their vehicles.
According to NBC-CT, NHTSA's Not-In-Traffic Surveillance research estimates that rollaways cause approximately 150 deaths and 2,000 injuries every year.
IMAGES
Featured image credit: madsci/iStock
Share This: