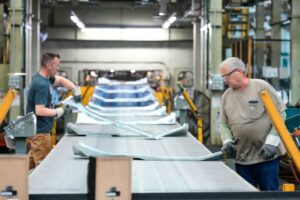 General Motors has announced it will invest $491 million to prepare its Marion, Indiana stamping plant to provide a variety of steel and aluminum stamped parts for future products, including electric vehicles (EVs), produced at GM assembly plants throughout North America.
GM said the funds would be used to buy and install two new press lines, complete press and die upgrades, make renovations, and build an approximately 6,000-square-foot addition onto the 2.758-million-square-foot plant. The work is to begin later this year.
"While this investment prepares the facility for our all-electric future, it's really an investment in our talented Marion team and will keep the plant working for many years to come," Gerald Johnson, GM executive vice president of Global Manufacturing and Sustainability, said in a statement. "This investment is another example of the company bringing everyone along and investing in the people who make manufacturing a competitive advantage for GM."
The plant employs 748 people, who are represented by United Auto Workers Local 977. Employment is expected to remain stable with the addition of the new work.
"GM is making this investment because of the hard work and dedication of our UAW Local 977 members in Marion," Ray Curry, UAW president and director of the General Motors and Gaming departments, said in a statement. "The new stamping presses, upgrades and renovations associated with the investment will create job security for our members and help them care for their families and support their local community for years to come."
Opened in November 1956, GM's Marion Metal Center produces sheet metal parts for multiple GM assembly plants to support production of Chevrolet, Buick, GMC, and Cadillac vehicles.
In an interview Wednesday with The Washington Post at the North American International Auto Show in Detroit, GM CEO Mary Barra said the corporation is on track to meet its stated goal of building 1 million EVs in North America by 2025.
Barra noted that its Ohio Ultium battery plant is ramping up production now and that three more plants will come online within the following three years. "As we get our own batteries in these vehicles as we ramp these plants up, each of our EVs will be profitable, and I think that's going to be something that's important," she said.
The CEO predicted that price parity between EVs and internal combustion engine (ICE) vehicles will be reached "in the latter part of the decade," helped along by a continuing rise in the cost of producing ICE vehicles.
"You… have to understand the requirements of the performance of internal combustion engine vehicles is increasing as well. And to get the, you know, the emissions and the CAFE [corporate average fuel economy] regulations, you end up adding more technology. So those costs are going up as well," she said.
Barra said GM's EV portfolio offers buyers a number of choices, from the Chevrolet Equinox to the Cadillac Lyriq luxury SUV. "Giving people those choices, and then, you know, letting them drive the vehicles, I think once they drive them, they're not … [going to] want to go back to an internal combustion vehicle."
To listen to the entire interview, visit https://www.washingtonpost.com/podcasts/post-live/general-motors-ceo-mary-barra-on-future-of-auto-industry/.
Images
Featured image: Employees at the General Motors Marion Metal Center work in the metal stamping operations on Thursday, Sept. 15. (AJ Mast/General Motors)
Share This: