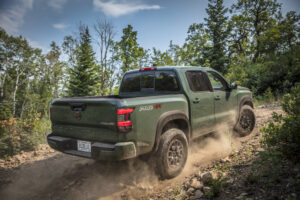 Nissan has added more than 23,000 Frontiers and Titans to its recall issued in June due to the risk of rollway while in park, some of which are the 2023 model year.
Over 180,000 model year 2020-2022 Frontiers and Titans were first recalled – all having been manufactured at the OEM's Canton, Mississippi plant. Nissan has now expanded the recall to include the 2023 model trucks. The cause is that the transmission parking pawl may not engage when the vehicle is shifted into park and is specific to the trucks with 9-speed transmissions.
A Sept. 9 defect information report states, "The investigation to date indicates that resistance between the parking rod and wedge inside of the transmission housing may inhibit movement of the wedge and parking pawl. If the parking pawl does not engage, an affected vehicle may move after placing the shifter into 'Park.' If the customer does not engage the parking brake, potential for movement of the vehicle increases the risk of injury or crash."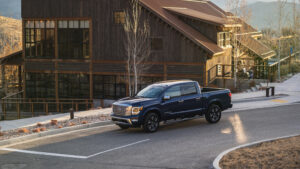 Nissan said it's aware of four alleged minor injuries due to the issue.
Following a quality check hold, a stop shipment from the Canton plant was implemented on Aug. 25 and during an audit, Nissan found that 11 out of 83 vehicles with the transmission condition could roll after being put in park.
Dealer notification timing is "under study" and a remedy plan is being developed. Nissan says it will notify all affected owners (including those that received an interim letter under the June recall) by Nov. 1.
In the meantime, owners and repairers with Frontiers or Titans at their shops should engage the parking brake every time they put the vehicles in park. When the final remedy plan is available, Nissan will mail notification letters and include a statement with details about repair reimbursement for any vehicles that are no longer under warranty.
As part of its "Infrastructure and Investment and Jobs Act," Congress is requiring Secretary of Transportation Pete Buttigieg to conduct a study of the federal regulations currently in place that address rollaway prevention "to evaluate the potential consequences and benefits of the installation by manufacturers of technology to prevent movement of motor vehicles equipped with keyless ignition devices and automatic transmissions."
IMAGES
Featured image: 2022 Nissan Frontier (Credit: Nissan)
2023 Nissan Titan (Credit: Nissan)
More information
Keyless ignition automatic engine shutoff to be required by Nov. 2023 in effort to curb carbon monoxide, rollaway deaths
Share This: