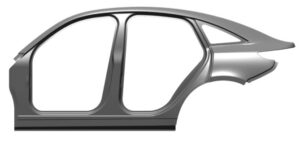 Industry organization promotes use of aluminum for outer body side panels
By on
Market Trends
Alumobility has developed technical guidelines for producing one-piece vehicle body side outer panels from aluminum sheet, and demonstrated its findings to a number of OEMs and Tier 1 suppliers, according to the nonprofit organization's technical director.
"Alumobility has now applied these guidelines to a number of body side panels with minor design changes to demonstrate to OEMs a feasible production path," Technical Director Mark White said during a webinar earlier this month.
White said an aluminum body side panel can save 22 to 33 pounds, or up to 50% of the weight of the same panel in steel, helping OEMs with their ongoing lightweighting efforts.
Alumobility was established by aluminum products producers Constellium and Novelis in January 2021 to encourage the adoption of implementation-ready solutions that will advance the adoption of aluminum automotive body sheet.
During the webinar, White and Dominique Daniel, a senior scientist with Constellium, went over issues that must be considered when stamping a body side from aluminum.
Alumobility's technical guidelines take into account the material's properties, providing best practices in such areas as the radii of the curves in the door openings. White and Danel walked the audience through the process of modifying existing steel tooling to produce the same panel from sheet aluminum, using the Audi e-tron electric vehicle (EV) as an example.
"Aluminum design and tooling guidelines enable the feasible aluminum body side outer panel and the autoform analysis simulation of the existing steel geometry to aluminum conversion that demonstrates feasibility after applying best practice aluminum design and tooling guidelines," White said.
In the case of the e-tron, he said, the aluminum panel saved 49.4% of the weight of the same panel in steel, or roughly 27 pounds.
"But I must stress the key to success is applying the body side panel and tooling guidelines at the start on any project," White added, with "designers, studio engineers, body weight engineers and stamping engineers working together for a successful feasible quality volume production part with no rework."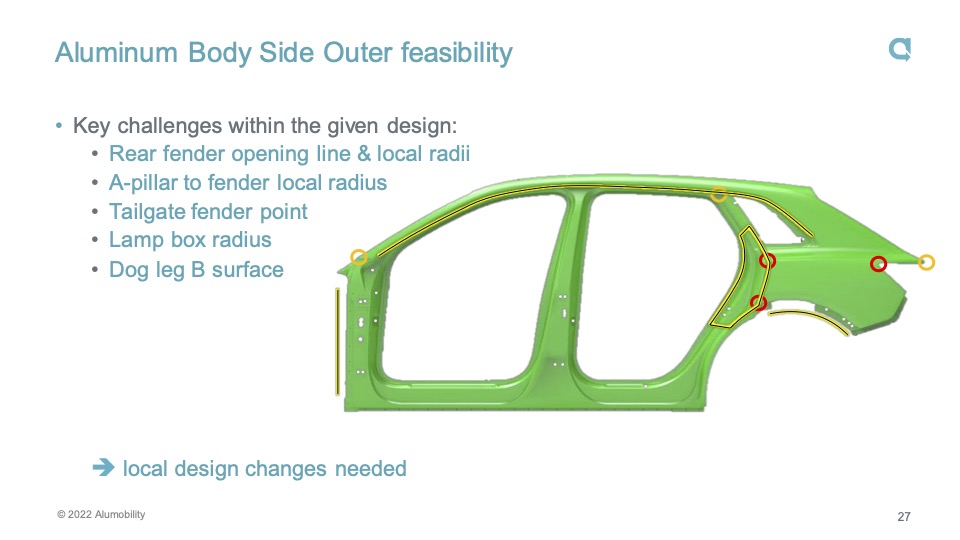 He explored the point further during a question-and-answer session. "The key to success is getting the key stakeholders engaged as early as possible in the development program and making sure that we understand what are the key dimensional targets and the key dimensional limitations of the design and the architecture of the body side," he said. "And then, obviously, having the capability to do the simulation at a very early stage to prove out very early on whether or not we have any issues with any of the key geometry, such as the door openings, such as the depth of the body side or the tumblehome."
Substituting aluminum for steel entails a thickness conversion factor, White said in response to another question. "Effectively, the body side is like a closure panel, albeit fixed on the side of the car. So we use a 1.5 gauge ratio. If, for example, you start off with a steel body side at 6.7 mm, which is typical… we would get to a roughly 1.05 or 1.1 millimeter gauge [aluminum] with a 50% weight save. The e-tron was actually .65 in gauge, and we changed that to a 1 mm gauge similar to the Land Rover Discovery."
Weight savings for components made of advanced high strength steel (AHSS) or ultra high strength steel (UHSS) would be less, but still significant, White said.
"I would expect to see a 40% weight save on structural parts that are in what I would call a yield strength area between 300 and 500 megapascals, like a DP500 [dual-phase steel]. And as we move into the advanced high strength steels and the ultra-high strength steels, such as your press hardened steels… I would expect to see between a 30 and a 35%" weight savings, he said.
Those estimates proved accurate on such vehicles as the Ford F-150 pickup, and on some Jaguar Land Rover products. "When they've gone from a full steel to a full aluminum, that that weight saving works out around about 40% overall," White said.
He added that Alumobility is currently working on a full body in white conversion from steel to aluminum, but is not yet ready to make that project public.
Asked about the cost of replacing low-carbon steel with more expensive aluminum, White responded that savings in other areas would offset the higher cost.
"Obviously, our goal is to promote lightweighting, and we believe that if we lightweight enough in the primary body structure and the closures and some of the chassis parts, the increased material cost for the lightweighting can then be offset against reducing the size of the powertrain, or reducing, in the case of an electric vehicle, the number of battery cells," he said.
"We're a great believer at Alumabilty in what we call the virtual weight spiral. Start tart lightweight, and then that means you need smaller brakes, smaller engine, smaller battery pack, and all those things."
White said Alumability will be presenting a study of versions of a last-mile delivery vehicle at the EuroCarBody conference, scheduled for Oct. 18-20 in Bad Nauheim, Germany. The organization will make a business case for a lightweight vehicle made of aluminum versus a steel vehicle powered by gasoline or electricity.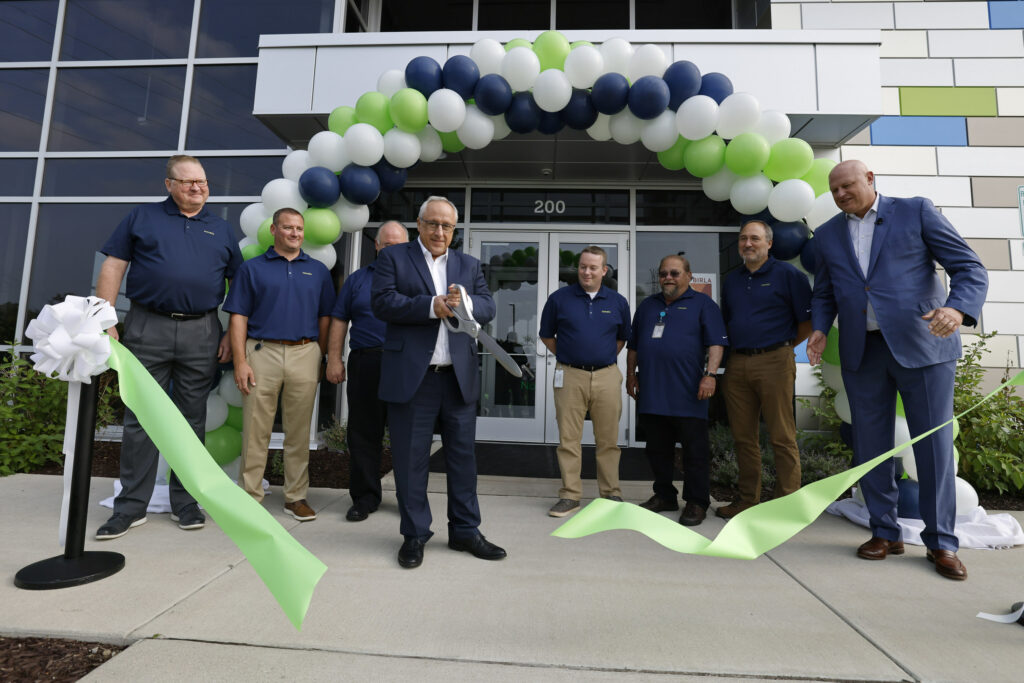 Novelis opens center in Michigan
Novelis, a sustainable aluminum solutions provider, last week opened a $35 million Customer Solution Center (CSC) for automotive in Novi, Michigan. The facility adds to Novelis' global network of CSC, which includes sites in Stuttgart, Germany, and Shanghai, China.
Novelis said in a news release that the CSCs are "designed to speed the development of aluminum solutions through collaboration between the company and its customers, as well as others in the value chain. Through the centers, Novelis partners with automakers and Tier 1 suppliers to maximize lightweight, high-strength aluminum in the next generation of vehicle design."
"Novelis' network of Customer Solution Centers is a centerpiece of our purpose, which is shaping a sustainable world together," said Philippe Meyer, Novelis senior vice president and chief technology officer, in a statement. "As a leading automotive aluminum supplier, this investment will strengthen the partnerships we have with our customers and ensure that innovative, low-carbon aluminum adoption continues to grow across the world."
The company employs 100 in Novi in research and technology, technical development, and commercial support.
"The center's high-tech equipment ranges from a hot stamping press to computer-aided design (CAD) software to visualization technologies that model vehicle safety scenarios. These capabilities enable Novelis to develop new aluminum solutions and demonstrate their benefits for current and future vehicle applications," the company said.
Since launching its CSCs in 2018, Novelis has introduced an aluminum-intensive battery enclosure solution for EVs; new high-strength and heat-treatable alloys that are designed to compete with ultra-high strength, hot-formed steel solutions, and research proving the benefits of aluminum use in doors and closures, which it said is one of the fastest growing aluminum applications in new vehicles.
More information
Need for sufficient 'green energy' poses challenge to aluminum industry
Images
A stamped aluminum body side outer panel. (Provided by Alumobility)
An illustration shows where design changes were needed to produce a body side panel in aluminum. (Provided by Alumobility)
From left, Brad Peterson, Nick Stark, Jim Carney, Philippe Meyer, Jarrod Cunnings, Paul Becker, Don Whitacre, and Tom Boney celebrate the opening of the Novelis Customer Solution Center on Thursday, Sept. 15, in Novi, Mich. (Rick Osentoski/AP Images for Novelis)
Share This: