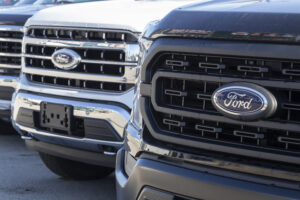 Ford predicts 2022 earnings to withstand supply chain disruptions despite stock, manufacturing drops
By on
Market Trends
Ford says that despite being faced with supply chain disruptions, parts shortages, and inflation increasing the cost of supplies its full-year 2022 adjusted earnings will come in at $11.5-$12.5 billion — an estimated gain of up to $1.5 billion over 2021 full-year adjusted EBIT.
"The supply shortages will result in a higher-than-planned number of 'vehicles on wheels' built but remaining in Ford's inventory awaiting needed parts, at the end of the third quarter," Ford said earlier this week. "The company believes that those vehicles – an anticipated 40,000 to 45,000 of them, largely high-margin trucks and SUVs – will be completed and sold to dealers during the fourth quarter."
Ford predicts, based on recent negotiations, that inflation-related supplier costs during Q3 will run about $1 billion higher than originally expected. Q3 adjusted EBIT is expected to be in the range of $1.4-$1.7 billion. According to Barron's, analysts were projecting about $2.9 billion in operating profit before the update. However, RBC analyst Joseph Spak doesn't see the shortfall, coming in at roughly $14,000 per vehicle that won't come off the line during Q3, as being that bad, according to Barron's.
CNBC reported Tuesday that Ford's stock "suffered its worst day in more than 11 years" — the same day its Q3 predictions were shared. Shares of Ford closed at $13.09 each, down by 12.3%, and a loss of roughly $7 billion of its market value, according to CNBC. By mid-afternoon Thursday, the OEM's stock had dropped even more, to $12.88 per share.
Ford said it will release its Q3 earnings results on Oct. 26.
CNBC also reported in August that Ford planned to lower its costs by cutting 3,000 jobs — 2,000 salaried positions and 1,000 agency jobs in the U.S., Canada and India, the majority of which will be salaried employees in the U.S. and Canada, "as it cautioned that surging input costs and currency headwinds would pressure near-term margins."
A few days after its financials announcement, Ford shared details about leadership changes to push toward its electric vehicle (EV) sales goal and transform its global supply chain management.
The OEM says the changes, mostly expanding the roles of current executives to include more responsibility but also one new face — Roz Ho. She will start her new role as chief connected vehicle software officer next month after serving as HP's vice president and global head of software.
"As we enter an intense period of execution for Ford Model e and our $50 billion investment in breakthrough electric and digital vehicles, Doug [Field], Lisa [Drake] and Chuck [Gray] are taking on larger roles and building out very capable teams," said Ford President and CEO Jim Farley, in a news release. "Developing and scaling the next generation of electric and software-defined vehicles requires a different focus and mix of talent from the accomplished Ford team and many exciting new colleagues joining our company."
To transform its global supply chain management capability, Ford plans to "support efficient and reliable sourcing of components, internal development of key technologies and capabilities, and world-class cost and quality execution." John Lawler, Ford's chief financial officer, will lead Ford's global supply chain organization on an interim basis until a chief supply chain officer is selected. Jonathan Jennings, vice president, supply chain, will also take additional responsibility for supplier technical assistance and quality.
IMAGES
Featured image credit: jetcityimage/iStock
Share This: