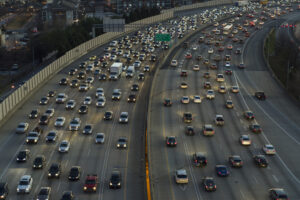 The National Transportation Safety Board (NTSB) is calling for the installation of passive alcohol impairment detection systems in all new vehicles, saying that technology could prevent tens of thousands of fatal crashes each year.
The recommendation, issued Wednesday, follows the agency's conclusion that a California crash on New Year's Day 2021 that killed nine people — seven of whom were children — was caused by an impaired driver who was speeding.
​"Technology could've prevented this heartbreaking crash — just as it can prevent the tens of thousands of fatalities from impaired-driving and speeding-related crashes we see in the U.S. annually," NTSB Chair Jennifer Homendy said in a statement. "We need to implement the technologies we have right here, right now to save lives."​
According to the National Highway Traffic Safety Administration (NHTSA), alcohol-impaired crashes accounted for 30% of all traffic fatalities in 2020, and are to blame for more than 230,000 deaths since 2000. The Insurance Institute for Highway Safety (IIHS) estimates that 25% of crash deaths could be prevented each year if all drivers with BACs of 0.08 percent or higher were prevented from driving.
The federal Centers for Disease Control and Prevention (CDC) estimates the yearly cost of alcohol-related car crashes at more than $44 billion.
The NTSB is recommending that NHTSA require all new vehicles to be equipped with passive, vehicle-integrated alcohol impairment detection systems, advanced driver monitoring systems, or a combination of the two that would be capable of preventing or limiting vehicle operation if it detects driver impairment by alcohol.
The agency has also renewed its recommendation that OEMs and consumers be provided with incentives to adopt intelligent systems that would prevent speed-related crashes.
The Bipartisan Infrastructure Law signed last year by President Biden includes a provision mandating the use of passive technology in all new cars to prevent drunk or impaired drivers from operating the vehicle.
This technology must be required to "passively monitor the performance of a driver [to] to accurately identify whether that driver may be impaired" and "prevent or limit motor vehicle operation if an impairment is detected," the law states.
The U.S. Department of Transportation (DOT) is required to set a safety standard for the new technology within three years, after which OEMs will have another two years to comply.
Homendy said technology is "only part of the solution. To save lives on our roads, we need to look more broadly at the entire transportation system, which includes everything that can prevent a crash." She said she strongly supports the comprehensive Safe System Approach to reducing roadway deaths.
The Alliance for Automotive Innovation (AAI), which represents the great majority of OEMs in the U.S., has been supportive of public and private efforts to address alcohol-impaired driving.
AAI last year applauded the open source licensing of the Driver Alcohol Detection System for Safety (DADSS) technology, developed by the Automotive Coalition for Traffic Safety (ACTS) and NHTSA. DADSS is a breath- and touch-based system that measures a driver's blood-alcohol level.
"This announcement and first fleet rollout later this year mark a massive step forward in the development of this life-saving technology," AAI said. "Through continued investment in development and testing, we can achieve the ultimate goal – a system that is fast, accurate, and reliable enough for consumer vehicles. Working together we can make progress toward preventing drunk driving."
The full report on the New Year's Day 2021 crash in Avenal, California, is available on NTSB's website at: https://www.ntsb.gov/investigations/Pages/HWY21FH003.aspx​ ​
More information
UPDATE: Infrastructure bill includes vehicle technology to prevent drunk driving
House committee looks for solutions to nation's rising traffic deaths
Images
Featured image by Cavan Images/iStock
Share This: