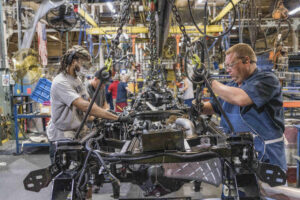 Ford & GM expand production operations for EV future
By on
Market Trends
Ford and General Motors have announced factory investments, including expansions and new construction, in Tennessee, Kentucky, Ohio, and Indiana for the manufacture of both electric and internal combustion engine vehicles.
Ford has broken ground BlueOval City in Stanton, Tennessee – touted by the OEM as "its largest, most advanced auto production complex in the company's 119-year history." The nearly 6-square-mile campus will create 6,000 new jobs when production of all-new electric truck and advanced batteries begins in 2025. Ford also announced Tuesday it will invest $700 million and create 500 hourly manufacturing jobs at its Louisville plant to support F-Series Super Duty pickup production.
Ford's Director of New Footprint Construction Eric Grubb called the new facility "the blueprint for Ford's future manufacturing facilities" that "will enable Ford to help lead America's shift to electric vehicles." The OEM has a production target of 2 million EVs globally by late 2026.
Kentucky Gov. Andy Beshear said Ford's investment in the Louisville plant is largest made in Jefferson County. "Together with last year's record-shattering electric vehicle battery plant announcement, Ford is building its future here in the commonwealth. We couldn't be more proud and look forward to many more decades of success for this iconic American company here in Kentucky."
Beshear was referencing Ford's $5.8 billion, 1,500-acre EV battery manufacturing complex, called BlueOval SK Battery Park, that will be built in central Kentucky.
GM will invest $760 million at its Toledo, Ohio propulsion manufacturing operations to prepare it for the production of drive units that will be used in future Ultium-based battery electric trucks, including the Chevrolet Silverado EV, GMC Sierra and HUMMER EVs.
The drive units "convert electric power from the battery pack to mechanical motion at the wheels" and "will cover front-wheel drive, rear-wheel drive and all-wheel drive propulsion combinations, including high-performance and off-road capabilities."
"This investment helps build job security for our Toledo team for years to come and is the next step on our journey to an all-electric future," said Gerald Johnson, GM executive vice president of Global Manufacturing and Sustainability, in a news release.
Transmission products will also still be built at the plant.
In September, GM announced it would invest $491 million to prepare its Marion, Indiana stamping plant to provide a variety of steel and aluminum stamped parts for future products, including EVs, produced at its North America assembly plants.
IMAGES
Featured image: Employees at Kentucky Truck Plant work on the frame of the Ford Super Duty. (Credit: Ford Motor Co.)
Share This: