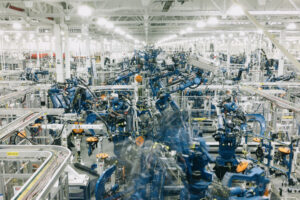 Rivian recalls nearly all vehicles over possible loose fasteners
By on
Announcements
Electric vehicle (EV) maker Rivian has recalled nearly all of the vehicles it has produced to date, after it discovered that a fastener in the front steering assembly might have been insufficiently torqued.
An improperly torqued steering knuckle retention fastener "could cause excessive wheel camber, or, in rare instances, a separation, affecting the driver's ability to control the vehicle, and increasing the risk of a crash," the OEM said.
It said it is not aware of any injuries that have resulted from this issue.
The recall involves 12,212 Rivian EDV delivery vans, R1S SUVs, and R1T pickup trucks, according to documents filed with the National Highway Traffic Safety Administration (NHTSA).
"As of September 28, 2022, Rivian became aware of seven reports potentially related to this issue that had accumulated over the production of Rivian vehicles. It was determined that the cause of the issue was an insufficiently torqued fastener," the automaker told Repairer Driven News.
"The safety of our customers will always be our top priority, and we are committed to fixing this issue on any affected vehicles as quickly as possible. We will begin immediately contacting affected customers to schedule appointments for inspections and repairs if needed," Rivian said. "We will make any necessary adjustments free of charge at one of our service centers. The repair takes a few minutes to complete, and with customer collaboration, we have built out the capacity to complete the needed action in as little as 30 days."
The OEM declined to say if the fasteners had not been torqued to specification, or if the specified torque was insufficient.
For repairers, the episode underscores the necessity of obtaining OEM data for each repair, and following each step to the letter.
The recall affects MY 2022 R1T and R1S vehicles built during a 13-month period, and a subset of EDVs produced between Dec. 10, 2021 and Sept. 27, 2022, in which records cannot confirm that the front upper control arm and the steering knuckle retention fastener for each front wheel was properly torqued.
In filings with NHTSA, Rivian said its investigation began on Aug. 13, when it identified a vehicle where the upper control arm had separated from the steering knuckle. The automaker became aware of six reports potentially related to the issue as of Sept. 28.
Rivian said it has a policy and practice of reimbursing owners who have paid for a repair that subsequently becomes the subject of a field action. Customers should send the original receipt and/or other adequate proof of payment to the company for confirmation of the expense.
The startup confirmed last week that it remains on track to build 25,000 EVs in 2022, in line with its March projections.
Images
The Rivian manufacturing plant, in Normal, Illinois. (Provided by Rivian)
Share This: