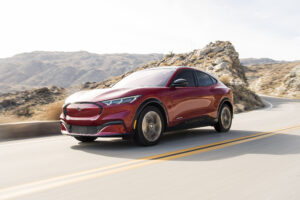 Ford's latest volume of "On Target" magazine drives home the importance of using OEM glass in collision repairs, most importantly for advanced driver assistance systems to properly function, and gives an overview of the Mustang Mach-E's body construction.
"It simply cannot be overstated how much the importance of using OEM glass in collision repairs has grown, due to the substantial and accelerated deployment of ADAS technology," Ford states. "OEM glass will only become more important, as ADAS features continue to become more prevalent, complex and more integrated into other vehicle systems.
"Early ADAS examples, such as blind spot detection and lane departure warnings, have helped lead to newer features, including automatic lane correction and cruise control auto speed adjustments, while continuing evolution will see systems capable of recognizing street signs and pedestrians. Windshield and fixed glass replacement technicians should note the importance of obtaining the Ford OEM software necessary to perform proper calibrations. It is updated every day and obtained as a daily update to the vehicle communication module's (VCM) equipment software."
Earlier this year, the OEM launched its Ford Certified Glass Network (FCGN), "which aims to ensure repairers are utilizing the correct tools and equipment, OEM parts and approved OEM repair procedures to produce safe and quality repairs."
Repairers should note that beginning with the 2012 model year, Ford has embedded each vehicle's engineering part number within the glass trademark. The number includes the windshield's specifications, dimensions, and other data about its fit within the vehicle's substrate and "is the best way to be sure it's the correct Ford replacement glass for the vehicle," On Target states. A QR code next to the trademark can also be scanned with a smartphone to pull up the vehicle's engineering part number.
"Aftermarket glass companies do not have access to this very specific information, which could lead to the wrong glass part being utilized, resulting in the ADAS and other vehicle systems no longer working as designed or intended," Ford says.

Further highlighting the importance of understanding how proper repairs benefit ADAS functionality, "On Target" also introduced in its latest volume the first of a series on specific ADAS technologies. The first for which an overview is given is BlueCruise — otherwise known as Active Drive Assist with Intelligent Adaptive Cruise Control.
It consists of:
"Stop-and-Go: part of ABS covering brake deceleration and brake pressure for Highway Assist.
"Stop-and-Go: part of PCM covering desired longitudinal acceleration and engine torque for Highway Assist.
"Highway Assist: part of power steering control module (PSCM) for desired lateral steerable path and steering torque.
"Highway Assist: part of instrument panel cluster (IPC) driver indication and warning delivering both visual and audio warnings.
"Image-processing module-A (IPMA).
"IPMA Camera.
"Cruise control module (CCM)."
Mustang Mach-E
Ford first shared details about the construction of the Mach-E in a 2021 volume of "On Target," and in the most recent installation, provides diagrams of the front, center, and rear floors. It also states that any kinks or tears to bumper beams cannot be repaired – they must be replaced.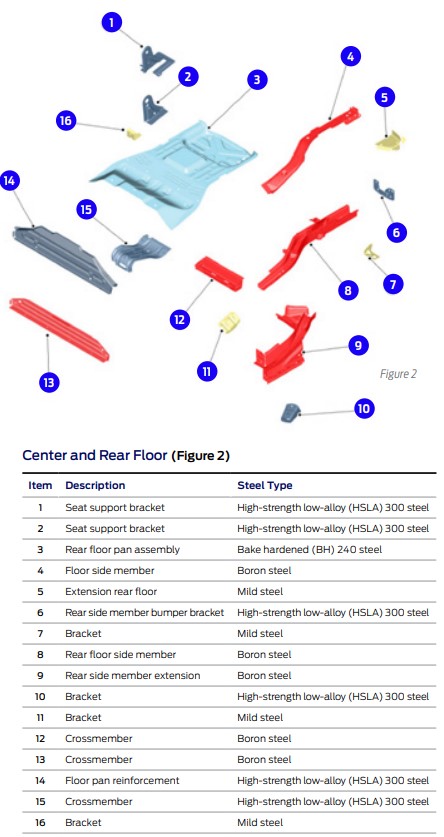 "The use of heat to repair these components is not allowed and will result in weakening the component. Minor damage may be corrected through cold straightening only," Ford states.
More information on the Mach-E is planned for future "On Target" volumes. In the meantime, information can be provided via the Ford Crash Parts Hotline at cphelp@fordcrashparts.com or on I-CAR's RTS Portal at RTS.i-car.com.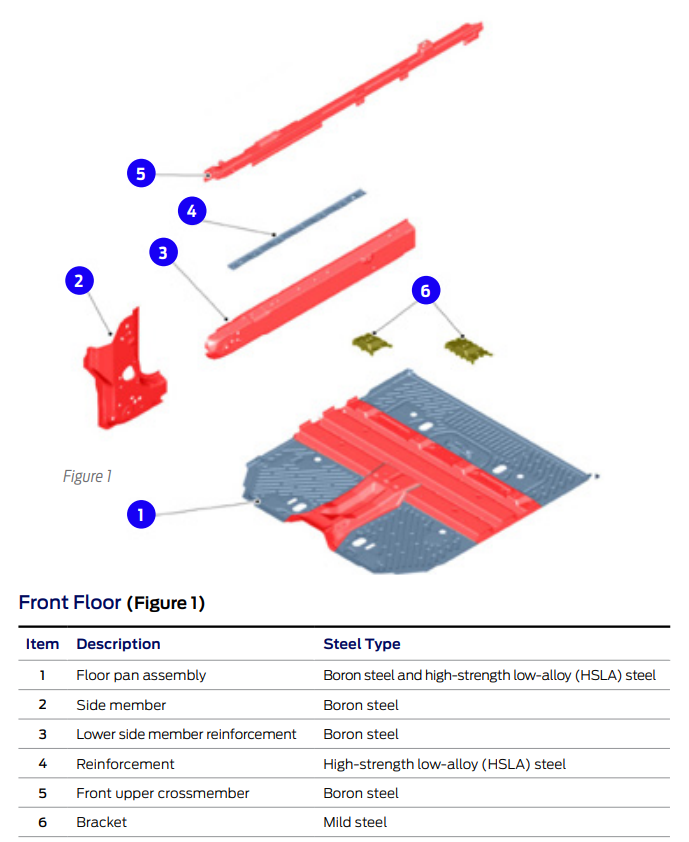 Each volume of "On Target" is available at OEM1Stop.com in addition to many other resources for repairers from nearly 40 other OEMs.
IMAGES
Featured image: 2021 Mustang Mach-E (Credit: Ford Motor Co.)
Mach-E construction diagrams (Credit: Ford "On Target" magazine)
Share This: