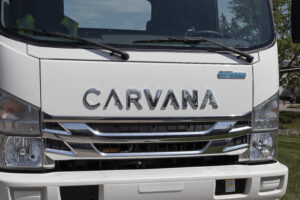 Michigan suspends Carvana's dealer license; 3rd state to do so
By on
Legal
The Michigan Department of State (MDOS) has suspended the license of a Carvana dealership in Novi for "imminent harm to the public."
Carvana faces several alleged violations of the Michigan Vehicle Code, which were discovered during an investigation by MDOS regulatory staff of multiple no-title complaints from consumers. The violations include:
"Failing to make application for title and registration within 15 days of delivery for 112 customers since agreeing to an earlier probation extension;
"Committing fraudulent acts in connection with selling or otherwise dealing in vehicles where Carvana employees admitted to destroying title applications and all applicable documents pertaining to the sale of three vehicles that were sold to customers and Carvana took the vehicles back;
"Failing to maintain odometer records;
"Improperly issuing temporary registrations;
"Failing to have records available for inspection during reasonable or established business hours;
"Possessing improper odometer disclosure records on which the odometer disclosure had been signed on behalf of the purchaser; and
"Violating terms of a probation agreement 127 times."
"These continued violations create an ongoing imminent threat to the public health, safety, or welfare of the public, requiring emergency action," an MDOS news release states.
In February 2021, MDOS regulatory staff conducted a general compliance inspection of Carvana and assessed multiple notices of non-compliance and in March, had a preliminary conference with the used car dealer "to address the violations," according to DOS. On May 7, 2021, Carvana began an 18-month probation agreement with a $2,500 administrative fine and admission of several violations of the Code, including that all dealership employees who handled paperwork would attend the department's dealer training program.
"After the dealership violated the probation agreement, MDOS held a second preliminary conference with multiple Carvana representatives on January 11, 2022," MDOS states. "The department continued to work with Carvana on compliance and on February 7, 2022, Carvana representatives signed a six-month probation extension with a $5,000 administrative fine and admission of several more violations of the Code.
"Following the signing of the probation extension, MDOS received several no-title complaints from consumers and conducted the investigation that led to the current violations and suspension. The department will seek revocation of the dealer's license at an administrative hearing."
MDOS asks any consumers who have complaints against Carvana, or who have purchased vehicles from the dealer and have experienced problems obtaining titles, to call the Office of Investigative Services automotive complaint line at 517-335-1410.
"At Carvana, we are always extremely focused on the safety and satisfaction of our millions of customers," a Carvana spokesperson said in response to questions from Repairer Driven News. "We work collaboratively and in strong partnership with state leaders and regulatory agencies in many states across the country. In most instances, arcane and outdated regulations have struggled to keep pace with our innovative business model, technology and surging customer demand for a new, convenient and accessible way to shop, buy and trade-in used vehicles.
"We reject the Michigan Secretary of State's allegations as baseless and reckless and we strongly disagree with the state's heavy-handed and abrupt effort to shut down a growing Michigan business with tens of thousands of customers over what amounts to technical, paperwork violations involving title and transfer issues. We have already corrected 99 percent of the technical paperwork violations cited in the state's report and welcome the opportunity to address the state's ongoing concerns through constructive dialogue, changes to outdated regulations through legislation, or in the courts."
Carvana further said they "urge" the Secretary of State to work with them "to resolve this matter as expeditiously as possible."
"Meanwhile, we will continue serving our customers, creating jobs and investing in Michigan while this matter is being resolved."
This isn't the first time Carvana has faced losing its dealer license. CBS17 previously reported the company's North Carolina license was suspended for 180 days, beginning in August 2021 and was reinstated in February. The North Carolina Department of Motor Vehicles claimed that in Wake County Carvana failed to deliver titles to the department, sold a vehicle without a state inspection, and issued an out-of-state temporary registration to a buyer who purchased the vehicle in North Carolina, according to CBS17. The news outlet also found that Carvana's Charlotte license is under probation until Nov. 17, meaning it can still operate under certain regulations.
There is also an ongoing investigation by the Illinois Secretary of State into consumer complaints regarding the company's alleged failure to properly transfer titles to buyers and misuse of out-of-state temporary registration permits (TRPs). The most recent development came in late September when the state filed criminal charges against Paul Breaux, Carvana's vice president, general counsel, and secretary. 
In August, an Illinois judge ordered a temporary restraining order (TRO) against the Secretary of State, brought by Carvana, that restricts revocation or suspension of Carvana's Illinois dealer license. The TRO is still in effect and allows Carvana to sell cars in the state under strict guidelines.
IMAGES
Featured image credit: jetcityimage/iStock
Share This: