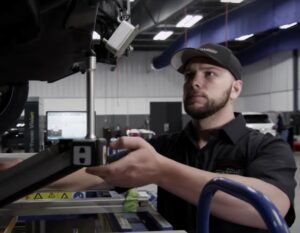 The Society of Collision Repair Specialists (SCRS) now offers a new lineup of collision repair-related videos in its weekly "Quick Tips" series focused on helping out consumers.
In the first "Consumer Tip" video, aired last week on SCRS' YouTube channel, Collision Advice CEO Mike Anderson and Data Enhancement Gateway (DEG) Administrator Danny Gredinberg explain the difference between an initial repair estimate and the final repair plan. The estimate, Anderson explains, is a visual inspection of the most obvious damage and typically takes 30 to 45 minutes to complete.
The repair plan is written after a damaged vehicle is disassembled and then thoroughly examined for damage and the repair procedures provided by the auto manufacturer, also known as the original equipment manufacturer (OEM), are researched. Repair procedures are basically collision repair instructions for safe and proper repairs, he added.
"In addition, during a repair plan a lot of testing is going to be done," Anderson said. "As a consumer, never, ever make a decision based on price."
Instead, consumers should ask more questions about if their collision repair will be based on OEM repair procedures to ensure safe and proper repairs back to how the vehicles were originally designed and engineered to function.
A couple of recent Quick Tips videos cover visual inspections and customer guidance. In the first, Anderson covers what repairers should inspect when analyzing damaged vehicles, which includes visual inspections before and after repairs. So what should be looked for? Some examples Anderson shares include cracked or peeling paint, broken or stressed spot welds, panel separations, cracked or loose seam sealer, or panel deformations.
"Any time you see these types of damage it means the inertia forces have traveled throughout the vehicle and created these types of damages," Anderson said.
Gredinberg added it's also important to look at panel gaps between the fenders and doors, doors to quarter panels because they "tell a story about what's going on in the collision."
"A lot of these parts that may be bolted on – they can shift or they can become out of alignment. Always check for pre-existing damage. Pre-existing damage could potentially overlap the current damage. It could become worse over time."
It's also important to look underneath the carpets and other "hidden" areas to look for cracked or broken parts, such as sound deadening pads, as indicators of damage to the vehicle.
Customer Guidance
It's important for repairers, without first conducting research, to not promise a customer that they can fix or dissemble their vehicles, Anderson said.
"For example, we need to understand is this a vehicle, that if it has any structural damage, we may not be able to purchase the parts unless we're [an OEM] certified [shop] because there are many OEM manufacturers that have what's called restricted parts sales."
Repairers would also need to ensure their shop has the correct tools, equipment, and space, such as high enough ceilings for larger vehicles, before promising repairs.
Gredinberg also pointed out that electric vehicles (EVs), for example, require certain training, certifications, and tools for not only proper repairs but the safety of the repairer so it's important for shops that aren't prepared to work on EVs to explain that to owners.
"If you're not equipped to repair that vehicle, it's OK to say no," Gredinberg said. "Tell the customer, 'I'm not properly trained. I don't want to cause more damage to the vehicle but also potentially hurt myself working on something I'm not familiar with.' You can help customers find the right shop."
Estimating Tips are also offered through SCRS and DEG at degweb.org/category/estimating-tips.
IMAGES
Featured image: SCRS Consumer Tip YouTube screenshot
Share This: