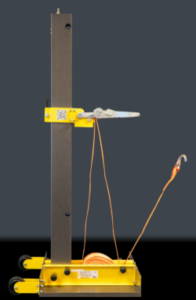 The Society of Collision Repair Specialists (SCRS) and Spanesi-Americas will hold a booth drawing during the 2022 SEMA Show to provide two attendees with equipment for their repair facilities worth a combined value of more than $12,000.
The drawing will be held Nov. 4 at 12:30 p.m. at the SCRS booth (Upper South Hall, 31147). The first winner selected will receive one Spanesi Q5.2 Three Torch MIG/MAG welding machine valued at $9,880.62, and the second winner will receive one Spanesi FLASH portable pulling tower valued at $2,530.
The Q5.2 is a multi-function inverter welding machine with three torches — steel, silicon bronze, and aluminum, according to an SCRS news release. It features a multi-function synergic power source based on the "leading edge" IGBT inverter technology with complete digital control, offering both MIG/MAG and Pulsed/Dual-Pulsed MIG on all substrates, especially aluminum and galvanized steel.
The FLASH portable pulling tower is one of the newest additions to the Spanesi portfolio. The mobile unit vacuum seals to the floor to deliver 550 pounds of pulling force using a heavy-duty ratcheting system and features an adjustable pulling height setup to provide precise pulling directions, the release states.
To be entered into the drawing, attendees who visit the SCRS booth will be provided with a report card that features the locations of companies that have generously supported the SCRS Repairer Driven Education (RDE) series at the SEMA Show. Attendees will visit each sponsor, collect a stamp on the card from the company, and then return the completed card to the SCRS booth by the deadline. No purchase or donation is necessary to enter or win.
SCRS encourages Show attendees to come to the SCRS booth for their report card to enter the drawing early in the week to allow adequate time to visit all of the sponsor locations. Complete rules can be found online here.
"Spanesi Americas is celebrating our 10th anniversary by supporting SCRS again at this year's SEMA Show," said Spanesi Americas Chief Operating Officer Timothy W. Morgan, in the release. "SCRS' extraordinarily valuable services, including the Repair Driven Education training series at SEMA, allows the collision repair industry to continue enhancing their skills, training, and knowledge to repair vehicles back to OEM specifications. Spanesi understands the importance of this training for everyone involved in our industry."
The 2022 Repairer Driven Education series is made possible with support from 3M, AASP, AirPro Diagnostics, AkzoNobel, BASF, CAR-O-LINER, CCC, Celette, Enterprise, PPG, Reliable Automotive Equipment, Repairify, Spanesi Americas, Inc., Toyota, and SEMA. To register for education visit scrs.com/sema-rde-registration/. To explore details of SCRS' education series at the SEMA Show, visit Map Your Show online.
For more information about SCRS, or to join as a member, visit. www.scrs.com, call 1-877-841-0660, or email info@scrs.com.
IMAGES
Featured image: Spanesi Q5.2 Three Torch MIG/MAG welding machine (Credit: SCRS/Spanesi)
Share This: