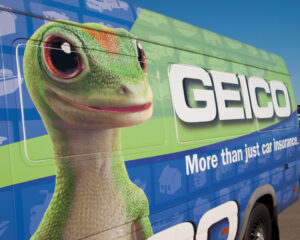 Auto insurers cut advertising budgets by 18%, AM Best reports
By on
Insurance
Auto insurance companies cut their advertising budgets nearly 18% in the first half of 2022, compared with the same period in 2021, credit rating agency AM Best reported.
Citing figures from U.K.-based data analytics company Kantar, the agency reported that auto insurers spent a total of $1.4 billion on advertising in the first half of the year, compared with $1.7 billion the year before. That follows a year-over-year increase from $2.9 billion to $3.1 billion between 2020 and 2021.
The report, published in Best's Review, the company's monthly insurance magazine, focuses on three carriers — Liberty Mutual, Allstate, and GEICO — that have made it known they are cutting back on advertising in the face of net losses in their auto business.
Most major carriers have been pursuing rate increases in reaction to higher used car values and inflation in parts and labor costs. Allstate, for example, said it has implemented 72 rate increases averaging approximately 10.3% across 51 locations since the start of 2022. Allstate and GEICO will each take in nearly $200 million in additional premium nationwide as a result of auto insurance rate increases implemented in April, according to an analysis by S&P Global Market Intelligence.
At the same time, EMarketer's Insider Intelligence reports that "[t]he advertising industry's troubles and fears of a recession" are leading insurers to "slash budgets and rethink their marketing strategies."
"These are tough times for insurers—while the US economy has steadily added jobs in recent months, industries affected heavily by inflation like insurance, finance, and advertising have moved in the opposite direction. In August, insurance and finance layoffs doubled from 12,000 in July to 23,000," Insider Intelligence said.
Through the first six months of 2022, Allstate spent $264.5 million on advertising, compared to $309.6 million through the same period last year, the report said. That's a decrease of 17%. In contrast, the company raised its full-year spending between 2020 and 2021, from $325.2 million to $521.4 million.
In the second quarter, Allstate reported a $1.04 billion net loss applicable to common shareholders, a year after the company recorded a $1.6 billion net income, AM Best said.
Allstate's president of property-liability, Glenn Shapiro, said in a recent earnings call that the carrier is looking at which markets are profitable and incentivizing its agents to work in those markets, AM Best said.
Allstate CEO Tom Wilson said during the Barclays Global Financial Services Conference in September that implementing underwriting restrictions in underperforming markets is one step the carrier is taking to profitability.
In addition to rate actions, Allstate is implementing more restrictive underwriting actions on new business in places where it cannot achieve adequate rates. One such example is California, where the Department of Insurance (CDI) has taken no action on an increasing number of rate filings.
Liberty Mutual spent $202.3 million on advertising during the first half of 2022, compared to $219.2 million for the same period last year, AM Best said, which is a decrease of 7.7%.
The company recorded a $343 million attributable net loss in the second quarter of 2022 against net income of $769 million in the same period in 2021.
The report noted that Timothy Sweeney, Liberty Mutual's president and incoming chief executive officer, said during an earnings call that the company is still "chasing loss trend with rate" in some lines, particularly personal auto.
The carrier's global retail markets president, Jim MacPhee said during the same call that Liberty Mutual is working with regulators as it copes with a "multitude of headwinds," including inflation, auto severity, and weather losses.
The greatest cutback was made by Berkshire Hathaway's GEICO, which reduced its ad spending by 40.7%, from $539.4 million in the first half of 2021 to $319.9 million in the same period of 2022.
For the second quarter, GEICO saw its $626 million in earnings in 2021 become a pre-tax underwriting loss of $487 million in 2022, AM Best reported.
Ad Age magazine reported earlier this month that GEICO had made significant cuts in its advertising department, and would put its "massive media account" with Horizon Media in review.
"Months after raising rates in Illinois and shuttering offices in California, and days after a unionization effort by employees, the Maryland-based insurer appears to be rethinking its marketing strategy under a new chief marketing officer," Ad Age said.
More information
USAA CEO, other top executives rake in millions; Auto insurance companies seek added rate hikes
Images
Featured image by Lanier/iStock
Share This: