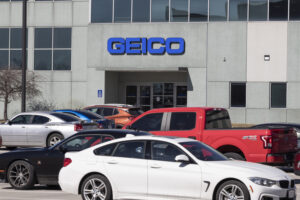 GEICO closes California sales offices, says there will be 'no effect on claims'
By on
Announcements | Insurance
GEICO has closed its 38 sales offices in California and laid off "hundreds" of employees, according to media reports, but the closings will not affect the handling of claims, a spokesperson for the company told Repairer Driven News.
"The GEICO Local Offices that closed are sales offices owned by independent contractors. There is no effect on claims, and our claims team remains available to assist all customers," the company told RDN.
"We continue to write policies in California, and we remain available through our direct channels for the more than 2.18 million California customers presently insured with us," the carrier said.
People looking to sign up for a GEICO policy will need to access their offerings through a computer or a mobile device, as California customers cannot purchase policies via phone, SFGate reported.
The California Department of Insurance (CDI) is following GEICO's actions, a spokesman told RDN.
"We are monitoring to make sure consumers are protected. GEICO policyholders with questions should contact the company and can also contact the Department of Insurance at 800-927-4357 or through online chat at our website, www.insurance.ca.gov," CDI press secretary Gabriel Sanchez said in an email.
"California has a strong insurance market with more than 130 companies competing for consumers' private passenger auto business and more than 70 companies writing homeowners insurance. We encourage consumers to look at their options for coverage in California's competitive marketplace using our website, www.insurance.ca.gov, letting you search for an agent or broker in your area and in multiple languages," Sanchez said.
In an interview with The Sacramento Bee newspaper, former California Insurance Commissioner Dave Jones said, "The company's actions will make it harder for consumers to buy GEICO policies, particularly those who are computer challenged or prefer to meet an agent in person."
GEICO's regional California office is in Poway, northeast of San Diego. As of Tuesday afternoon, the GEICO Careers page listed two openings in Poway, for a customer service representative and a claims service specialist.
The carrier, a subsidiary of Berkshire Hathaway, has been raising rates as it responds to inflationary pressures. In Illinois, for instance, GEICO carried out two 6% rate increases within five months, and has seen its market share in the state fall as a result, Crain's Chicago Business reported.
"The number of policies written by its primary auto unit serving drivers in this state dropped a remarkable 9% in just the last six months, according to filings with the Illinois Department of Insurance," the publication said.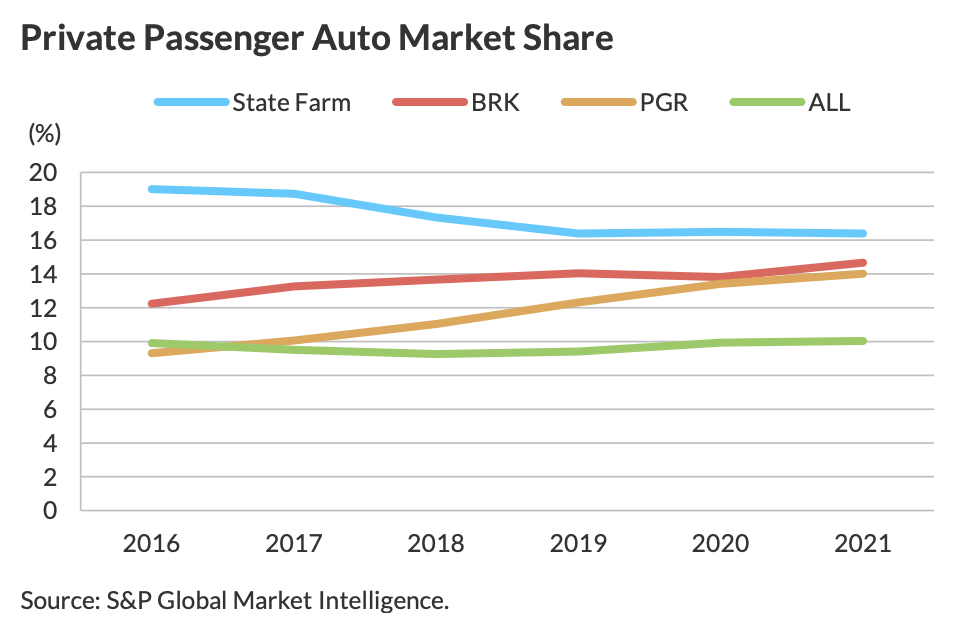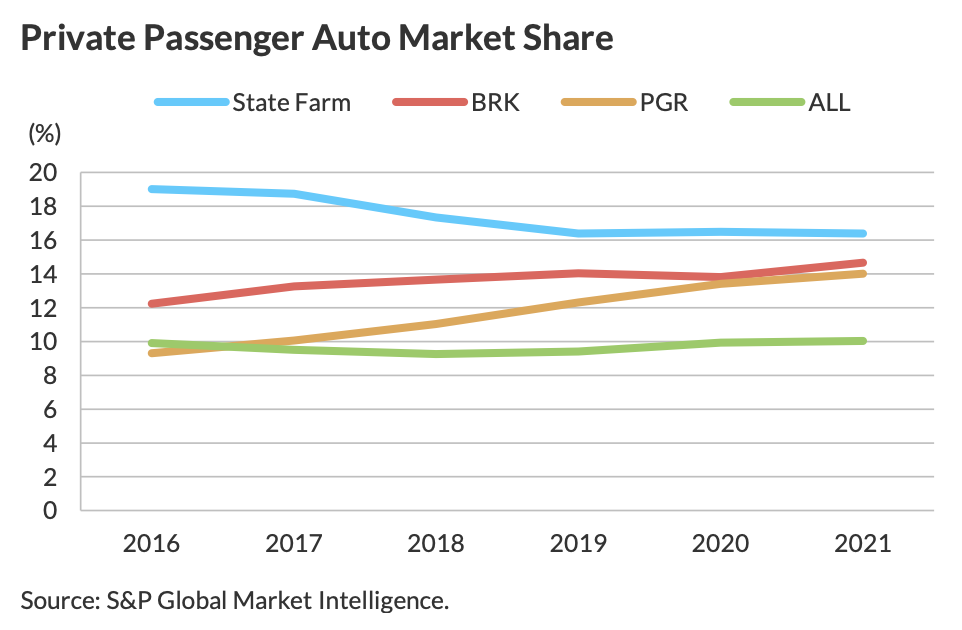 Even so, GEICO "expanded revenues faster than the overall market" in 2021, climbing to an overall share of 14.7%, Fitch Ratings said in its recently released "U.S. Personal Lines Market Update."
Fitch predicted that GEICO and Progressive would both pass State Farm, currently the largest auto insurer in the U.S., with a market share of 16.4% based on net written premiums.
More information
Allstate, GEICO top list of carriers raising auto insurance premiums
Market concentration in auto insurance increases; GEICO, Progressive projected to pass State Farm in 2023
Images
A GEICO insurance office in Carmel, California in March 2021. The carrier has closed all of its local offices in California, according to media reports. (jetcityimage/iStock)
Share This: