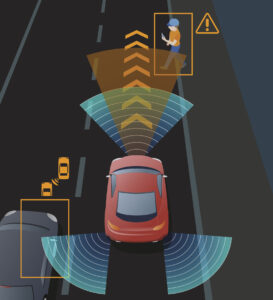 As advanced driver assistance systems (ADAS) on vehicles become more and more commonplace, both the collision and mechanical repair industries have been thrust into calibrations training and tooling while awaiting standardized procedures across OEMs — but what is the big picture for the future of ADAS?
That's the topic the Collision Industry Conference (CIC)'s Emerging Technologies Committee explored during its July 21 meeting, which included a brief history of some other technologies that have been standardized in the past and a recent study on ADAS calibrations as a business venture.
Committee Co-Chair Chuck Olsen, with AirPro Diagnostics, noted that ADAS brings new technologies that, not unlike technologies in the past, "look very, very scary in the beginning" but the automotive industry was "able to adapt into the new systems that came in."
Some examples committee Co-Chair Bob Augustine, with OPUS IVS, gave were the regulations of tailpipe emissions through different versions of the Clean Air Act since 1990, which by model year 2004 led to the emergence of SAE International's J2534 standard that gave software access to all repairers rather than just those at dealerships. The current standard, J2534-2, is evolving with every new protocol or addition that's made and is a living, breathing document, Augustine said. The standard also led to a nationwide memorandum of understanding on the right-to-repair issue.
The committee sees ADAS as possibly having a similar and long road ahead in developing standards, especially since 45% of ADAS systems have been deactivated by drivers, according to a study conducted by the Innovatrium at the University of Michigan on behalf of Automotive Aftermarket Suppliers Association (AASA).
Jim Fish, with New Hammer Ventures, presented an overview of the study's key findings based on 2021 data and including predictions up to 2030. Also backed up by the study are three problems facing the industry that should be acted on today, Fish said, which are the cost of ADAS repairs, training, and educating consumers.
According to the study, ADAS features are turned off 41% of the time because drivers think they don't work, 41% of the time because drivers find the noises and lights distracting, and 30% of the time because drivers don't think they're necessary or are used. That led Fish to make the conclusion that "the status quo is really not acceptable."
Although he added that ADAS will reduce crash rates by 20% in 2030 compared to 2021, according to the study. "When properly calibrated [and] when active, these things do work," Fish said.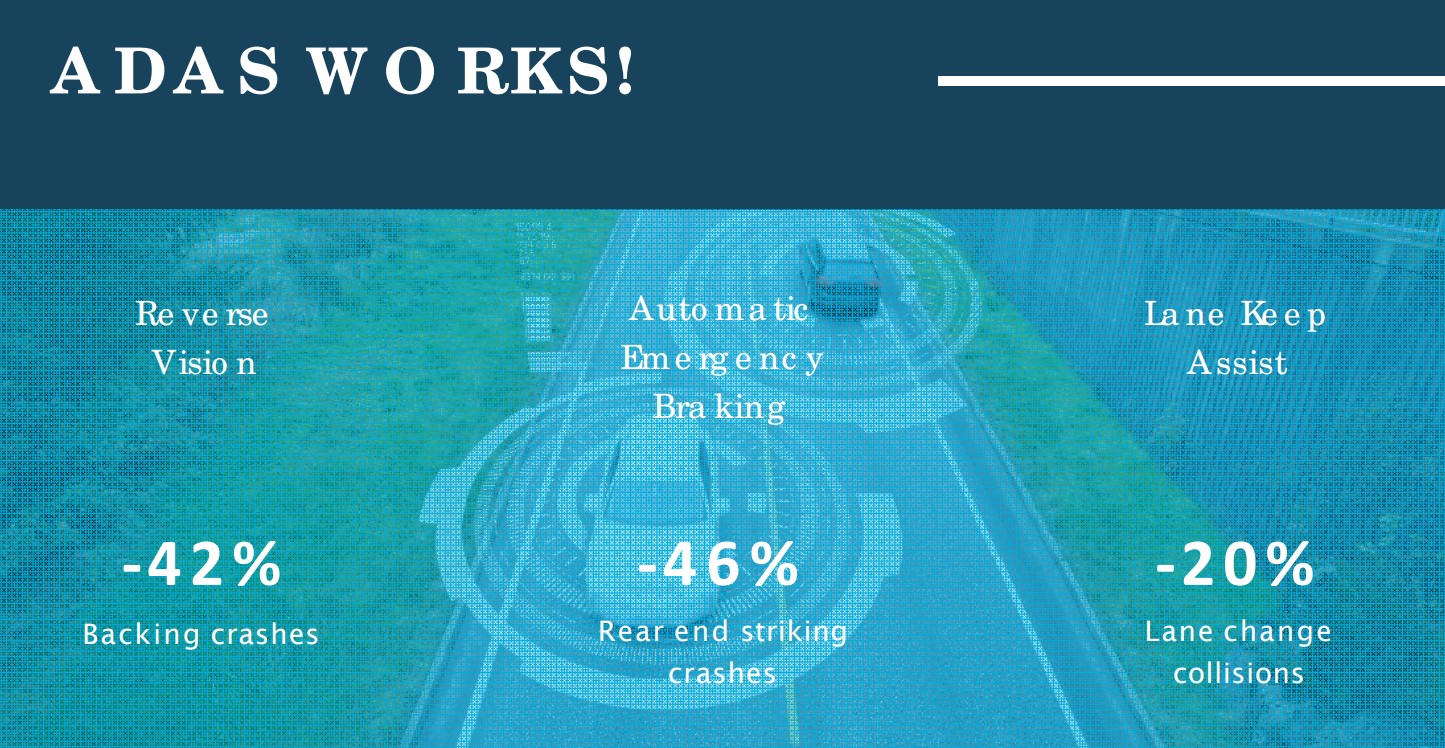 More than 1 million vehicles required ADAS service in an aftermarket shop in 2021 and more than 90% of ADAS work coming into mechanical shops was outsourced, much like J2534 used to be, Fish said.
The study includes information from 350 shops and there were three reasons why those who weren't conducting ADAS calibrations as an extra stream of revenue: it's too hard or complex, there's no demand, and/or it's too expensive.
Based on the study findings, ADAS parts and services will experience a more than 17% compound annual growth rate (CAGR) through 2030, which Fish said is "singularly the largest growth opportunity in aftermarket service through 2030."
However, he added there aren't any warning lights or trouble codes that let drivers and repairers know when ADAS isn't working or calibrated correctly similarly to there being no warning when vehicles are out of alignment or headlamps are missing. "It is a meddling problem — how to ensure that these systems are working and effective. Lives are at stake and this is a public and trust issue."
Collision shops outsourced $177 million worth of ADAS calibration work in 2021 and MSOs took it on instead, according to the study.
When it comes to addressing the three problems the study outlines, Fish said alternative aftermarket parts and standardized processes are needed to reduce costs and increase aftermarket participation. However, based on J2534 history, that could take years, so the latter shouldn't necessarily be a focus, Fish said.
"J2534 is the textbook case of the industry coming together to solve a problem for the repair shops – for the aftermarket – and bringing that opportunity into the aftermarket," Fish said.
When the CIC meeting audience was asked if there should be ADAS standards for field calibration, 80% said yes, 9% said no, and 11% said they aren't sure.
During an open mic Q&A, Alliance for Automotive Innovation (Auto Innovators) State Affairs Senior Director Wayne Weikel said Auto Innovators has done a lot of work with the California Air Resources Board (CARB) to make sure that there's a standardized data port for EVs.
"There absolutely will be a J1962 port on all EVs in the future. That will happen. It's in their draft regulations and I am 100% certain it will be finalized in August."
He later told Repairer Driven News, "There is no discussion about discontinuing the OBD port or reducing the service information provided to independent repair shops. Let's be clear: Auto Innovators and our automaker members, which represent 98% of the new vehicle market, support independent shops' ability to maintain and repair all types of vehicles, support a common SAE J1962 diagnostic port in all vehicles, including electric vehicles, and support service information requirements for electric vehicles that are identical to those that have existed for decades for gasoline vehicles. We support this in California and we support this nationwide."
During a panel discussion that included Fish, Olsen, and Augustine as well as Chris Gardner with AASA, Mike Muller with SEMA Garage Detroit, and Greg Potter with ETI, the panelists discussed how the growth of ADAS will impact the collision industry and how standardized calibrations could be beneficial.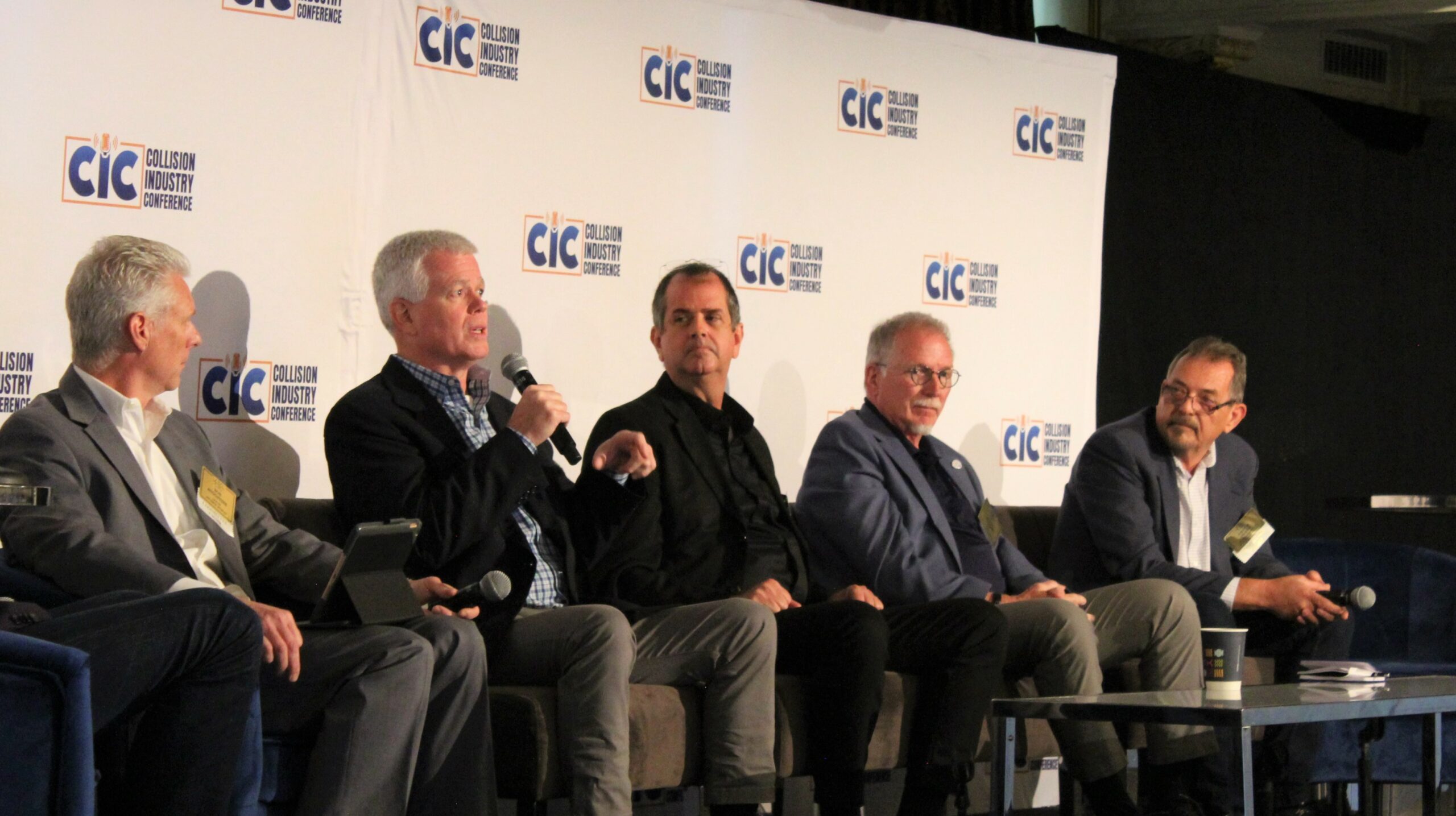 "This is so important for us because the mechanical space who traditionally got all of the technology training, unless you were a dealership technician, there's about a three- to five-year wait before you ever see it in your shop whereas in the collision industry, you're working on brand new vehicles and the requirements to have the service information, the diagnostic tools, and the training is way more important," Augustine said.
Muller said standardization of cameras and radars shouldn't happen because that would halt innovation. He drew a comparison to ADAS as functions that can be turned off to when OEMs allowed passenger airbags to be turned off because they weren't comfortable with their safety level for children in car seats and women of a certain size.
"That will go away when ADAS becomes more refined," he said. "This is all a big experiment — including all these features and seeing how consumers react to them. Right now, they're turning it off."
And until there are one or more strong enough voices that want an ADAS standard, it won't happen, Muller added.
Potter, who is a member of an SAE task force, said he thinks the National Highway Traffic Safety Administration (NHTSA) needs to weigh in and take some control on the issue. SAE's work, he said, is moving slow mostly because each OEM is "doing their own thing" and are busy developing new ADAS processes to think about standardization.
Potter's vision of standardized static ADAS calibrations would be on the size of the shop and wall space needed and where the calibration targets would be placed. As artificial intelligence (AI) improves, he thinks more and more vehicles will calibrate themselves while driving.
Olsen, who is also on the task force Potter mentioned, and the rest of the panel agreed that if a standard is developed, it needs to be conducive to both the collision repair and mechanical repair industries.
"Everything just points back to the OEM repair procedures because that's really as good as you can do with it," Olsen said. "There isn't a ADAS standard that's going to apply to multiple vehicles and multiple systems."
IMAGES
Featured image credit: chombosan/iStock
(Left to right) Bob Augustine, Opus IVS; Jim Fish, New Hammer Ventures; Chris Gardner, Automotive Aftermarket Suppliers Association (AASA); Mike Muller, SEMA Garage Detroit; Greg Potter, ETI and Chuck Olsen, AirPro Diagnostics.
"ADAS works" slide from Innovatrium at the University of Michigan study. (Provided by CIC Emerging Technologies Committee & AASA)
Share This: