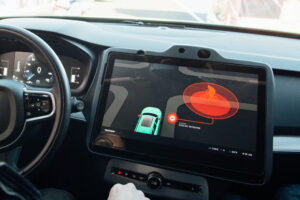 Tier 1 automotive technology supplier Veoneer has partnered with 4D imaging radar solutions company Arbe Robotics to co-develop radars for automotive-grade safety and advanced driver assistance system (ADAS) capabilities.
Veoneer said it intends to develop, market, and integrate two surround 4D imaging radars that build on Arbe's designs: a long-range, high resolution, 360° sensing solution with 48×48 radio frequency [RF] channels, and one with 24×12 RF channels.
The 4D ultra high-resolution imaging radar will be able to operate in difficult weather and lighting conditions, and is capable of distinguishing true threats to driver safety from false alarms, the company said. It said its sensor will be "modular in design, reliable and affordable," providing system redundancy and "data diversity" needed for both safety and autonomous operation.
Traditional radars have been capable of identifying distance, direction, and relative velocity of an object. 4D imaging radar is high-resolution, long-range sensor technology that can do all of that, as well as identify the height of an object. It's considered a key component in the development of ADAS for some Level 2 and 3 driver assistance functions.
"Veoneer's patented waveguide technology will enhance Arbe's performance metrics further by improving antenna efficiency and reducing performance variability in the manufacturing process," the company said in a press release.
The radars are in demonstration/sampling mode today, and could be in production in two years, Chris Van Dan Elzen, EVP Radar Product Area at Veoneer, told Repairer Driven News.
Van Dan Elzen said the 4D radars are intended to work together with other devices, such as cameras and lidar sensors.
"Autonomous functionality will take multiple, orthogonal sensing modalities to be safe in a large variety of driving circumstances," he told RDN. "They have strengths and weaknesses, and having orthogonal sensing modalities allows greater ability to fail operational[ly]."
Arbe was chosen as a partner because of its 2K high resolution surround radar that is "able to enhance the perception system and sensor fusion," Veoneer said.
"Veoneer is a leader in active safety and one of the most experienced radar developers in the automotive industry," said Kobi Marenko, CEO of Arbe. "The relationship with Veoneer combines design of best-in-class radars based on both companies' expertise, along with Veoneer's superior ability to manufacture, market, and integrate radar systems with leading vehicle manufacturers around the world. We are proud to be selected by Veoneer and together we will provide the automotive industry with revolutionary radar-based solutions, ensuring unmatched safety and autonomy."
Veoneer is a hardware supplier and system integrator headquartered in Sweden. The company offers a variety of products, including radars, lidars, thermal night vision cameras, vision systems, and ADAS software.
Images
A Veoneer safe-driving system detects a cyclist. (Copyright Veoneer)
Share This: