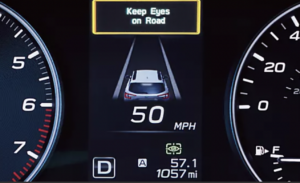 Driver monitoring systems to proliferate 'at a substantial rate,' analysis says
By on
Technology
The future for driver monitoring systems (DMS) in passenger vehicles looks bright, considering legislative and private interest in using the technology to implement semi-automated driving and improve driving safety, according to an analysis published in the tech publication Embedded.
In spite of security concerns centered on the use of cameras to monitor driver behavior, if regulations currently under consideration in the U.S. and China are eventually enacted, DMS "will proliferate into passenger vehicles at a substantial rate over the next decade," Alex Pluemer, a senior technical freelance writer for Mouser Electronics, writes.
Pluemer writes that DMS, employed by commercial truck fleets for years, is seen as a way to counteract the dangerous combination of semi-autonomous vehicles and distracted drivers. "Concern over distracted drivers with their eyes on their phones, tablets, etc., and failing to pay enough attention to avoid preventable collisions and other accidents continue to increase as automated driving systems have become more common," he writes.
Typically, DMS uses a camera or other sensors to monitor the driver's facial position and eye movements in order to determine if they are alert and looking out the windshield. The system will alert an inattentive or distracted driver with visual and audible warnings, and can lock out advanced driving assistance system (ADAS) features for a time, or even bring the vehicle to a safe stop on the side of the roadway.
"Like the implementation of most automotive safety features since the invention of the internal combustion engine, like seat belts and airbags, the adoption of DMS in new vehicles en masse will be compelled by governmental oversight and regulation," Pluemer writes. He notes that such regulatory efforts are already well under way in the U.S., Europe, and China.
Legislative efforts
Several bills have been introduced in Congress to allocate funds for the study and development of DMS, the first step in a long regulatory process working toward making the technology mandatory in all new vehicles sold in the U.S.
Currently pending in the Senate is the Stay Aware For Everyone (SAFE) Act, which would provide funding for the federal Department of Transportation (DOT) to study the effects of distracted driving on the accident rate and determine the effectiveness of DMS in reducing distracted driving. That bill, which would give DOT two years to collect and analyze data and direct the Secretary of Transportation to develop a final rule on the inclusion of DMS in new vehicles, has the endorsement of Consumer Reports, the National Safety Council, and other automotive safety advocacy groups, Pluemer said.
Not specifically mentioned in the article are other, non-governmental efforts under way in the U.S. to speed the adoption of DMS. Consumer Reports in February began awarding extra points for models that combine limited self-driving technologies with effective active driver monitoring systems. Meanwhile, the Insurance Institute for Highway Safety (IIHS) announced in January that it is developing a new rating program to evaluate safeguards used to make certain that the drivers of semi-autonomous vehicles are paying attention to the road.
Earlier this month, IIHS released a study that found drivers who use partial automation frequently treat their vehicles as fully self-driving, confident that they can perform non-driving-related activities like eating or texting while behind the wheel. That study "does add important data that underscores the crucial role of safeguards like driver monitoring and attention reminders," author Alexandra Mueller told Repairer Driven News.
In the Embedded article, Pluemer notes that the European Union has already begun the transition to making DMS mandatory in new vehicles, with a 2019 general safety regulation requiring all new vehicles sold in the EU to have driver monitoring technology and other enhanced safety features. The rules begin to take effect this year.
While the rules currently apply only to new automobiles with some automated driving capability, they will apply to all newly manufactured cars in the EU by 2026. In addition, the EU's New Car Assessment Program, or Euro NCAP, now requires new cars to include driver monitoring capabilities to receive a five-star safety rating.
In China's Jiangsu province, regulators made DMS mandatory for long-haul trucking fleets and cars used to transport hazardous materials and waste, Pluemer writes. "A similar national mandate was expected until the pandemic significantly reduced road traffic, making DMS legislation a lower priority. As commerce bounces back, interest in national DMS-related regulation is expected to be revived," he writes.
Future developments
DMS can do more than monitor a driver's head position and facial expressions. For instance, Pluemer writes, the technology can differentiate between beverage containers, recognizing when a driver is holding a bottle of beer or wine – and can have the ADAS take over until the vehicle can be stopped safely. DMS "can even detect and recognize non-human lifeforms in the driver's seat, which could be a blow to the subset of people that think it's safe to drive a car with a small dog sitting in their laps," he writes.
The next stage in the development of DMS will probably be the incorporation of facial recognition software, Pluemer says, such as that used by Subaru in its DriverFocus system. DriverFocus alerts the driver if they've looked away from the road for more than three seconds at a time, and puts the ADAS into "a heightened state of alert" in case it needs to take over the driving.
Facial recognition could also reduce auto theft, by preventing the vehicle from starting and alerting police if the system doesn't recognize the person getting behind the wheel.
More information
IIHS study finds many drivers treat partially autonomous vehicles as self-driving
Safety experts press for better driver monitoring in semi-autonomous vehicles
Images
The display of the DriverFocus DMS on the 2023 Subaru Outback. (Provided by Subaru)
Share This: