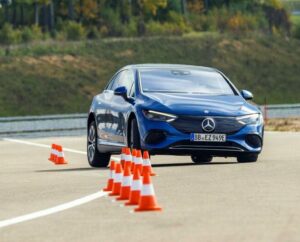 Mercedes aims for zero collisions involving its vehicles by 2050
By on
Technology
Mercedes-Benz has announced plans to achieve accident-free driving by 2050, which the OEM said is a "real-life safety philosophy… based on real-world accidents" — a goal known as "Vision Zero."
"Safety is an essential part of Mercedes-Benz's DNA and one of the core responsibilities the company has assumed in regards to all road users," a news release states. "The priority of the brand with the star is to prevent and improve the outcome of accidents."
Mercedes also aims to reduce the number of traffic fatalities and serious injuries as of 2020 by half come 2030.
"To achieve 'Vision Zero,' many different disciplines and institutions will have to work hand in hand, from transport and urban planners to road authorities and legislators," a Mercedes news release states. "A safe infrastructure is just as much a part of the approach as universal rules. But Mercedes-Benz is going above and beyond this ambitious goal by committing itself to a 'vision of accident-free driving' by 2050."
The OEM says the latest goal is just one of many steps and innovations in safety features from Mercedes, including the creation of the advanced driver assistance system (ADAS) Electronic Stability Program (ESP) 25 years ago and PRE-SAFE. ESP stabilizes the vehicle through targeted and "lightning-fast" braking intervention on individual wheels and works with other vehicle functions "to actively improve safety, efficiency and comfort in many driving situations." PRE-SAFE functions include automatic closure of windows and sunroofs, preventive tensioning of front seat belts, and/or adjustment of the front passenger seat to a more upright position before an imminent collision.
A more recent addition is Mercedes' TwoBox system for electric vehicles (EVs), which went into series production in 2020. The combination ESP and electromechanical brake booster system rapidly builds up brake pressure to, for example, enable short braking distances during automatic emergency braking (AEB). Also in 2020, the OEM introduced a combined brake control system and optional rear-axle steering "to actively adapt handling" and stabilize the vehicle and predict upcoming dynamics.
Rear passenger safety, both child and adult, has also been a recent focus of Mercedes. The first frontal airbag for backseat passengers was introduced in the S-Class in 2020.
Since the 1990s, Mercedes says they have classified safety systems support in four phases: assistance while driving, preparation for potential accidents, and protection during accidents and assistance afterward.
"At Mercedes-Benz, we are pursuing our vision of accident-free driving," said Paul Dick, Mercedes-Benz Group AG head of vehicle safety, in the release. "In other words: no more accidents involving a Mercedes vehicle. We are continuing to work toward this goal at full speed. Highly automated and autonomous driving will be a decisive contributor to its success. After all, vehicle safety has always been at the core of the Mercedes-Benz brand – and we want to continue to expand this claim in the future."
A current development focus of the OEM is on a central software based on the future MB.OS platform that will replace the current architecture with its many control units and lines, the release states. "This will minimize possible sources of error and provide the basis for control systems to respond to sensor signals even faster. When the various actuators centrally coordinate the car's driving dynamics, this brings new possibilities for fine-tuning the driving experience – from highly comfortable to sporty and dynamic."
Part of reaching its goal is working through analyses and data from its Accident Research Unit, which has scientifically analyzed and reconstructed more than 5,000 real-world accidents since 1969, Mercedes says. "The goal: to understand how accidents occur, how collisions affect car occupants and how they could have been prevented. Since accident patterns are different all over the world, time and again Mercedes-Benz has to adapt."
Data from vehicles, with owner consent, is also being used to drive toward "Vision Zero" with the "Mercedes-Benz Road Safety Dashboard." The tool uses GPS to identify potential collision spots and alerts the driver.
IMAGES
Featured image credit: Mercedes-Benz Group
Share This: