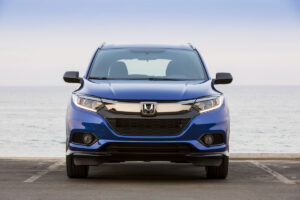 The Inter-Industry Conference on Auto Collision Repair (I-CAR) and Honda have created two new online courses specifically focused on the repair of the 2022 Honda HR-V crossover.
The one-hour courses, on collision repair and electromechanical repair, will be led by I-CAR's technical experts. The courses are $55 each, and are included at no additional charge for Gold Class shops and Sustaining Partners participating in I-CAR's Subscription Training Program.
Honda HR-V 2022 Collision Repair "provides an overview of vehicle design and construction materials, highlighting the unique aspects of service parts and procedure for the 2022 Honda HR-V. The training also includes considerations for sectioning, attachment methods and specific part removal and installation," I-CAR said.
According to the description, after completing this course, a technician should be able to identify Honda-specific names for vehicle parts; identify topics in Honda position statements; explain the construction materials and their repair implications; identify sectioning locations on the Honda-HR-V; describe attachment methods depending on part construction and location; explain considerations for part removal; and describe the refinish considerations for replacement parts.
Honda HR-V 2022 Electromechanical Repairs "is designed to introduce technicians to the electrical and mechanical systems, parts and repair considerations for the 2022 Honda-HRV," I-CAR said. "It offers a detailed overview of mechanical information and advanced driver assistance systems (ADAS) features, and also highlights steering and suspension parts and repair considerations."
According to the description, after completing this course, a technician should be able to identify mechanical repair considers for the Honda HR-V; explain steering and suspension repair considerations; identify calibration tools for the Honda HR-V; identify repair considerations for the bumper cover assembly; explain the conditions under which the multi-purpose camera must be aimed; and identify damage analysis considerations for the supplemental restraint system (SRS).
The courses require no prerequisites, and enrollment is unlimited, Bud Center, I-CAR's Director, Technical Products & Curriculum Development, told Repairer Driven News.
As with the rest of I-CAR's curriculum, Center said the courses include "strategic knowledge checks in each learning module and also include a post-test to confirm understanding and retention."
He said the need for vehicle-specific training has been elevated by "the onslaught of technical advancements in the automotive industry, which vary by make and model." The HR-V was chosen because "it's a vehicle model technicians and APDAs will see frequently and need to repair or assess. Our objective is to provide them with the information, knowledge, and skills they need through educational programming, technical information, and technical services like I-CAR's Repairability Technical Support (RTS) portal."
The new courses are "a reflection of I-CAR's collaborative efforts with our OEM partners to deliver cutting-edge training solutions for today's advanced vehicles that contribute to complete, safe and quality repairs for the ultimate benefit of the consumer," he said.
This is not the first time I-CAR has partnered with an OEM to offer vehicle-specific classes. Center said the organization's Vehicle and Technology Specific Training (VTST) portfolio, which includes 80 online courses, "was developed to keep pace with OEM vehicle changes and advancing technologies that impact collision repair professionals.
"I-CAR continues to partner with vehicle makers and suppliers to address those changes and develop educational programming that contributes to a complete, safe and quality repair for the ultimate benefit of the consumer," he said. "I-CAR was founded to support all segments in the collision repair ecosystem and develop partnerships like this to prepare every person in the inter-industry. The new courses added to our Vehicle and Technology Specific Training portfolio is another example of that, as well as the 50 vehicle-specific courses available in I-CAR's full course catalog."
While hands-on training is "very important for our industry" and will continue to be used, the online presentation lets learners access information anytime after the course has been completed, and helps fulfill I-CAR's mission to "deliver training that is accessible and on-demand."
The classes are recommended by Honda's body shop certification program, but are not a requirement for certification, a Honda spokesperson told RDN.
Both courses are now open for registration at I-CAR's website. I-CAR's complete course catalog can be found here.
Images
The 2022 Honda HR-V Sport. (Provided by Honda)
Share This: