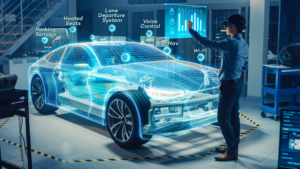 N.J. legislation seeks to ban vehicle feature subscriptions
By on
Announcements
A bill under consideration in the New Jersey legislature would prohibit OEMs from requiring subscriptions for certain motor vehicle features, countering what its sponsors call "business practices that primarily serve to increase corporate profits."
The bill, filed by assemblymen Paul D. Moriarty (District 4) and Joe Danielsen (District 17), would make it illegal for any motor vehicle dealer or manufacturer of motor vehicles sold or leased in New Jersey to charge an ongoing fee for any feature that would function "without ongoing expense to the dealer, manufacturer, or any third-party service provider."
It would cover features using components and hardware already installed on the motor vehicle at the time of purchase or lease by the consumer.
Moriarty and Danielsen argue that the bill is needed because "car companies are increasingly seeking to charge consumers a subscription fee to access certain features on their vehicles, such as heated seats, even though the components necessary for the feature to function are already installed on the vehicle at the time of sale." Upon subscription, the OEM activates the feature over the air for the subscription period.
While "Car companies assert that a subscription-based business model would provide more choice to the consumer," the proponents state, "the practice requires installing all of the necessary components and hardware on the vehicle before the consumer decides to subscribe to the feature, which will likely raise the purchase price for every consumer, whether they intend to subscribe to the feature or not."
The bill defines "motor vehicle features" as "any convenience or safety function included on the motor vehicle, such as heated seats or driver assistance that typically is offered to a consumer as an upgrade at the time of purchase or lease of the motor vehicle."
"Subscription service" is defined as "a service provided on a subscription basis in exchange for a recurring payment, including, but not limited to, a weekly, monthly, or annual payment charged to and made by a consumer." The bill includes an exemption for third-party service providers that offer features such as satellite radio or in-car Wi-Fi.
Violators would be fined up to $10,000 for a first offense, and up to $20,000 for each subsequent offense.
BMW is one OEM that has begun making some features available through paid subscriptions, giving customers in certain markets the option of adding such creature comforts as heated seats, or advanced driver assistance (ADAS) features like High Beam Assistant, at any time.
The vehicles are equipped with the necessary hardware at the factory with a software block preventing them from being functional. That block can be removed over the air once the monthly or annual subscription fee has been paid.
The news generated considerable backlash on social media this past summer, leading BMW to issue a series of tweets clarifying that "Drivers in the US do NOT have to pay a subscription for heated seats or for any other options ordered at time of purchase."
"BMW Functions on Demand is a program that DOES offer premium options, like BMW Drive Recorder and Remote Engine Start, via software updates," BMW USA said in a tweet. "Based on vehicle compatibility, customers can purchase a trial of these features, then decide if they want to purchase a feature outright."
BMW is not alone. Consumer Reports reported last fall that at least five OEMs – Audi, BMW, Cadillac, Porsche, and Tesla – were rolling out a subscription model for certain options in certain markets.
Tesla offers its Full Self-Driving semi-autonomous driving capability for a monthly fee of $99 or $199 on eligible vehicles, with the charge depending on whether the vehicle has basic or enhanced Autopilot. General Motors' conditionally hands-free driving technology, Super Cruise, requires a $25 per month subscription, though it does come free for three years with most GM vehicles.
For repairers, the technology raises some interesting questions. If an advanced driver assistance system (ADAS) feature isn't working, for example, is it because it's faulty, or because the owner hasn't paid the fee to unblock it? Alternatively, could this lead to greater simplification, with every vehicle equipped with every available component at the factory?
In an article published in December 2021, Forbes magazine predicted that subscription-based features would prove to be "too shiny a revenue stream for brands to ignore," aided by the widespread use of over-the-air (OTA) updates.
According to Forbes, Stellantis and GM have predicted they'll collect $23 billion and $25 billion, per year, respectively, in revenue by 2030 from subscription and software services. "That's huge money at a time when automakers are facing massive R&D costs owing to the rapid transition to all-electric vehicles," the magazine said.
On the other hand, vehicle connectivity and telematics software expert VNC Automotive suggests that consumers' resistance to the idea of subscription fees might be overstated.
VNC notes that many consumers are "no stranger to the subscription model," voluntarily paying extra fees for services such as Netflix, Amazon Prime, and Spotify, and subscribing to grocery deliveries. "This familiarity may smooth the transition for manufacturers as they look to recreate that model inside their vehicles," the company said in a recent media release.
Subscription services might benefit the consumer, VNC suggests, by allowing them to pay for certain features as needed, rather than paying for an option at the point of sale. For instance, a buyer might only want to pay for heated seats during winter months.
"There's an obvious tension between OEMs wanting to maximise their revenue, and customers wanting to use the hardware that's already fitted to their vehicles," VNC said. "But the subscription model could offer a personalised and dynamic driving experience, assuming OEMs streamline the payment structure beyond 'dumb' annual fees."
Owners could also benefit from digital "refreshes" of their cars' features, keeping them up-to-date, and would be able to configure a previously-owned car to their own requirements.
"Exciting new features or upgrades for a vehicle are a strong incentive for traditional vehicle users to subscribe," Peter Galek, product engineering director at VNC Automotive, said in the release. "Such models give OEMs the best chance of marketing more features over the vehicle's lifetime."
Images
Featured image provided by VNC Automotive
Share This: