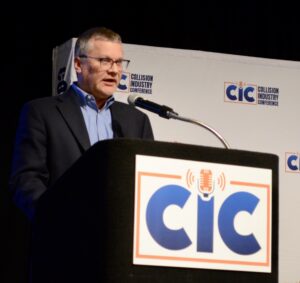 Surveys show that not all shops are dissatisfied with all insurance companies, and not all shops' negative views of carriers are based solely on payment-related issues, CRASH Network publisher John Yoswick told an audience in a Collision Industry Conference presentation in Las Vegas last week.
Yoswick offered some survey results that are not included in CRASH Network's annual "Insurer Report Card," which awards some 90 insurers a grade from A-plus to F based on how well their claims handling policies, attitude and payment practices ensure quality repairs and customer service for motorists.
He suggested that the findings of the survey could be used by carriers as a roadmap for improving their relationship with shops, as well as a resource shops can use "to help convey to consumers that there's something other than just price to consider when choosing an auto insurer."
The 2023 Report Card survey is currently open to professional repairers, at https://www.crashnetwork.com/irc/.
Beyond asking repairers to grade insurers, the survey digs deeper, asking for reasons behind grades of C-minus or lower. CRASH Network gives those low graders 18 potential reasons, and asks the repairer to pick all that apply.
"Now as probably all of us in the room might expect, some of that comes down to payment-related issues," Yoswick said, including "what a shop considers as unreasonable discounts on parts and labor rates."
And yet, "many of the reasons shops cited for giving an insurer a C-minus or lower were primarily process-related rather than payment-related. We see that as giving insurers something of a roadmap for improving their relationship with shops without thinking that the only thing that would make shops happier is if they were paid more money."
In addition, he said, insurers could have received identical letter grades for very different reasons, and offered actual examples of two companies, which he referred to as "Acme Insurance" and "Farm Mutual."
"We found that fewer than half of the shops who gave Acme Insurance a C-minus or lower said that was because Acme is slow to pay in their in their opinion. But when asked why they gave the same lower grade to another insurance, another insurer, Farm Mutual, 65% of shops describe that insurance low to pay. Of those same two insurers, one-third of shops said Farm Mutual pushes for the use of the cheapest parts regardless of quality. But a whopping 78% said Acme Insurance does that. So the two insurers received the same low grade but for different reasons."
He offered four other examples:
In the first, about 66% of shops said a particular insurer has "more burdensome administrative steps that slow the claims and repair process," while 87% of shops had that opinion of a different insurer that received a similar grade. "Again, it's not a payment-related issue, but a concern about process," he said.
In another case, 27% of shops felt that one insurer's claims staff was inexperienced or poorly trained, while just 3% of shops expressed that view of another insurer that received a similar overall grade.
About three out of 10 shops said one insurer is slow to respond for requests for supplement approvals compared to other insurers, but 67% of shops said that about another insurer that received a similar grade.
Lastly, almost four out of five shops said one insurer requires more digital images as part of the claims process. "But that insurer might want to talk to someone in [another] company because only 27% of shops felt this insurer's photo requirements were excessive compared to other insurers," Yoswick said.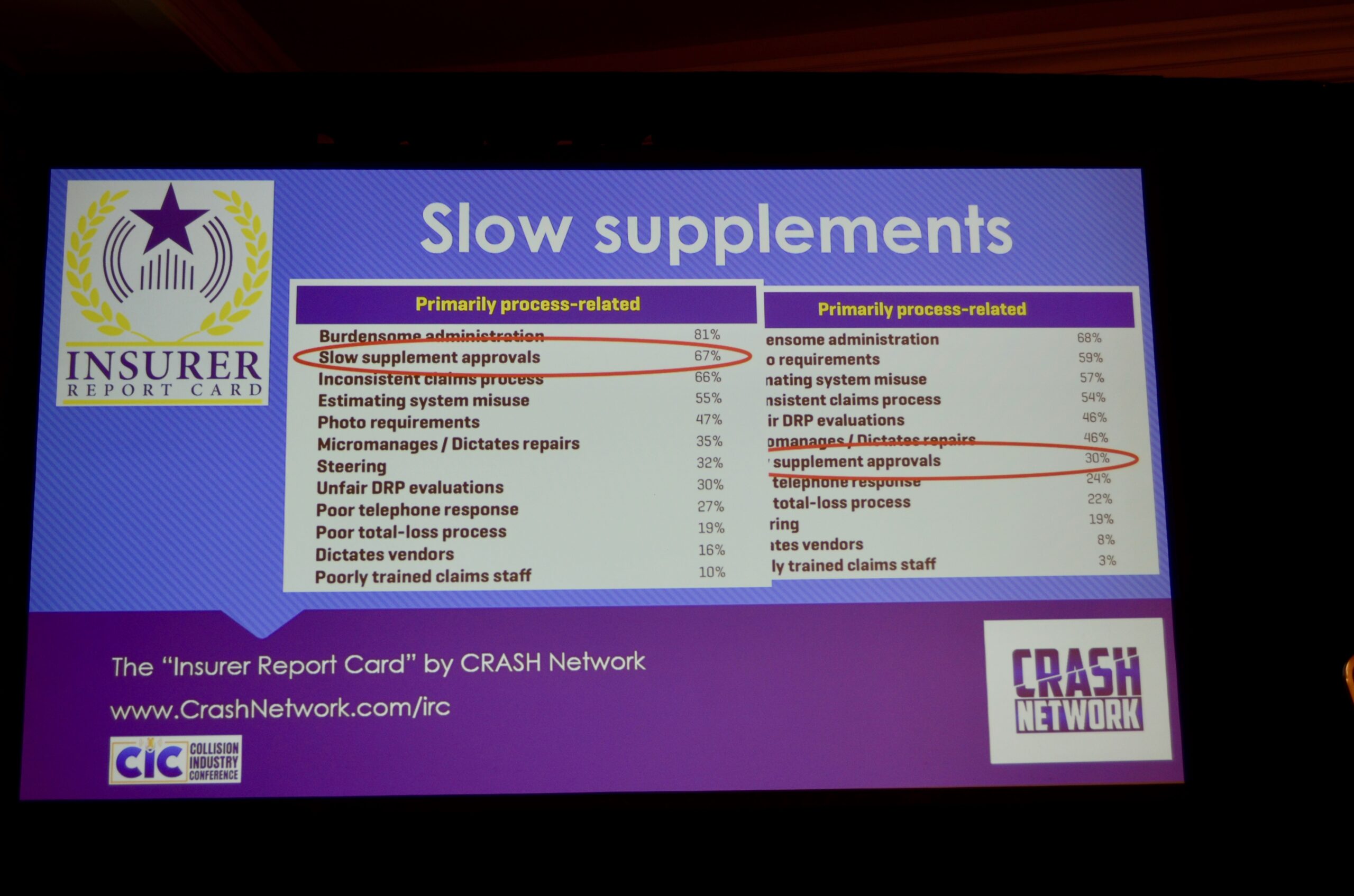 Yoswick said the Insurer Report Card, now in its fifth year, is beginning to have an effect. "We see more insurance companies paying attention to it. We've seen state insurance regulators downloading the report. And we see the insurers that get the best grades, increasingly using that fact in their marketing," he said.
"There are also other organizations that offer consumers information about auto insurers that are now incorporating our insurer report card data into their own scoring system for auto insurers, including Forbes, CNET, and believe it or not even Rolling Stone magazine," he said.
Although the survey is not a new idea, Yoswick said, what sets it apart is that it extends beyond the nation's 10 largest auto insurers to the 20 or 30 largest insurers in each particular state. "The result is that we develop a grade for more than 70 or 80 or even 90 different insurance companies that include some smaller carriers that consumers may not be as familiar with. And in past years, in fact, some of those insurers are among the companies receiving the highest grades from shops," he said.
In the 2022 Report Card, slightly more than a third of the 93 auto insurers graded earned an overall grade of B or above, while none of the nation's 10 largest insurers received a grade higher than C-plus. Fifteen had low overall grades, including four of the 10 largest: GEICO, Liberty Mutual, State Farm (all C-minus), and Allstate (D-plus).
Yoswick said CRASH's goal with the Insurer Report Card "is not to beat up on the insurance industry. As I mentioned, we think this information shows that an insurer could potentially improve its relationship with shops, simply, by example, by improving its total loss processes. Or by understanding that its photo requirements are more burdensome than those of other insurers.
"We see this a bit like an insurance company using metrics to show a DRP [direct repair program] shop how its performance compares to other shops on the program, which can help that shop see areas it may want to change," he said.
More information
More information about the "Insurer Report Card" can be found at https://www.crashnetwork.com/irc.
Body shops rank insurers on ensuring high-quality repairs, service for motorists
Images
Featured image: John Yoswick, publisher of the CRASH Network, makes a presentation during the Collision Industry Conference in Las Vegas. (Dave LaChance/Repairer Driven News)
Though these two insurance companies that received similar overall grades from body shops, one was seen to have a much greater problem with slow supplement approvals than the other. (Dave LaChance/Repairer Driven News)
Share This: