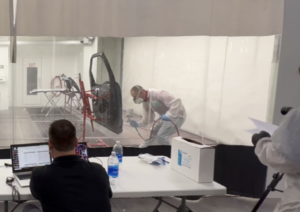 Information providers CCC/MOTOR and Mitchell have told Repairer Driven News that they are reviewing the results of an audited blend study research project conducted by the Society of Collision Repair Specialists (SCRS) in collaboration with the five primary North American coatings companies.
The results, released on Nov. 1 at the Collision Industry Conference (CIC) meeting in Las Vegas, showed that blending a panel takes 31.59% more time than a full refinish of the same panel, on average, rather than the 50% less time allocated in the three estimating systems.
"The editorial team at Mitchell is reviewing materials and data published from the SCRS study," Jack Rozint, Senior Vice President of Repair Sales for Mitchell, told Repairer Driven News. "We are open as always to discussions with SCRS on this subject."
CCC is working with MOTOR to "review the SCRS observations, including scope, conditions, techniques and materials used. MOTOR and CCC will share more once the review is concluded," Mark Fincher, VP, Market Solutions, Automotive Services Group, told RDN.
Audatex had not responded as of RDN's publication deadline.
Aaron Schulenburg, executive director of SCRS, told RDN that he has had conversations with representatives of CCC, Mitchell, and Audatex who were present during the presentation of the results at CIC. "None were provided the results in advance, so we've reached out for further dialog while also providing the opportunity to digest the material," Schulenburg said. "We are all aware of the need for further conversation to try and reconcile our results in contrast to the existing IP formulas."
The goal of SCRS is "to see how we can help with meaningful conversation that will hopefully lead to action that demonstrates to the industry that we collectively hear their concerns," he said.
"We will continue to advocate for our members, and believe that the forthcoming conversations are the appropriate next steps to do so," he added. "It's not lost on us how important this issue is."
The full Blend Study Report: A comparative analysis between full refinish and blend operations can be downloaded at www.scrs.com/blendstudy.
Panel discussion
During a Nov. 4 discussion on the Collision Repair and Refinish Stage at the SEMA Show, SCRS representatives said the study provides hard evidence of what repairers have long known: that the time allowed by the IPs for blending does not reflect reality. In fact, in a survey taken before the findings were presented, 63% of the CIC audience assumed this would be the result.
SCRS Chair Bruce Halcro, of Capitol Collision Center; Secretary Michael Bradshaw, of K & M Collision Center; Vice Chair Amber Alley, of Barsotti's Body and Fender; and former Chair Gary Wano Jr., of GW & Son Auto Body, spoke about the results, and what comes next.
"Time and time again, we've heard shop owners, we've heard refinish technicians, we've heard managers and blueprinters, say these blend times are not right. There's no way it's 50%," Bradshaw said. "This has been an issue that's been prevalent in our industry for 30 years, and I feel like from a shop perspective, for so long, there has been such a mistrust with the information providers, because there are things that we know just aren't right."
Bradshaw called this an "inflection point" for the industry.
The SCRS study "has been validated by a third party with a tremendous amount of transparency. So now, if you're the information providers … I would challenge them to do the right thing. I mean, this is their opportunity to be transparent. If they really feel it's 50% and they feel they have the data, publish that data to the industry, have it validated by a third party."
As paying customers of the IPs, shops could be having conversations with their account representatives about this issue, he said. "It's an opportunity for the industry to really make the information providers finally become a little transparent on what it is they're doing."
Halcro agreed. "As a national association, our job is to get the information to the shops, and how the shops use it then is totally up to them," he said. "However, I think Michael nailed it. You know, I know what my IP bill is every month, and I expect them to do the right thing out of this."
Alley suggested that shops might want to print out the white paper and have it available in their shops, for initiating conversations with insurers. She said her shop will likely move toward billing for full refinish time when a blend is done, "and maybe add some prep time, too."
"I think it would be a great tool for anybody to have available in their shop to share, and maybe if a bill payer isn't paying attention, have a copy ready for him the next time they show up, email it to them so they can't say they weren't aware," Halcro said. He encouraged repairers to spread awareness through their state associations as well.
Wano said his shop in recent years has become better at identifying processes that it follows, but has never gotten compensated for. "So now we're writing better sheets, we're actually performing blueprints, not just estimates," he said.
"So when you look at what the study has done, is actually yet again, identified something that we're doing, [and] have been doing — we're just going to be paid for it now," Wano said. "It's not adding a process to the car, it's not going to take you any more time to perform this task, now we're just going to be paid for it."
DEG inquiries
Danny Gredinberg, administrator of the Database Enhancement Gateway, said he has begun receiving inquiries as a result of the study, and is working with SCRS on a response.
"This is a large-scale discussion that is being addressed as a global topic," Gredinberg told RDN. Inquires submitted to the DEG on this topic "may not yield an immediate change. The information is out and all three IP's are looking into it."
The DEG is an initiative that was developed and continues to be managed by SCRS and AASP to help improve the quality and accuracy of collision repair estimates, through proactive feedback from the collision repair industry and other "end users" to the IPs that supply the databases for the various estimating products.
It may be worth noting here that all three estimating systems are to be used only as guides, as they state:
CCC/MOTOR: "The estimated work times reported in this publication are to be used as a GUIDE ONLY"
Mitchell: "The actual time taken by individual repair facilities to replace collision damaged parts can be expected to vary due to severity of collision, vehicle condition, equipment used, etc."
Audatex: "Labor supplied in an Audatex estimate is intended for use as a guide for collision repair. Labor allotments suggested by Audatex estimates are for replacement of new and undamaged parts. Additional allowances are provided for optional equipment supplied by the vehicle manufacturer by selecting the appropriate options and parts. Because each vehicle's collision damage is unique, automation cannot cover every situation. The flexibility of the Audatex system, coupled with the estimate preparer's knowledge and expertise, provides for adjustment of any estimate to meet the needs presented by each collision situation."
More information
The full Blend Study Report: A comparative analysis between full refinish and blend operations can be downloaded at www.scrs.com/blendstudy.
SCRS research concludes blend time is greater than full refinish
CIC committee details importance of OEM procedure research & highlights steps repairers should be taking with every repair
Images
Featured image: A painter takes part in the audited and monitored SCRS blend study in August at the Global Finishing Solutions (GFS) Center for Excellence in Osseo, Wisconsin.
Share This: