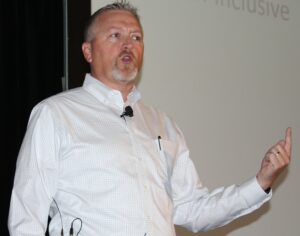 RDE 2022: The dos and don'ts of shop employee retention & recruitment
By on
Business Practices
As the industry faces recruitment and retention challenges during the ongoing technician crisis — a topic covered in-depth during SEMA Show education sessions last week — Tony Adams, an AkzoNobel business services consultant and a former body shop owner, shared the dos and don'ts that automotive and collision repair shop owners can follow to attract and keep employees.
"We can't keep trying to do the same thing over and over and over again expecting a different result," Adams said during a Society of Collision Repair Specialists (SCRS) Repairer Driven Education session. "We have to unlearn a lot of the bad habits that we had in leading and managing our businesses and put new tools in place. …We have to constantly challenge our beliefs and what we think and the way that things work and who we are today and how we lead our organizations."
So what could be the problems? Adams referenced a MITSloan Management Review article, "Toxic Culture is Driving the Great Resignation," in which 1.4 million Glassdoor employee workplace reviews were ranked by searching keywords related to the reasons why employees left their jobs. You might think it was pay but MIT found it isn't. That ranks No. 16. No. 1? Toxic workplace culture.
In a follow-up article, "Why Every Leader Needs To Worry About Toxic Culture," which Adams also referenced, the top toxic culture traits were shared:
Non-inclusive. Adams also noted that the automotive and collision repair industries are predominately male-dominated.
Cronyism – bosses hiring buddies and family members. "We need new leadership skills today so that we can learn how to look for different attributes instead of just who I'm closely aligned with," Adams said.
Disrespect – MIT found in the employee reviews that phrases frequently used were "dumpster fire" and "soul-crushing" to describe workplace culture.
Unethical.
Cutthroat.
Abusive – sustained mental abuse (demeaning, never telling them good job, etc.).
And the toxic traits lead to stress, burnout, and mental health issues costing employers around $50 billion a year in attrition costs as well as $16 billion in health care costs due to a 35-55% increase in major diseases, Adams said.
Adams also shared findings from a recent Gallup survey on employee engagement. Respondents were broken down into three groups — actively disengaged, engaged, and disengaged. He said the first group, "cut performance of the people around them by at least 50%" and make up, on average, 17% of the respondents.
Engaged employees want to help others, improve the workplace, and are passionate about their work, Adams said. They make up 32% of respondents. Disengaged employees aren't causing harm but also aren't doing anything to make things better; they're the "'quiet quitters' – the people that are just showing up and going through the motions every single day," he said. They make up 49% of respondents.
"You've gotta coach them up or you've gotta coach them out," Adams said about both groups of disengaged employees. "I know that that's a really hard decision but it has to be done. …They're never going to give you any more than their absolute minimum. Why would I give you any more if you're going to allow that technician to kick trash cans and throw tools? I get it, he may be your very best guy as far as production goes, but I'm never gonna give you any more.
"As leaders and managers, we are on stage all the time and our people are watching us. …If you're going to tolerate that, I'm not ever going to give you any more. This is the biggest area of opportunity. The goal is never a hundred percent employee engagement. …I don't think that's a realistic expectation. The goal is to get as many of those people moved into this engaged status."
Adams recommends reading Patrick Lencioni's book, "The Truth about Employee Engagement," which covers the three signs of a miserable job – anonymity, irrelevance, and measurement.
Adams noted that if your business has customer satisfaction issues, there most likely are also employee satisfaction issues. "It has to be employees first. I think we get that wrong sometimes. …The employee that works for you is more important. If they are happy, they are healthy, they're fully engaged in their business, they're going to deliver exceptional CSI [Customer Satisfaction Index]."
Drawing from his research, Adams shared his opinions on what employees are looking for. First of all, an issue he's noticed many businesses struggle with is differentiating leaders from managers. The difference, he said, is that responsibility can be shared but accountability is held by one person and is after an action. "Ninety percent of people in lead positions aren't leading; they're working or managing. Until we can put new skills in place, until we can unlearn and relearn new skill sets, the toxic culture is going to continue to prevail. The attrition is going to continue."
Some shops need to re-think their management style for the younger generation — Millennials and Gen Z. "If we come to them and say, 'Take it or else,' what are they going to do? 'Else' all day long. We've got to stop complaining and we've got to adapt. We've got to relearn how to lead and we've gotta change our perspective on this. We have to get our leaders in lead positions."
Along with that, Adams added, is a commitment to learning and being consistent in shifting from just managing people to leading them. "We can't just have an event. We can't just talk about it once or maybe twice or over the course of a quarter." And, it doesn't have to be intense, just deliberate and daily, he said.
Other actions shops can consider to improve their workplace environment are, Adams said:
Facilitate psychological safety – the No. 1 business advantage today, according to "The Fearless Organization" by Amy C. Edmondson. "Go back to the actively disengaged employees and the disengaged employees; 66% of people aren't speaking up because it's not psychologically safe," Adams said. "People are leaving saying that it's money when it's really not because they know that it doesn't really make any difference."
Focus on well-being.
Work/life balance and flexible work weeks. According to his research, Adams said the majority of workers would rather have more time off than a pay raise and many shops are moving to four-day work weeks for technicians.
Upskill managers and train them in leadership skills.
Stop telling people what to do and ask questions instead so they figure out the process.
Hold employees accountable. "No behavior is repeated that is not reinforced," Adams said. "If you walk by something and it's not what you want in your business and you don't say anything about it, what just happened? You've just reinforced the behavior that that's OK."
Spend more time with your top performers.
Create a fun work environment.
"We're the most in debt, obese, addicted, medicated, adult cohorts in history," Adams said. "You have to create meaningful connections with your team. People can spot fake connection. You've got to get to know people where they are and what their struggles are in their lives because we're in a position as leaders of our organizations to help them; remove roadblocks. And we can't do that unless we get to know our people."
Businesses that are successful also know their purpose aside from profit, he added. He noted that it's important to ask employees for feedback but be careful what you say at that moment because how you react determines whether they'll be honest in the future. Instead, thank them for their feedback and follow up later after thinking about what to say.
Recruitment
"Part of the challenge is we bring people into our organization that are apprentices and we go, 'Here, teach this young man or woman how to be a technician; how to be a 30-year technician,'" Adams said. "Well, number one, they're not teachers. They don't know how to teach. They're technicians.
"We've never really given them a path of what to learn and how to learn and what those orders are so I think that this is a piece that we really need to do a better job of [as] an industry; of rethinking how we go about doing that and bringing people in …so that the mentor knows what he or she is supposed to be teaching to the mentee. And when the two of them sign off on this and it comes to me as the owner of the business, I've got no choice but to give you your next pay raise instead of what usually happens, which is, I've been here for two years and I haven't had a raise."
Employers should step away from posting technician job ads that ask for a certain amount of experience and that require new employees to purchase their own tools. Instead, focus on what's unique and different about working at your shop, Adams said. It's important to show that on social media, too. Keep in mind, the industry is competing against Amazon — another point brought up several times during education sessions at the SEMA Show.
"It's $18 an hour. …Vacations from day one," Adams said. "Stock options, 401(k) options, adoption services, you can get your attorney's fees covered. Well-being days. This is what we're competing against and we want to bring people into this industry and pay them $15 an hour to go wash cars and we act like they should be grateful to us to have a job like that. …And then we say, 'Oh, and by the way, you gotta buy your own tools and I'm gonna pair you up with the technician that doesn't really want to train you or know how to train you.' And then we turn them and we burn them out. These are realities people. We have to change that."
So how can shops get involved in cutting down the technician shortage? Adams says to develop career paths so new employees know what they're being trained on, what expectations are, and how they get to be the technician your shop is looking for. And hire a leadership coach that will "push and challenge you to be a better leader."
Adams provided his email address, anthony.adams@akzonobel.com, for anyone to get in touch with him for coach recommendations, more information, or for an assessment his colleague developed that serves as a checklist to guide shop mentors in what new technicians should accomplish within certain timeframes.
Images
Featured image: Tony Adams speaks during an SCRS Repairer Driven Education session on Nov. 2 at the 2022 SEMA Show. (Lurah Lowery/Repairer Driven News)
More information
Tech shortage remedy: Change automotive, collision repair perception & emphasize healthy shop culture, training
2022 TechForce supply & demand report: More than 100K collision techs needed over next four years
Share This: