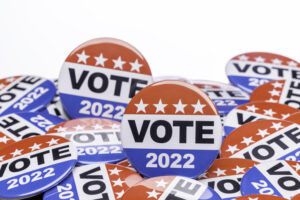 Incumbent insurance commissioners in California, Georgia, and Kansas prevailed in Tuesday's midterm elections, while the Oklahoma commissioner was returned to office without opposition in either the primary or the general election.
Meanwhile, in two states with appointed commissioners, Massachusetts and Maryland, the governor's office changed hands between political parties, possibly affecting those commissioners' fates.
California
The most prominent contest was in California, where Commissioner Ricardo Lara, a Democrat first elected in 2018, turned aside a challenge from Republican nominee Robert Howell by a margin of 58% to 42%.
Lara has come under criticism from the insurance industry for refusing to consider requests for rate increases, as he presses auto insurers to disclose their windfall profits from the COVID-19 pandemic.
Maintaining that auto insurers still owe rebates to California drivers who were overcharged during the stay-at-home period of the pandemic, Lara in October ordered 47 carriers to provide detailed information about their claim costs during that time.
To date, in response to the commissioner's orders, insurance companies have returned a total of more than $2.4 billion in premiums to Californians. "But based on the Department's analysis and calculations, Commissioner Lara continues to emphasize that "[i]nsurance companies must do more to return overstated private passenger automobile premiums, and continue to do so as long as the pandemic results in reduced risk of loss," CDI's letter to insurers states.
The National Association of Mutual Insurance Companies (NAMIC), the Personal Insurance Federation of California (PIFC), and the American Property Casualty Insurance Association (APCIA) sent a joint letter to Lara, warning that he is risking a crisis by refusing to approve any rate increases since the start of the coronavirus pandemic more than two years ago.
Lara has also drawn criticism from the public interest group Consumer Watchdog [CW] over what it calls CDI's "pay-to-play scandal." CW went to court in July, seeking an order that Lara disclose records of all meetings with representatives of insurance companies with business pending before the agency.
In a Sept. 29, 2019 open letter to constituents, Lara apologized for unspecified meetings and pledged reforms.
"I believe effective public service demands constant adherence to the highest ethical standards," Lara wrote. "But during my campaign and first six months in office, my campaign operation scheduled meetings and solicited campaign contributions that did not fall in line with commitments I made to refuse contributions from the insurance industry. I take full responsibility for that and am deeply sorry."
Georgia
In Georgia, incumbent Commissioner John King, a Republican, defeated Democratic challenger Janice Laws Robinson, 54.1% to 45.9%.
King was appointed to the position in 2019 by Gov. Brian Kemp, after previous commissioner Jim Beck was convicted of fraud and money laundering charges.
Auto insurance rates were a central issue in the campaign. King said he wanted to protect consumers against high rates, but not at the risk of leading insurers to abandon the state.
In August, King publicly criticized Allstate for what he saw as the exploitation of a loophole to to impose a 25% increase in auto insurance rates in Georgia, the carrier's second since the beginning of 2022.
"I am angry and disappointed that Allstate has chosen to exploit a loophole in state law to implement such a substantial increase in costs on hardworking Georgians when families are already struggling with historic inflation everywhere from the gas pump to the grocery store," King said at the time. "This latest increase means Allstate has now bypassed our office to raise overall rates in Georgia by 40% in this calendar year alone."
As a result, King approached legislators about changing Georgia law to give his office "additional authorities to protect consumers from these types of inexcusable actions."
King also issued a directive in March reminding auto insurers that they must include the full amount of taxes that would be paid on a replacement vehicle when settling total loss claims.
He said he issued the directive after learning about "confusion among Auto Insurers" about the correct method for calculating taxes. "Allow me first to reiterate that the purpose of insurance is to make insureds whole again following a covered loss," King said in his directive.
Kansas
In Kansas, Republican Vicki Schmidt defeated her Democratic challenger, Kiel Corkran, by a margin of 62% to 38%.
Schmidt, who served in the state Senate before being elected to her first term four years ago, has touted her work to modernize the office, as well as how insurance agents are licensed.
Reducing the regulatory cost of doing business, Schmidt said her department has reduced insurance and securities fees by more than $35 million.
"Under my leadership, the department has returned more than $24 million to Kansans, found numerous efficiencies that save taxpayer dollars and reduced fees to help make Kansas a great place to do business," she said in a campaign statement.
Oklahoma
In Oklahoma, Commissioner Glen Mulready was elected to a second term on Tuesday, with no opponent on the ballot.
In campaign materials, Mulready said his goals are to safeguard consumers by making sure that "their claims will be paid in a quick and fair mannner," and to make certain that the state's insurance industry is stable and provides choices for consumers.
"Oklahomans don't want to worry about their insurance company being financially solvent or worry about what would happen should their insurance company leave the state," he said.
Mulready was one of several insurance commissioners mentioned in 2019 by National Association of Insurance Commissioners consumer liaison Erica Eversman as seeming receptive to collision industry concerns.
She called Mulready "very interesting" and noted his campaign was based upon the idea of health care choice. However, she said they had a "great conversation."
Changes in the state house
In Massachusetts and Maryland, Democratic candidates won election as governor, succeeding Republicans. Both incoming governors, Maura Healey in Massachusetts and Wes Moore in Maryland, will have the opportunity to appoint new insurance commissioners.
Healey, currently the state's attorney general, replaces Republican Gov. Charlie Baker, the former CEO of Harvard Pilgrim Health Care. Moore, an investment banker, author, and television producer, succeeds Larry Hogan, a developer and founder of a nonprofit anti-tax advocacy organization.
Gary Anderson is the current acting Massachusetts commissioner of insurance. He was appointed by Baker in February 2017, after the resignation of Daniel Judson. He joined the Massachusetts Division of Insurance as First Deputy Commissioner in February 2014.
Kathleen A. Birrane was appointed Maryland insurance commissioner by Republican Gov. Larry Hogan in May 2020. She had been a partner was a partner in the Insurance Sector and Litigation and Regulatory Practice Group at the global law firm of DLA Piper LLP (US), where her practice focused on insurance and reinsurance transactions, regulatory compliance and related litigation.
Images
Featured image by JasonDoiy/iStock
Share This: