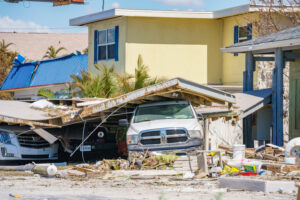 Hurricane Ian caused widespread flooding across Florida, North Carolina, and South Carolina in October, resulting in losses estimated at between $41 billion and $70 billion. Among those losses were up to 358,000 vehicles damaged by floodwaters, according to Carfax.
As the vehicles are declared total losses and proceed to auction, there's a good chance that a significant number of them will take to the road again, adding to a global reclamation fleet that includes uncounted vehicles damaged in collisions.
Through the end of the quarter, Copart, the dominant company in the late model vehicle auction space, received nearly 70,000 vehicles damaged in Hurricane Ian, Copart co-CEO Jeff Liaw said during a Q1 2023 earnings call on Nov. 16.
How many of those vehicles will take to the road again, rather than being recycled? On average, approximately 20%, according to a figure provided by Liaw during a previous earnings call.
"Our retrieval and storage of vehicles, title processing, and online marketplace are essential to the reuse, harvesting, and recycling of literally millions of cars per year," Liaw said during the Sept. 8 call. "We estimate that approximately two out of every five vehicles we sell are driven again somewhere in the world. The remainder are harvested and recycled for parts or metals reducing the need for de novo mineral extraction and manufacturing emissions."
Liaw did not break down the figure, and Copart did not respond to questions from Repairer Driven News about how many of those vehicles were total losses put up for sale by insurers.
However, in a September filing with the federal Securities and Exchange Commission, Copart says that the sellers "consist primarily of insurance companies," and that the majority of vehicles sold on behalf of insurers "are either damaged vehicles deemed a total loss; not economically repairable by the insurance companies; or are recovered stolen vehicles for which an insurance settlement with the vehicle owner has already been made."
Liaw said the company is providing leadership in sustainable environmental practices. "Copart is a keystone enabler of the circular economy. Our business enables the reuse and recycling of vehicles, their components and materials substantially reducing what would otherwise be the carbon footprint of the transportation sector," he said.
Unsaid, and beyond Copart's control, is where those sold vehicles end up, and whether they've been properly repaired before the keys are passed on to another driver.
NPR's Planet Money podcast recently examined the issue of the overseas resale of totaled vehicles, tracing the story of a 2021 Lexus RX350 that had shown up at a mechanic's shop in Turkmenistan. What they found, the show's host said, was an "international clunker underground."
In the podcast, originally aired on Sept. 7, Scott Gurian explains that he was contacted by a mechanic in Turkmenistan named Oraz, whom he had befriended six years earlier. Oraz, whose last name was withheld, had gotten in touch because he had recently been hired to repair the Lexus, and was curious about how it had arrived in his country.
Oraz "explained that he gets cars from the U.S. into his shop all the time, but they're usually not like this one," the podcast's host, Alexi Horowitz-Ghazi, said. The vehicle carried a New Jersey registration.
"You wouldn't believe, but every second or third car here is from America," Oraz said. "And all of them are damaged cars." Gurian added, "Usually he gets the castoffs – cars that arrive crumpled and dented. Oraz fixes them up and gets them back on the road for his customers."
Planet Money tracked down the buyer, a businessman from Turkmenistan identified only as Magtim. He explained that he had purchased the vehicle through a Copart auction, and had arranged to have it shipped to him.
"There were some electrical issues and rust, but nothing a trusty Turkman mechanic couldn't fix," the podcast's host, Alexi Horowitz-Ghazi, said. The program goes into no further details about the repair work performed on the Lexus.
Contacted by Planet Money, a Copart employee declined to say how the Lexus had made its way into the company's inventory. At this point, the program tracked down a former Copart employee named Steve Lang.
Lang explained that "Copart specializes in totaled cars," Horowitz-Ghazi said, and that "that this distinction between normal secondhand cars and totaled cars is the big red line in the used car world," Gurian said.
The following back-and-forth ensues:
Horowitz-Ghazi: "Totaled cars have been through something so catastrophic that they're not legally allowed on the road anymore. And before we talked to Steve, I think I assumed that a totaled car was a complete write-off — like, totaled stood for totally worthless. But Steve says that is not how it works."
Gurian: "So say something really bad has happened to your Lexus. Your insurance company will send an agent to figure out how much it will cost to repair. If they say it'll be more than 75 to 80% of the car's blue book value, then they'll declare it a total loss."
Lang: "They will tell you, you know what? Look at this thing. I mean, it's almost a pretzel. You can't play around with this one. Guess what, mister? Your car is no longer a car, at least not for you."
Horowitz-Ghazi: "The insurance company cuts you a check for a new car, and now they have to figure out what to do with your wrecked Lexus, how to squeeze as much value out of it as possible, which is where these special auctions come into play. Steve says about 2 million cars pass through them every year."
Lang: "The buyers of these cars can be professional body shops or they could be auto recyclers and junkyards, or they could be exporters. They can be people who send these vehicles abroad."
Horowitz-Ghazi: "And often that's how you get the most for a totaled car – by selling it abroad."
They reported that vehicles repaired after they have been deemed a total loss get a salvage title, which diminishes the vehicle's domestic resale value. "But if the car leaves the country, those records and regulations don't always follow. It depends on the laws of whatever country it's going to," Horowitz-Ghazi said.
In some countries, Gurian added, the lower cost of labor and parts can make the cost of "getting a damaged car back on the road" much less expensive.
Copart acknowledges that some of the vehicles it sells leave the U.S. Its 2023 Report on Environmental, Social and Governance (ESG) Efforts states, "we estimate that approximately 2/3 of the vehicles sold by our US auctions to international members are to developing economies as defined by the United Nations Department of Economic and Social Affairs."
"As a general matter, endemic poverty and poor access to transportation are highly correlated – our global auction platform enables residents of countries with emerging economies to access vehicular transportation, which in turn affords them social, educational, and economic advancement opportunities not otherwise available to them," the report says.
Planet Money's further investigation found that the Lexus had been in Hurricane Ida in September 2021, and had been impounded by the local police department. Police were able to identify the former owner, but declined to provide his name to the podcast.
Images
A truck is pinned down under storm debris from Hurricane Ian in Fort Myers, Fla., in this Oct. 1, 2022 photo. (felixmizioznikov/iStock)
Share This: