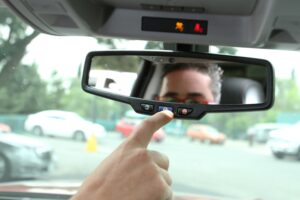 OnStar has announced that older General Motors vehicles will lose access to the service next month, as the 2G communications network those vehicles rely on is discontinued.
In the U.S. and Canada, certain 2015 model year and older GM vehicles will be affected, OnStar said. In addition to current brands Chevrolet, Buick, Cadillac, and GMC, this may also include former GM brands, such as Pontiac, Saturn, and Hummer.
T-Mobile and Verizon have said that they will discontinue 2G service by Jan. 1 to make way for 4G and 5G technology. The other two major cellular carriers, AT&T and Sprint, have already done so.
Owners and repairers can check to see if a vehicle is affected by the 2G network sunset by entering the vehicle identification number (VIN) at the OnStar website.
Once the network has been shut down, the three-button OnStar interface in affected vehicles will no longer work, the service said. However, members will still be able to use key services by calling an OnStar advisor at 888-466-7827, or by using the OnStar Guardian app.
The app, which is included in the Safety & Security and OnStar Guardian plans, also offers Location Status and Mobile Crash Response services. OnStar had expanded the app to owners of non-GM vehicles in June 2021.
"When you need to travel, the OnStar Guardian app brings Mobile Crash Response to any vehicle you or your loved ones are in," GM wrote in June 2020. "The Guardian app is designed to use your smartphone's sensors to help detect a crash and alert an Emergency-Certified OnStar advisor, who can connect with first responders. Mobile Crash Response services can connect you to an OnStar advisor automatically on Android devices only."
Subscribers to the Safety & Security Plan will no longer be connected to Automatic Crash Response, Stolen Vehicle Assistance, and Turn-by-Turn Navigation when the 2G network is switched off, OnStar said. Essentials Plan subscribers will also lose their connection to those services, as well as Remote Key Fob.
For more information, visit OnStar's FAQ page.
More information
3G network shutdowns likely to have greater impact on vehicle features than repairability
Images
Featured image: The OnStar buttons in certain GM vehicles will no longer function once the 2G cellular network is switched off. (Provided by GM)
Share This: