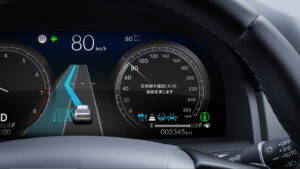 Honda Motor Co. on Wednesday announced its plans to expand its Honda Sensing suite of advanced driver assistance system (ADAS) technology to include hands-free features on all of its models by 2030.
The next-generation Honda Sensing 360 system "will realize new functions to reduce driver burden by detecting abnormal conditions occurring to the driver and vehicle's surroundings to prevent collisions," Honda said. It said the new functions would be added to the current Honda Sensing 360 and applied sequentially on a global basis starting in 2024. The Acura version of Honda Sensing 360 will be called AcuraWatch.
The technology will be standard on all vehicles sold in the US by 2030, Honda said.
"Based on the global safety slogan 'Safety for Everyone,' Honda is striving for a collision-free society for everyone sharing the road by pursuing the research and development of safety technologies from the perspective of both hardware and software," the OEM said.
It said it plans to cut global traffic collision fatalities involving Honda motorcycles and automobiles by half by 2030, by equipping all new models in all major markets with Honda Sensing 360, and adding a motorcycle detection function to its Honda Sensing 360 and premium Honda Sensing Elite suites.
The current generation of Honda Sensing, launched on the 2015 Honda CR-V and 2015 Acura TLX, is installed to 99% of Honda's new automobile models sold in Japan and the U.S., and 86% globally. Cumulatively, the company has sold 14 million vehicles equipped with Honda Sensing.
Today, nearly 7 million vehicles on U.S. roads have the benefit of Honda Sensing and AcuraWatch technologies.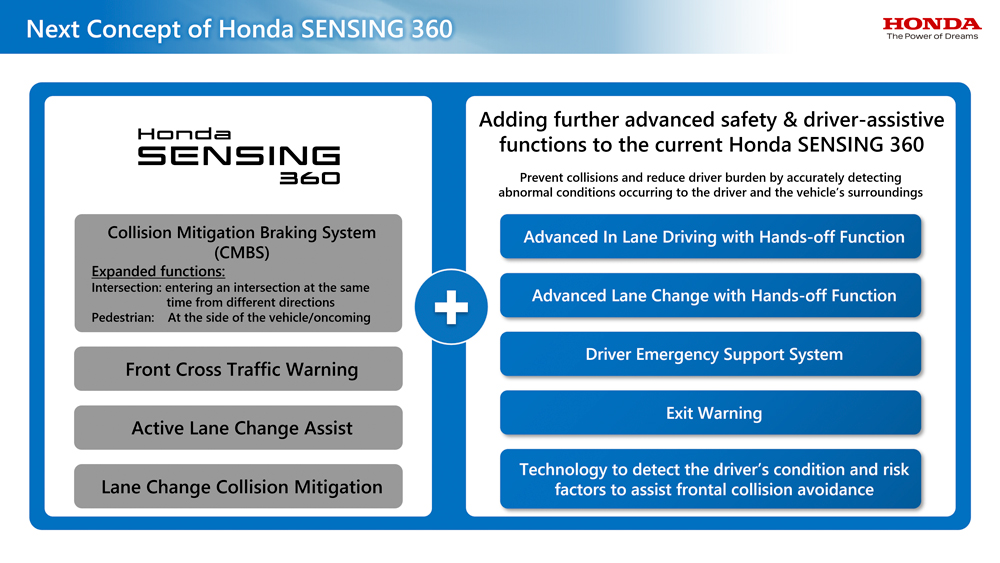 Chris Martin, a spokesman for American Honda, told Repairer Driven News that it's difficult to say whether the new technology will require different types or numbers of sensors, since the versions of Honda Sensing currently on sale in the US utilize a variety of different sensor setups depending on the model.
"Ultimately, Honda Sensing 360 utilizes many of the same types of sensors, but in a more robust way to detect potential collisions all around the vehicle," Martin said. "Honda Sensing Elite adds significantly more sensor and processing capability, including the addition of lidar, which is not present on any of our other production vehicles."
He said that the updated version of Honda Sensing 360 will be introduced in the U.S. in the late 2020s, and will be standard by 2030. "So, there is a bit of time before vehicles with the system will be seen here. We have not announced any further rollout plans for Honda Sensing Elite yet. So, that is likely even farther away," he said.
The following is a rundown on the new features that will be added to Honda Sensing 360:
Advanced In Lane Driving with Hands-off Function will allow the driver to maintain proper vehicle speed and remain in the lane with hands off the wheel. "When there is no car in front of the vehicle, the system drives the vehicle along the middle of the lane while maintaining the pre-set vehicle speed," Honda said. "For turning, the system detects the curvature of the lane in advance and assists the driver in smooth cornering by reducing vehicle speed in accordance with the detected curvature."
Another feature, Advanced Lane Change with Hands-off Function, will assist the driver in making lane changes under certain conditions. When the system detects a vehicle in front being driven at low speed, it will notify the driver before assisting in passing and returning to the original lane.
When a driver is asked to take over the operation of the vehicle and does not respond, the Driver Emergency Support System will try to alert the driver with alarm sounds. If the driver is still unresponsive, the system will slow and stop the vehicle within its lane, using the hazard lights and horn to warn surrounding drivers.
When the vehicle is parked, Exit Warning will warn the driver if a vehicle is approaching from the rear. If it determines that opening the door could result in a collision, it will flash an indicator and sound an alarm.
Finally, Honda Sensing 360 will offer a package of three features that will watch for "diminishing driver attention" and help to prevent a likely collision with a pedestrian, cyclist, or other vehicle. These are called Driver Attention Warning and Collision Warning, In-Lane Collision Avoidance Assist Technology, and Emergency Steering Support Technology.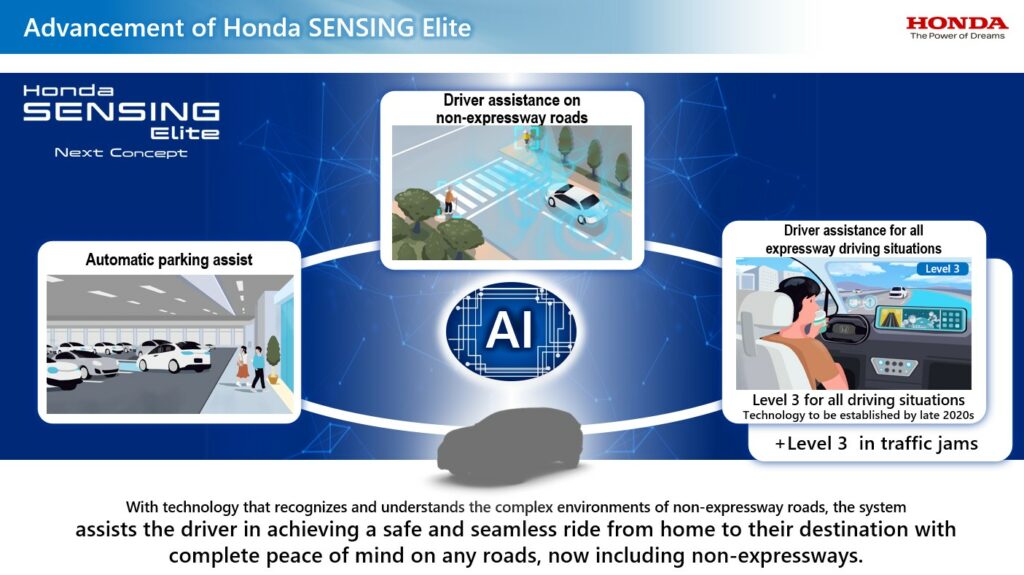 Honda also unveiled advancements in Honda Sensing Elite, a premium program that uses artificial intelligence (AI) to gather data and help the vehicle to recognize and navigate complex environments. Currently offered only in Japan, Honda Sensing Elite is capable of SAE Level 3 driving autonomy, in which the vehicle, rather than the driver, is responsible.
"Honda will continue making progress in the development of technologies to assist the driver on non-expressways including a hands-off function while driving through a traffic jam on arterial roads; to enable hands-off functions during merging onto and exiting from an expressway at a road junction; to assist the driver by automatically parking in and driving out of a home garage," the OEM said. It said it will start applying these technologies sequentially starting in the mid-2020s.
Honda detailed three new features that will be added to Honda Sensing Elite:
L3 driver assistance, now limited to highways, will be expanded to all roads through the use of "highly sophisticated recognition and control technologies that can handle a complex traffic environment," Honda said. It said it plans to introduce technologies that can use risk prediction to prevent collisions, in conjunction with Adaptive Cruse Control (ACC) and Lane Keeping Assist System (LKAS).
An "automated parking valet" function will let customers to exit or hail their parked vehicle wherever they go. Currently, the system can automatically park in and drive out of the garage of a single-family home or pre-assigned parking spot in a residential garage complex.
Lastly, Honda said Honda Sensing Elite has been upgraded to assist a driver in merging onto or exiting a limited-access highway.
Images
The Advanced Lane Change with Hands-Off Function meter is shown. (Provided by Honda)
Share This: