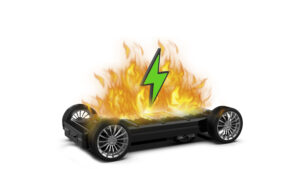 N.J. legislators want mandatory EV fire training for firefighters & EMTs
By on
Legal
New Jersey legislators are on the move to require electric vehicle (EV) fire training for firefighters and emergency medical technicians (EMTs) following the death of a man who was trapped in his burning Tesla.
Senate Bill S3237 and House companion bill A4842 seek to cover the costs associated with annual EV fire education and training for firefighters and EMTs.
S2881 and A4476 seek a training course for firefighters that would cover the risks associated with EVs and how to safely and effectively manage EV fires as well as a course for EMTs about the risks associated with EVs and how to safely and effectively perform their duties when they're called to the scene of EV fires.
"For the last 20 years, there has been increased interest in and use of electric vehicles," the bills state. "While the risk of an electric vehicle fire is low, managing an electric vehicle fire requires specialized training since a lithium-ion battery can burn hotter and for a longer period of time than a gasoline engine."
Of the more than 6 million cars registered in New Jersey, 47,830 were EVs, as of June, according to government data. Only 25 out of 100,000 EVs catch fire, far fewer than gas-powered or hybrid vehicles, according to a recent study by AutoinsuranceEZ.
"This is an area that needs to be addressed if we're going to be promoting electric vehicles," said S3237 prime sponsor Sen. Ed Durr (R-Gloucester), according to the New Jersey Monitor. "This is a bill that's for the public good, and it shouldn't be a partisan issue."
In a news release earlier this year regarding the National Transportation Safety Board (NTSB)'s recommendation that OEMs should update their emergency response guides (ERGs) for fighting EV fires, NTSB Chair Jennifer Homendy said, "First responders deserve to have the information they need to stay safe when providing post-crash care — and that includes knowing how to suppress a high-voltage lithium-ion battery fire. Our recommendation is a simple but powerful action that can save the lives of first responders and crash victims alike. I congratulate the eight electric vehicle manufacturers that have stepped up and call on the remaining 14 companies to implement our recommendation immediately."
Two of the 22 OEMs that NTSB asked to update their ERGs to include vehicle-specific information for fighting EV high-voltage lithium-ion battery fires haven't completed any changes, according to NTSB.
The board also reviewed regulatory and industry actions related to EVs and the guidance available to emergency responders to put out EV fires. It found two primary safety issues: inadequacy of vehicle manufacturers' ERGs as well as gaps in safety standards and research related to high-voltage lithium-ion batteries involved in high-speed and high-severity crashes.
Images
Featured image credit: SpyroTheDragon/iStock
More information
DOT lab works with Hyundai to improve safety of EV batteries in high-speed crashes
Share This: