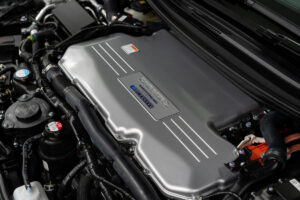 Honda announced earlier this week that it will produce an all-new hydrogen fuel cell electric vehicle (FCEV) based on the recently launched, all-new Honda CR-V starting in 2024 at its Performance Manufacturing Center (PMC) in Marysville, Ohio.
Repair operations will be similar to the OEM's FCEV that's already on the market, a Honda spokesman told Repairer Driven News.
The new zero-emissions vehicle will contribute to Honda's previously announced goal to make battery electric vehicles (BEVs) and FCEVs represent 100% of its global auto sales by 2040, according to a news release.
The new CR-V-based FCEV will also be the first North American-produced vehicle to combine a plug-in feature with FCEV technology, which Honda says will enable drivers to charge the onboard battery to deliver EV driving around town with the flexibility of fast hydrogen refueling for longer trips.
"Honda established our goal to realize carbon neutrality by 2050 and the complete electrification of our vehicle lineup by 2040 is critical to achieving it," said Gary Robinson, vice president of Auto Planning & Strategy for American Honda Motor Co., in a statement. "As we accelerate our plan to produce Honda battery EVs in the United States, we also will begin low volume production of fuel cell electric vehicles there to further explore their great potential as part of a sustainable transportation future."
The all-new 2023 CR-V sets a new benchmark with a rugged and sophisticated exterior design, sporty and modern interior, increased space, comfort, and performance, according to Honda. The sixth generation CR-V is already playing a key role in the Honda electrification strategy with CR-V hybrid-electric models positioned at the top of the lineup and expected to represent about 50% of annual CR-V sales. More details about the all-new FCEV version of the CR-V will be announced closer to its introduction in 2024.
"Honda has long believed that FCEVs powered by hydrogen created through renewable sources will be a key part of a sustainable transportation future as they release no CO2 emissions, and water and heat are the only byproducts of electricity generation in the vehicle," the news release states. "In addition, where hydrogen refueling infrastructure is available, FCEVs can refuel in minutes, providing a familiar level of travel convenience for drivers accustomed to conventional automobiles."
FCEVs carries a high-pressure hydrogen tank instead of a gasoline tank found on conventional vehicles and generates electricity inside fuel cells to drive the electric motor, moving the vehicle without releasing carbon dioxide or any other harmful emissions. RDN asked Honda if there will be differences in the new model that collision repairers should be aware of.
Automobile Public Relations spokesperson Chris Martin said that while it's too early to provide specific details about the new FCEV, repairers may find value in reviewing the OEM's service bulletin on body repairs to the Clarity Fuel Cell model. A few of its features outlined in the bulletin are Advanced Compatibility Engineering (ACE) body structure, body construction made up of 52% lightweight materials, including aluminum and ultra-high-strength steel (UHSS – 980 MPa and higher), the world's first Glass Fiber Reinforced Polymer/Plastic (GFRP) rear bumper beam, and bolt-on resin composite front bulkhead assembly.
Noted in regard to repairs, the bulletin states that steel repair and welding procedures vary depending on the tensile strength of the parts involved and a damaged bulkhead must be replaced, not repaired. Much more is covered in the 10-page document including precautions in working with hydrogen gas.
Honda has led the industry for more than two decades in the development and deployment of fuel cell technology through extensive real-world testing and customer deployments, including the first government fleet customers and first-ever retail customer leasing program, according to the news release.
In an effort to support the wider introduction of fuel-cell vehicles, Honda has invested more than $14 million in California's hydrogen refueling network and joined the public-private partnership H2USA in May 2013. H2USA brings together automakers, government agencies, hydrogen suppliers, and the hydrogen and fuel-cell industries to coordinate research and identify cost-effective solutions to deploy infrastructure that can deliver affordable, clean hydrogen fuel in the United States.
Honda is committed to addressing global environmental and energy issues by striving to reach carbon neutrality for all products and corporate activities by 2050.
Images
Featured image: Under the hood of the all-new Honda FCEV coming in 2024. (Credit: Honda)
More information
Toyota, Hyundai executives join call for California's investment in hydrogen fueling stations
Share This: