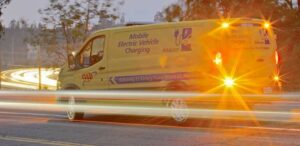 The American Automobile Association has announced a package of services for electric vehicle (EV) owners, a reflection of the technology's growing popularity.
These services include mobile EV charging in select cities, and travel planning aids that plot the location of charging stations, AAA said.
"As automakers continue to incorporate advanced styling and the latest innovative technology into electric vehicles, we are committed to learning, developing, and servicing the vehicles our members are driving," Cliff Ruud, AAA's managing director of automotive solutions, said in a statement.
He said the organization is "also committed to supporting our members through big purchase decisions – like buying an electric vehicle."
AAA said it is continuing to invest in research related to EVs to understand "consumer opinion, vehicle functionality, and other areas of interest."
"Electric vehicles are the future of transportation," said Greg Brannon, AAA's director of automotive engineering. "As the advancements of models and range continue to improve, they become an even more viable option for many people."
More than 300,000 AAA members own an electric vehicle, Brittany Moye, the organization's public relations and content manager, told Repairer Driven News.
Results of an AAA consumer survey made public in July show that one-quarter of Americans would likely buy an EV the next time they're shopping for a vehicle, with millennials leading the pack at 30%.
The new services announced by AAA address two of the survey respondents' reasons for hesitating about an EV purchase: Concern there are not enough places to charge (60%), and concern about running out of charge while driving (58%).
Mobile charging
AAA said members will have access to mobile electric charging solutions in 14 markets across the country.
"Range anxiety has been the number one barrier between consumers and wider EV adoption. AAA can help ease this anxiety with specialized trucks equipped with mobile electric vehicle chargers that provide enough range to get drivers home or to the nearest charging station," the organization said.
The service is being piloted in Orlando, Florida; Nashville, Tennessee; Charlotte, North Carolina; Denver, Colorado; Grand Rapids, Michigan; Providence, Rhode Island; Indianapolis, Indiana; San Francisco, California; Philadelphia, Pennsylvania; two Oregon cities, Bend and Portland; and three Massachusetts communities, Avon, West Springfield, and Peabody.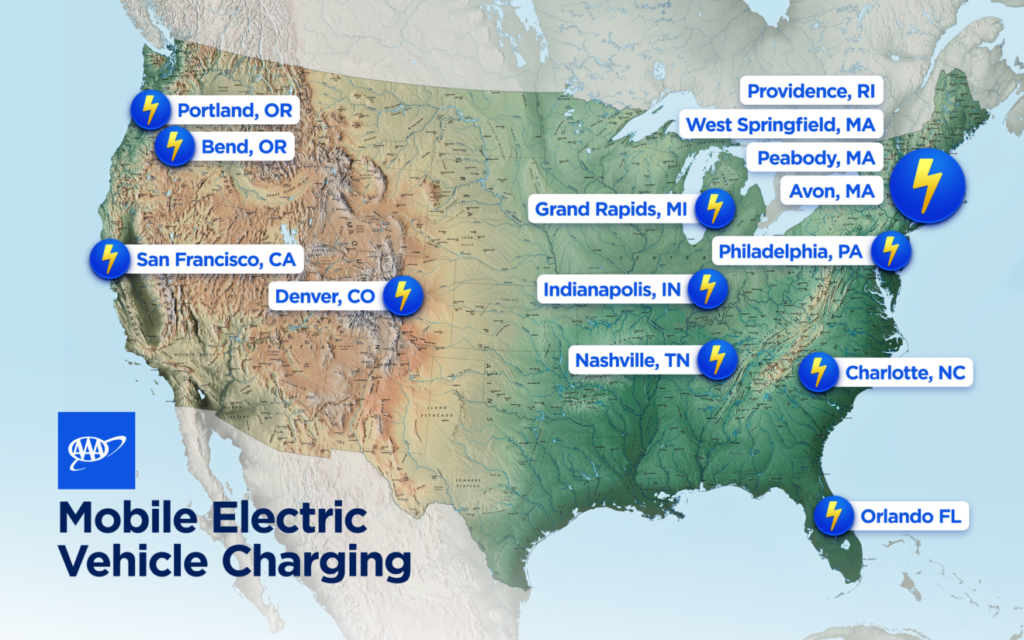 The service will be provided at no additional charge for AAA members.
"Our roadside assistance team does this service, just like they respond to our gas-powered counterparts," Moye told RDN. She said AAA's trucks are equipped with a mobile charger that provides 10 to 20 miles of range, with the average charging time around 20 to 30 minutes, depending on the type of EV being serviced and the mobile charging unit being used.
"AAA is investigating a variety of protocols and systems in order to better understand the best and quickest way to service electric vehicle requests at the roadside," Moye added.
AAA said the service builds on experience it gained during the first pilot of mobile charging, launched in 2010. "The purpose of the first pilot, launched in 2010, was to explore a few prototype technologies that could be used to charge electric vehicles at the roadside," it said. "After 10 years of service, all the original prototype vehicles (five total) were retired."
Technician training
AAA said it is continually developing resources to help keep roadside assistance teams or other industry professionals informed of the latest updates in EV technology and systems. Through its Roadside Service Information (RSI), AAA offers tutorials and videos showing techniques for providing safe roadside assistance for EVs.
The resource is offered to others in the towing industry, and other public subscribers, through RSI.aaa.biz.
Road trip planning
AAA's publicly-available digital trip planning tools can help motorists locate charging stations. These include:
The AAA TripTik Travel Planner, a free point-to-point directions tool that travelers can use to map their routes, specifically plotting the location of electric vehicle charging (or gas) stations. Travelers see the level of charging available and can zero in on station details.
Tour Book Guides, which provide travel information for vacation planning. Now in digital form, the guides allow travelers to plan stops at electric charging stations that are currently displayed in individual listings like hotels.
Trip Canvas, a new digital planning tool. Trip Canvas "allows travelers to dream, plan, and share future road trips by selecting where and when they want to go," AAA said. It said integrated features designed with EVs in mind will soon be added to the tool.
More information
EV sales continue to accelerate, but public charging stations don't keep pace, AAI finds
Images
Featured image: A AAA mobile charging van on the road. (Provided by AAA)
Share This: