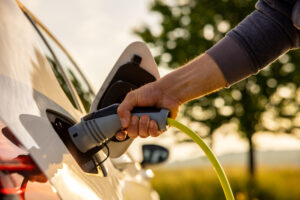 Electric vehicles (EVs) accounted for 6.6% of new light-duty vehicle sales in the second quarter of 2022, but still represent just under 1% of all registered light-duty vehicles on U.S. roads, according to the Alliance for Automotive Innovation (AAI).
AAI also sounded a note of caution in its Get Connected Electric Vehicle Quarterly Report, finding that the addition of public charging stations has not kept pace with accelerating EV adoption.
More than 224,000 EVs – including battery, plug-in hybrid, and fuel cell electric vehicles – were sold in the U.S. in the second quarter, AAI said in the report. That represents 6.6% of all light-duty vehicle sales, and an increase of 2.83 percentage points from the same quarter of 2021.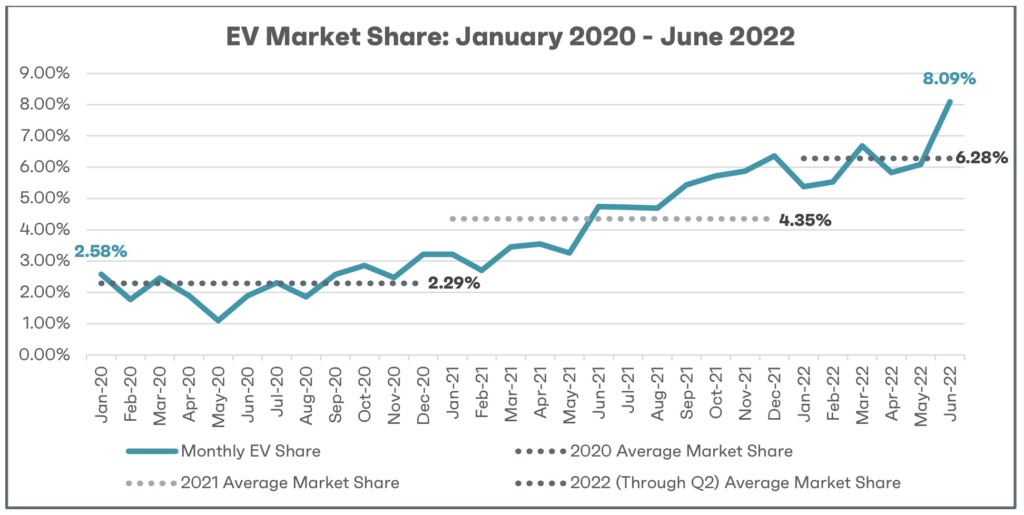 AAI said total light-duty vehicle sales for the first half of the year fell 22% from the previous year, while the volume for EVs rose 41%. Internal combustion engine (ICE) vehicle market share shrank by 4.27 percentage points year to year.
The report also found that EV prices were about 40% above average, and rose more than twice as much as prices for all vehicles in the second quarter. The average cost of an EV was about $65,600, compared with $47,000 for all new light-duty vehicles in that time period. Year-over-year, EV prices rose more than $11,600 from the second quarter of 2021, while the average cost of all new light vehicles rose just over $5,400.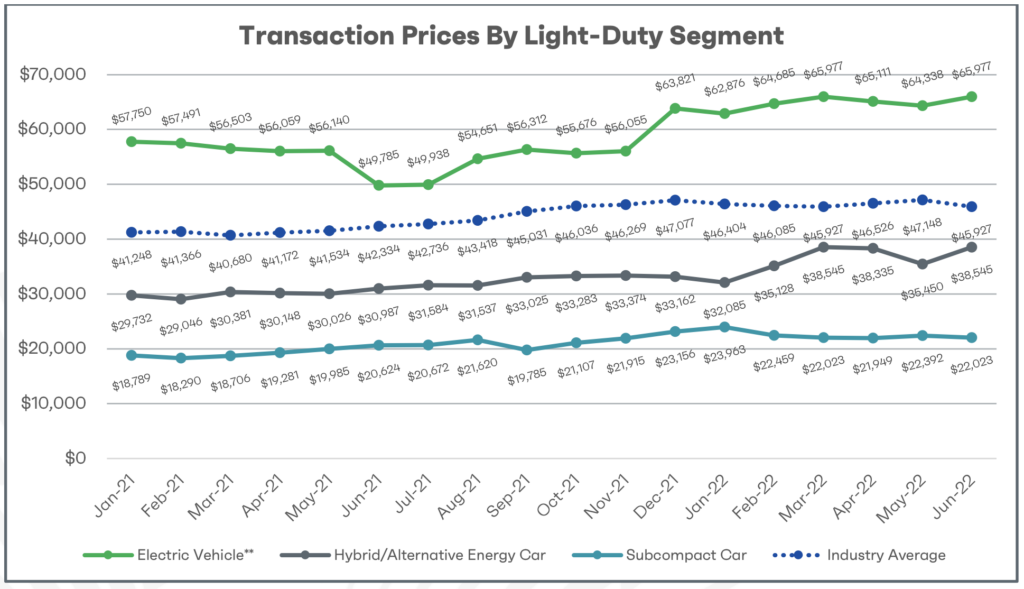 Broken down by state, California continued to lead, with EVs accounting for 18.3% of all new light-duty vehicle sales in the first two quarters. The District of Columbia was second, at 10.3%, followed by Washington (10.3%), Oregon (9.5%), and Colorado (8.9%). California also accounts for nearly a third of the nation's charging infrastructure. The numbers were not adjusted for population.
EV sales shares were lowest in West Virginia, Mississippi, and North Dakota, at 1.29%, 1.17%, and 0.92%.
AAI, which represents the great majority of North American automakers, said OEMs have committed nearly $100 billion to expand the production of EVs inside the U.S. and across North America. That number includes several recent announcements about establishing raw material and EV battery component operations across the Midwest and Southeast.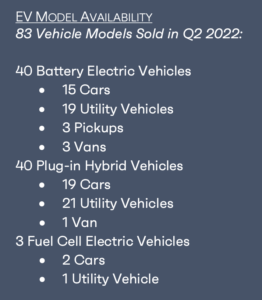 "Another quarter of EV growth in the United States indicates the demand for these transformative vehicles continues to ramp up," John Bozzella, president and CEO of AAI, said in a statement. "More than 80 EV models for sale today – across all vehicle types and manufacturers – is one additional sign that automakers are committed to electrification. That's the good news."
"The data on public charging remains an area of concern and something the White House is rightly focused on," Bozzella continued. "We're not adding public charging in this country nearly fast enough to keep up with EV sales. That's the key to overcoming range anxiety and to convincing drivers who might be on the sidelines that going electric is right for them.
"Continued attention on manufacturing incentives, mining reform and semiconductors must also stay at the top of the administration's transportation agenda. Getting the right public policies in place as quickly and smartly as possible is going to be necessary to take this market from six percent to 15, 25 and eventually 50 percent by the end of the decade," he said.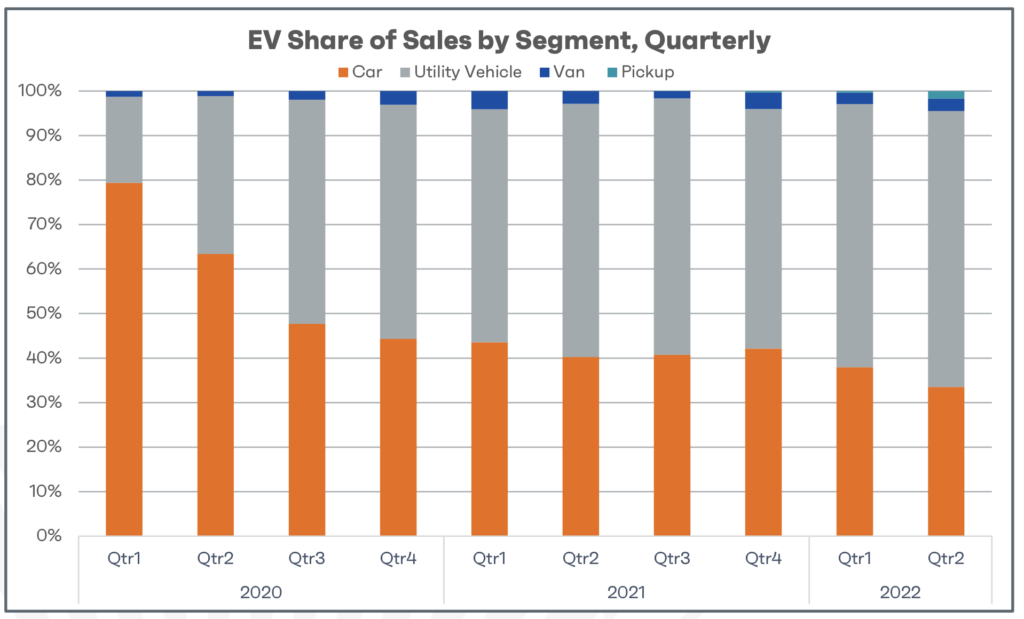 Consumer interest in EVs continues to grow, according to data recently released by digital automotive marketplace TrueCar. It found that s ince March 2022, the percentage of consumers reporting they would consider an EV as their next purchase grew from 52% to 59%. "EV Rejectors," those who say they're somewhat or extremely unlikely to consider an EV, fell from 24% to 19%.
"Key indicators across the board show consumers are becoming more comfortable with EVs as a viable option, and that while fears regarding charging costs and range anxiety still exist, they are lessening," TrueCar said.
Although gas prices have leveled off, the price at the pump continues to drive EV consideration. Thirty-one percent of respondents said they are much more likely to consider purchasing or leasing an EV due to gas prices, up from 27% in March.
As EV models proliferate, AAI reported, electric SUVs and pickup trucks continue to gain market share. In the second quarter of 2022, AAI said, light truck sales comprised more than 67% of the EV market.
"While passenger cars once dominated the EV market, manufacturers continue to introduce new models to satisfy a variety of consumer needs," AAI said. "Utility vehicle (UV) offerings continue to grow, and while electric pickup trucks are a relatively new entry to the market (making their commercial debut in September 2021), more models and deliveries are expected soon."
Since the beginning of 2022, just 12,000 new public charging stations have been installed in the U.S., while 420,000 EVs have been registered, AAI said. That's a ratio of 1 new charger for every 35 new vehicles sold. The California Electric Vehicle Charging Infrastructure Assessment projects the necessary ratio of chargers to EVs at approximately 1 to 7.
The report tallied a total of 100,111 public charging outlets in U.S. Of those, 40,959 are Level 2 locations, with 90,100 EVSE ports, while 4,770 are Level 3 (or "fast charging") locations, with 9,957 EVSE Ports. There are also 54 hydrogen refueling stations, all but one of which is located in California.
The bipartisan Infrastructure Investment and Jobs Act that was signed into law in November 2021 includes $5 billion in funding for states to establish a nationwide EV charging network and $2.5 billion in competitive grants to deploy publicly available EV charging, hydrogen fueling, propane fueling, and natural gas fueling stations through 2026. The Biden administration announced last week that it has approved 35 EV infrastructure plans across the U.S. under the National Electric Vehicle Infrastructure (NEVI) Formula Program.
"While the U.S. Department of Energy notes that roughly 80 percent of all electric vehicle charging occurs at home, reliable and convenient access to workplace and public charging and refueling stations help to support customers that purchase EVs. Workplace and public charging infrastructure not only eases perceived 'range anxiety' concerns but also increases consumer awareness of the technology," the AAI report states.
In August, J.D. Power reported that customer satisfaction with the public charging infrastructure has remained flat or fallen, as growing sales of the vehicles puts additional stress on an "already beleaguered" system.
Owners in high EV volume markets like California, Texas, and Washington, for instance, are finding the charging infrastructure inadequate and "plagued with non-functioning stations," according to the second annual J.D. Power U.S. Electric Vehicle Experience (EVX) Public Charging Study.
Even though the number of charging stations is larger than ever, customer satisfaction with public Level 2 charging declined from last year, from 643 to 633 on a 1,000-point scale. Satisfaction with the speedier direct current (DC) fast charger segment remained flat at 674.
Tesla, whose network has so far been open only to Tesla vehicle owners, scored above average in both categories, with a score of 680 for its Destination Level 2 charge point operators and 739 for its Supercharger DC fast chargers.
The Get Connected Electric Vehicle Quarterly Report for Q2 summarizes EV sales, purchasing trends and public charging infrastructure across all 50 states.
More information
Biden administration approves state EV charging plans, OEMs to make EV charging more accessible
J.D. Power: Despite growth of EV charging stations, customer satisfaction drops
Images
Since the beginning of 2022, just 12,000 new public charging stations have been installed in the U.S., while 420,000 electric vehicles have been registered, the Alliance for Automotive Innovation said. That's a ratio of 1 new charger for every 35 new vehicles sold. (Simon Skafar/iStock)
Share This: