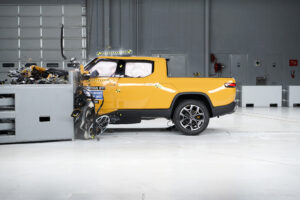 Rivian's R1T first electric pickup truck to earn highest IIHS safety award
By on
Announcements
Rivian's 2022-23 electric pickup truck, the R1T, has earned the Insurance Institute for Highway Safety's (IIHS) Top Safety Pick+ award during its first round of tests conducted by the institute.
To earn either of the institute's two awards, a vehicle must earn good ratings in six IIHS crashworthiness evaluations — the driver-side small overlap front, passenger-side small overlap front, moderate overlap front, original side, roof strength, and head restraint tests. It must also have a front crash prevention system that earns advanced or superior ratings in vehicle-to-vehicle and daytime vehicle-to-pedestrian evaluations.
For the lower-tier Top Safety Pick, at least one good or acceptable headlight system must be available. For the higher-tier award that the R1T received, good or acceptable headlights are standard across all trims.
IIHS says all of the R1T's trims come with "good-rated LED projector headlights and a standard front crash prevention system that earns superior ratings in both the vehicle-to-vehicle and daytime vehicle-to-pedestrian tests."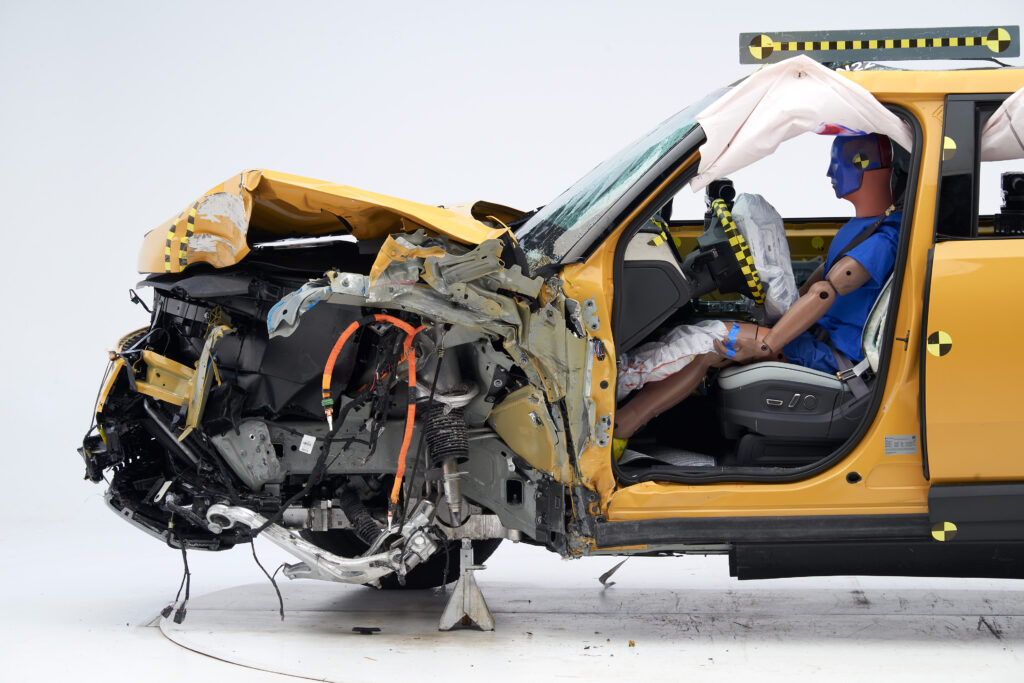 After the driver-side small overlap front test, IIHS said "the dummy's position in relation to the door frame, steering wheel, and instrument panel after the crash test indicates that the driver's survival space was maintained well" lowering the risk of leg and feet injuries earning a good rating for the test. In the same test, IIHS also said the frontal and side curtain airbags "worked well together to keep the head from coming close to any stiff structure or outside objects that could cause injury."
IIHS said the driver's survival space was also well-maintained in the original moderate overlap front test and that the dummy's head contacted the side curtain airbag during rebound.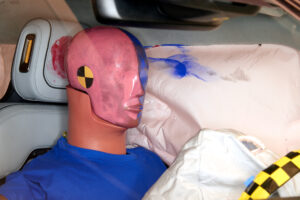 Intrusion into the driver's space was minimal, and all leg and foot injury measures were very low.
Rivian told Repairer Driven News the company is "very pleased that the 2022-2023 R1T earned IIHS's Top Safety Pick+ award" after self-nominating for the award during the first year of production.
"Rivian has always held safety as a core attribute of the brand. The R1T TSP+ rating represents the culmination of many years of work."
General Rivian servicing and repair information can be found at https://rivian.com/support/article/certified-collision-centers but repairers must be part of Rivian's certified collision network to repair its vehicles.
The National Highway Traffic Safety Administration (NHTSA) hasn't released an overall safety rating for the Rivian R1T but there are three current recalls regarding improperly calibrated front passenger air bags, improperly secured front seat belt anchors, and loose steering knuckle fasteners in nearly 12,900 R1Ts, according to NHTSA.
The Rivian R1T is one of two current pickup trucks to earn IIHS' Top Safety Pick+ award, the other being the 2022 Toyota Tundra Crew Cab, which IIHS says was redesigned for that model year.
Several electric cars and SUVs have earned the award for their 2022 and/or 2023 models, including the Kia EV6, Hyundai IONIQ 5, Tesla Model 3, Tesla Model Y, and Audi Q4 e-tron.
Images
Featured image: 2022 Rivian R1T (rating also applies to 2023 models) Action shot taken during the driver-side small overlap frontal crash test (Credit: IIHS)
A crash test dummy is shown following IIHS' driver-side small overlap front test of a 2022 Rivian R1T. (Credit: IIHS)
During IIHS' original moderate overlap front test of a 2022 Rivian R1T,  the crash test dummy's head contacted the side curtain airbag during rebound. (Credit: IIHS)
Share This: