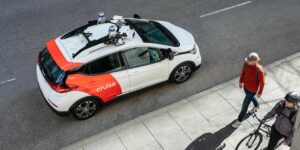 The National Highway Traffic Safety Administration (NHTSA) has opened a preliminary evaluation of the Automated Driving System (ADS) used by driverless vehicles produced by General Motors' Cruise subsidiary.
NHTSA said it decided to act after learning that the vehicles "may engage in inappropriately hard braking or become immobilized while operating in the Operational Design Domain."
"Although the two types of incidents appear to be distinct, they each result in the Cruise vehicles becoming unexpected roadway obstacles," the agency said. "This may introduce multiple potential hazards such as a collision with a Cruise vehicle, risk to a stranded passenger exiting an immobilized Cruise vehicle, or obstruction of other traffic including emergency vehicles."
The technology used by Cruise is classified by SAE as Level 4, capable of driving the vehicle without human involvement under certain conditions. It is not the same as SuperCruise, the Level 2 "hands-free" driver assistance system now offered for sale in certain GM vehicles.
In a statement issued Friday, Cruise said, "There's always a balance between healthy regulatory scrutiny and the innovation we desperately need to save lives, which is why we'll continue to fully cooperate with NHTSA or any regulator in achieving that shared goal."
It said its vehicles have "driven nearly 700,000 fully autonomous miles in an extremely complex urban environment with zero life-threatening injuries or fatalities."
NHTSA said it has received three reports of the ADS initiating a "hard braking maneuver" in response to another road user that was quickly approaching from the rear. In each case, it said, the other road user subsequently struck the rear of the Cruise. In each case, there was a human supervisor aboard the robotaxi.
The agency said it has learned about "multiple" immobilization events, although the exact number is not known. These involve vehicles with no supervisor aboard, it said.
NHTSA said these incidents posed a danger not only to the occupants, but to other motorists who might make abrupt or unsafe maneuvers to avoid colliding with the stationary Cruise vehicle, as well.
The agency said it learned about the incidents through a variety of sources, including discussions with Cruise employees, media reports, and submissions from local authorities, such as the San Francisco Municipal Transportation Agency (SFMTA) and the San Francisco County Transportation Authority (SFCTA).
The evaluation will determine the scope and severity of the potential problem, and "fully assess the potential safety-related issues posed by these two types of incidents," NHTSA said.
Cruise is offering limited service in San Francisco with a small fleet of Chevrolet Bolt EVs. Cruise on Thursday announced it had secured the first of the two California permits it needs to charge riders night and day across all of San Francisco, where it currently sells trips in a small part of the city.
This is not the first time NHTSA has looked into the safety of an autonomous or semi-autonomous driving system. In June, it revealed that it had upgraded its investigation of Tesla's Autopilot feature from a preliminary analysis to an engineering analysis.
The agency said at the time that Information obtained from Tesla and 12 other unnamed OEMs since Aug. 31 shows "a significant number of complaints and crashes involving vehicles equipped with systems designated as Level 2." Level 2 automation is defined by the Society of Automotive Engineers (SAE) as requiring constant supervision to steer, brake, or accelerate when necessary. Tesla characterizes Autopilot as being "designed to support and assist the driver in performing the driving task," NHTSA says.
More information
NHTSA upgrades Tesla Autopilot investigation, closes GM steering probe without recalls
Images
Featured image: A Cruise autonomous vehicle in operation in San Francisco. (Provided by GM)
Share This: