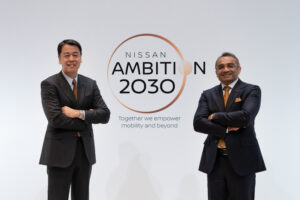 Nissan Motor Co. has unveiled "Nissan Ambition 2030" — the automaker's new long-term vision "for empowering mobility and beyond."
Over the next 10 years, Nissan plans to deliver "exciting" electrified vehicles and technological innovations while also expanding its operations globally, which supports the OEM's goal to become carbon neutral across the life cycle of its products by fiscal year 2050.
"The role of companies to address societal needs is increasingly heightened," said Nissan CEO Makoto Uchida. "With Nissan Ambition 2030, we will drive the new age of electrification, advance technologies to reduce carbon footprint, and pursue new business opportunities. We want to transform Nissan to become a sustainable company that is truly needed by customers and society."
Nissan has invested in building charging infrastructure and energy management and aims to accelerate the electrification of its vehicle lineup and rate of technology innovation with investments of 2 trillion yen (more than $15 billion) over the next five years.
Twenty-three Nissan electrified vehicles will be introduced, including 15 new electric vehicles (EVs) by fiscal year 2030. By then, the goal is for the Nissan and INFINITI vehicle mix to be more than 50% electrified globally.
The OEM's electrification sales mix across major markets by fiscal year 2026 includes:
More than 75% in Europe;
More than 55% in Japan;
More than 40% in China; and
More than 40% in the U.S.
"We are proud of our long track record of innovation, and of our role in delivering the EV revolution," said Nissan COO Ashwani Gupta. "With our new ambition, we continue to take the lead in accelerating the natural shift to EVs by creating customer pull through an attractive proposition by driving excitement, enabling adoption, and creating a cleaner world."
Nissan has also unveiled three new concept cars that "offer enhanced experiences through sophisticated technology packaging."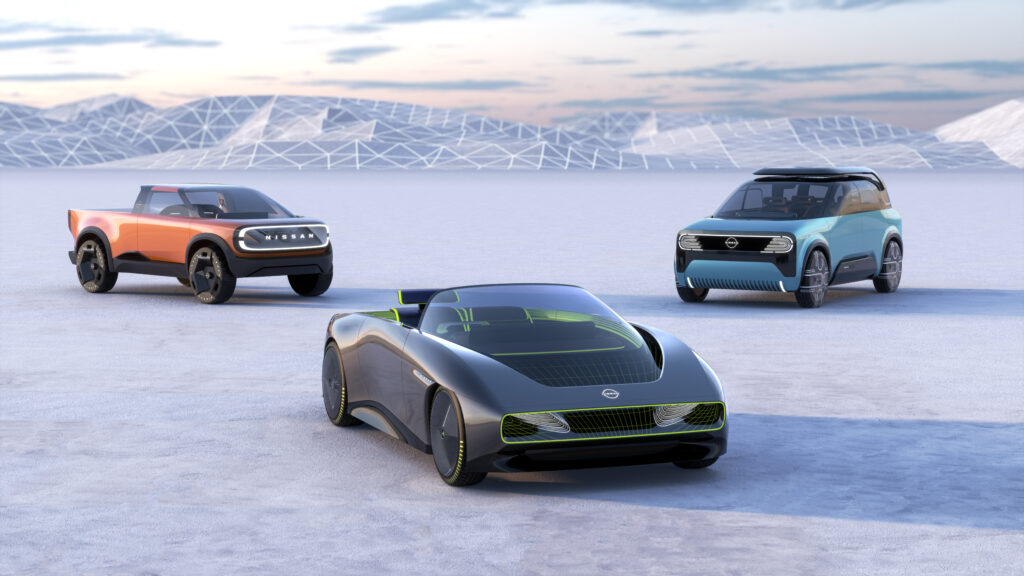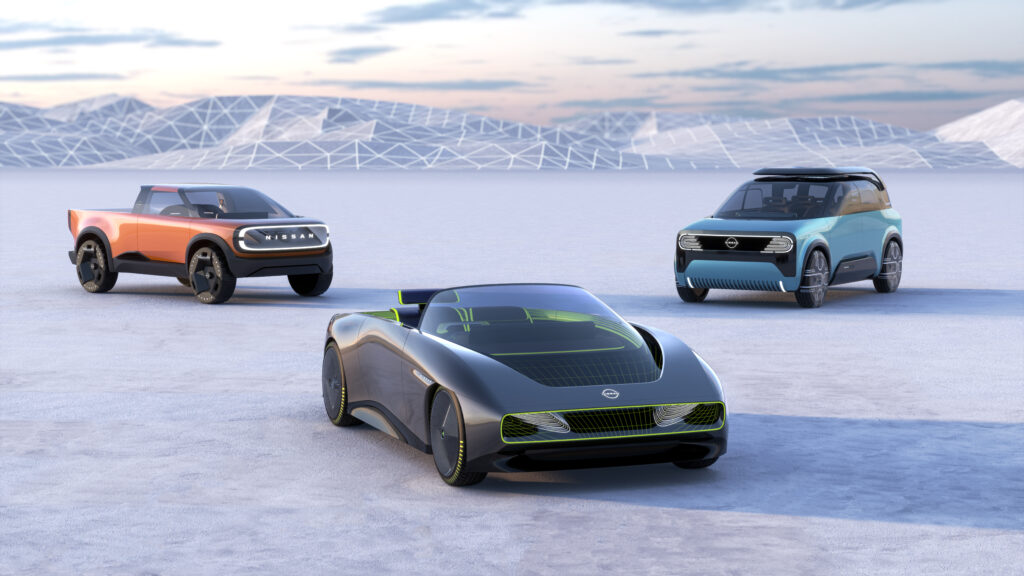 The two-seater convertible Max-Out is ultra-lightweight and has a very low center of gravity, according to Nissan. The pickup truck Surf-Out can go off-road, has the capability for electric power use from the vehicle, and extended cargo space. The Hang-Out, which looks like a small SUV, has a low and flat floor, a quiet and comfortable cabin, and advanced ProPilot. All three of the concept cars have Nissan's advanced e-4ORCE, which is a new drive system that incorporates four-wheel drive and chassis control technologies with electrification technologies.
Not as much information was provided by Nissan on a fourth concept car — the Chill-Out. The EV crossover will feature "a sleek and modern design, advanced safety technology, and a productive and comfortable interior space."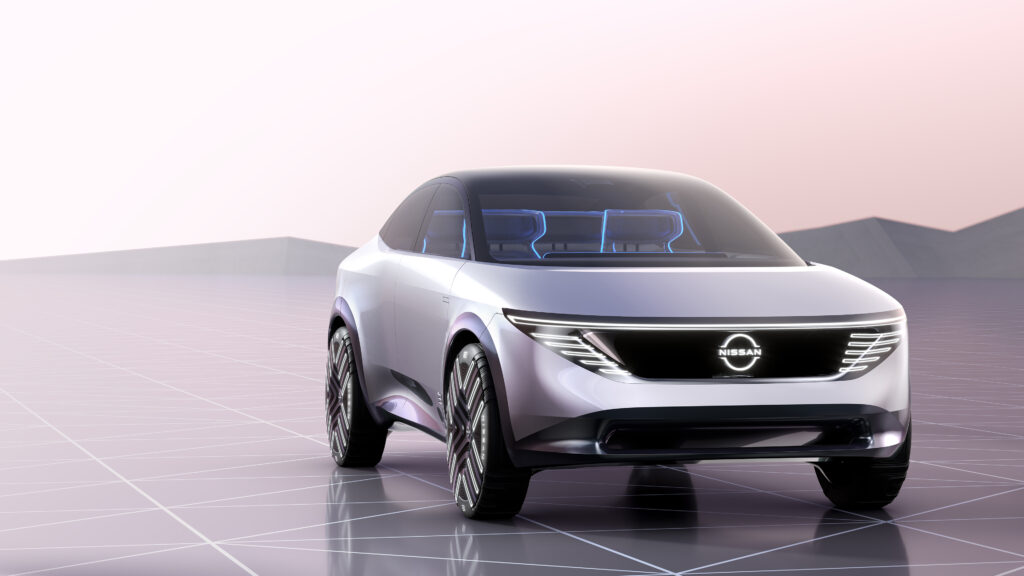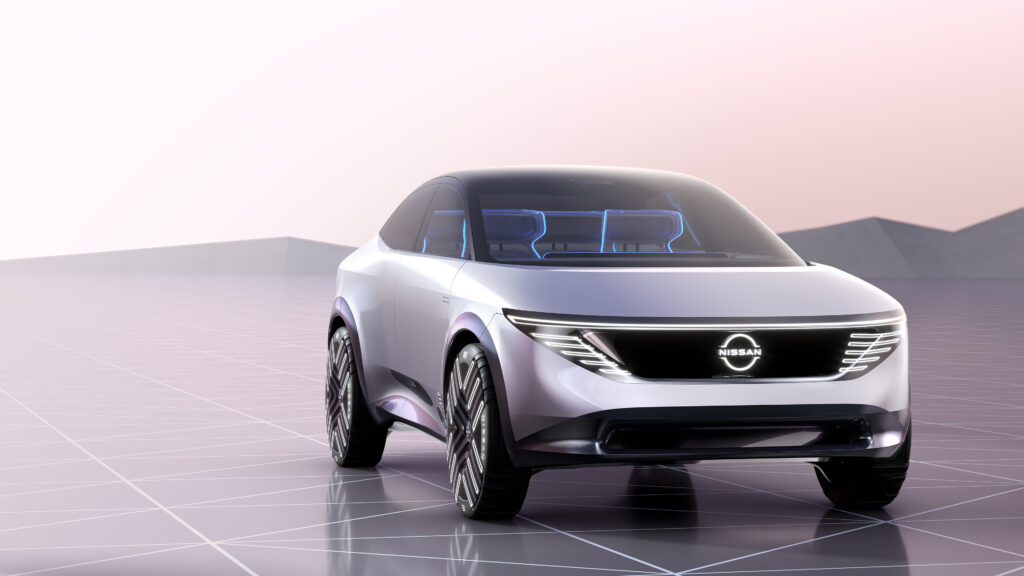 The automaker says it plans to continue to evolve its lithium-ion battery technologies and introduce cobalt-free technology to bring down costs by 65% by fiscal year 2028. By the same fiscal year, Nissan plans to launch EVs with its proprietary all-solid-state batteries (ASSB) and have a pilot plant ready in Yokohama as early as fiscal year 2024.
Nissan says AASBs will reduce charging time to one-third of what it currently takes and aims to bring the cost of battery packs down to $75 per kWh by fiscal year 2028 and eventually to $65 per kWh.
Working with its partners, Nissan intends to increase its global battery production capacity to 52 GWh by fiscal year 2026, and 130 GWh by fiscal year 2030.
Nissan aims to expand its hands-on driver assist system, ProPILOT Assist, to over 2.5 million Nissan and INFINITI vehicles by fiscal year 2026 and by fiscal year 2030, will further develop its autonomous vehicle technologies "to incorporate next-generation lidar systems on virtually every new model."
Other plans the OEM has laid out by 2030 include:
Expansion of its EV Hub concept, EV36Zero, from the UK to the U.S., Japan, and China;
Ensure vehicle batteries remain sustainable through the expansion of its battery refurbishing facilities to Europe and the U.S.;
Hire more than 3,000 employees in advanced research and development globally while continuing to upskill the current workforce; and
Sustain business for the long term with a consolidated operating profit margin above 5%.
Images
Featured image: Nissan CEO Makoto Uchida and COO Ashwani Gupta. (Credit: Nissan)
Nissan's three concept cars — the Surf-Out, Max-Out, and Hang-Out. (Credit: Nissan)
Nissan concept car, the Chill-Out. (Credit: Nissan)
Share This: