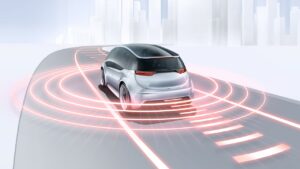 Report: Increasing need for hybrid, EV sensors to create market boom by 2030
By on
Market Trends
A recent report by Strategic Market Research shows that by 2030 the automotive sensor market will grow from its current worth of $24.3 billion to $74.4 billion due to "the increasing need for sensors in hybrids and electric vehicles, increased pressure sensor application in the automotive sector, and a considerable rise in customized automotive electronic devices."
Strategic Market Research says a rising focus on driver safety and increasing vehicle sales are fostering market expansion from automakers incorporating advanced sensors as safety units in their vehicles in answer to mitigating traffic accident fatalities to governments enforcing "tight" restrictions to guarantee auto driver safety.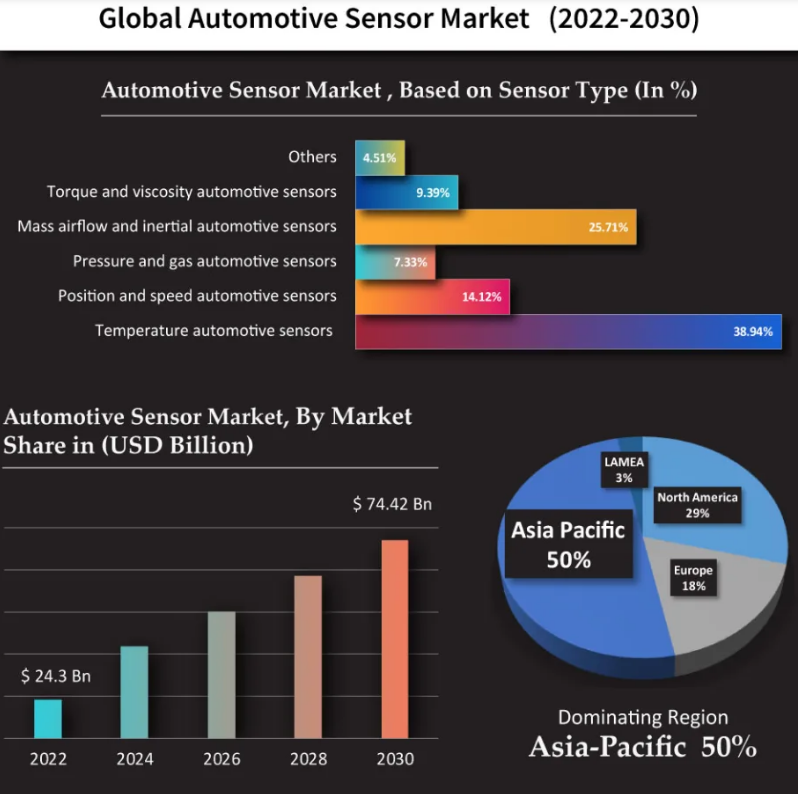 Automotive sensors are also used to increase comfort, performance, and fuel economy in addition to driver safety in luxury and high-performance cars. "A rise in living standards and an increase in the manufacture of luxury automobiles will drive sales of automotive sensors," Strategic Market Research said. "Commercial vehicles are now required to integrate safety sensors owing to government regulation, which will help the market expand. The market for automotive sensors will foster due to the rising need for adaptive cruise control systems (ACCS) in sedan cars and sports utility vehicles in American and European nations."
Strategic Market Research broke down how the market fared in the most recent year for which it has data, 2021, by sensor type, vehicle type, powertrain, and region.
The temperature automotive sensor segment topped the market in 2021 with a 38.94% revenue share and the passenger car segment was the top vehicle type holding nearly 84.44% of the market.
The powertrain system segment maintained the largest market position with 28.76% revenue share in 2021 by application. "The huge number of sensors employed in the powertrain to track speed, gas, temperature, location, and pressure for safe and effective operation is mostly to blame," Strategic Market Research said. "Furthermore, the development of automotive sensors for use in powertrains is driven by strict emission standards and fuel-efficiency guidelines established by governments of different nations."
The Asia Pacific ruled the regional market for automotive sensors with a 50.16% share due to customers' increasing levels of disposable income as well as readily available, affordable labor for installing automobile sensors.
Strategic Market Research calls the following companies "key players" in the automotive sensor market:
Robert Bosch
AUTOLIV INC
Valeo
Delphi Automotive Company
Infineon Technologies AG
Continental AG
DENSO Corporation
Sensata Technologies
STMicroelectronics N.V.
NXP Semiconductor
In fact, Bosch just announced it has begun a research project in Germany and Europe focused on figuring out how "to more closely interconnect the communication and radar systems, which currently run separately, and to integrate them into a single 6G system."
"Connected vehicles will make mobility more efficient, safer, more relaxed, and more intelligent," Bosch said in a news release about the project. "For this, the vehicles – whether on the road, in the air, or on the factory floor – will have to be able to reliably exchange data with each other and their surroundings. Various sensors, such as radars, will play a key role in this. Sensors will enable vehicles to 'see' and recognize their surroundings, helping them avoid collisions, for example. For the autonomous operation of vehicles in particular, sensors are indispensable."
The 6G-ICAS4Mobility project aims to more closely interconnect the communication and radar systems, which currently run separately, and to integrate them into a single 6G system. Over the next three years, the project will develop crucial foundations of the future 6G standard, and in this way make an important contribution to securing Germany's and Europe's technological sovereignty. The Bosch-led consortium of universities, automotive suppliers, communication and radar specialists, and drone providers has begun its research.
Repairer Driven News requested more information from Bosch, including how the research project could benefit the U.S. market but a response wasn't given by the publication deadline.
Images
Featured image credit: Bosch
Global Automotive Sensor Market 2022-2030 graphic (Provided by Strategic Market Research)
Share This: