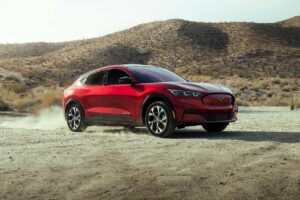 Ford Mach-E ERG good resource for repairers in handling EV repairs, latest 'OnTarget' covers glass repair & more
By on
Collision Repair
Ford has provided information for emergency workers and first responders on how to deal with Mustang Mach-Es when they're involved in collisions, but the details are important for repairers to be aware of as well.
Large, easy-to-read color-coded diagrams and photos that cover precautions, high voltage safety and depowering, proper PPE, and component locations are provided in the vehicle's Emergency Response Guide (ERG), which Ford covered during a recent episode of I-CAR's live monthly web series, "Repairers Realm" and in Ford's last 2022 edition of "OnTarget," released in December.
To access the ERG, visit Fordcrashparts.com and click on the "Electric & Hybrids" section then scroll down to "Safety Information" then Mustang Mach-E. ERGs for other Ford EVs and hybrids are also available under the "Safety Information" section.
Initially, a damaged Mach-E should be stored outside in case of battery concussions or thermal event, I-CAR ADAS and EV Instructor Joel Dufkis said. Fifty feet of open space should also be around it and it shouldn't be near any structures, vehicles, or anything flammable. The whole time the vehicle is on site, its key fob should be kept at least 16 feet away to avoid the vehicle connecting to it and energizing the high voltage system.
Jeff Poole, I-CAR manager and EV subject matter expert said repairers should always determine if EV batteries and undercarriage are damaged before bringing them inside the shop.
Gerry Bonanni, Ford Paint & Body Technology Center senior engineer, said the structure around the Mach-E's battery is similar to any other ultra-high-strength steel intensive unibody.
"When you're looking at the battery mount in its mounting areas, any other repair items that you're going to look at as far as sectioning, if there's any options for that, or full component replacement, will be dictated in the [Ford] Workshop Manual," he said.
Once the battery is out of the repairer's way, if necessary, it's the same as working on any other vehicle but the precautions in the Ford Workshop Manual should be followed if the battery is still in the vehicle, Bonanni said.
Under Section 5 of the ERG, called "Approaching a Damaged Electric Vehicle," damages to look and listen for such as gurgling or bubbling sounds and sparks, are covered as well as several warnings in handling the vehicle.
In the video, Dufkis walks repairers through the first steps of disassembling the Mach-E.
"Fixed Glass: Proper Substrate Preparation Required for Safe Repairs"
The latest issue of "OnTarget" also covers repair tips from "Section 501-11: Frames and Mechanisms, General Procedures" of the Ford Workshop Manual. The 2022 Ford Bronco is used as an example for demonstrating the tips.
Once the damaged glass is removed, repairers can choose from three repair methods — cold-knife, power tool, or piano wire.
The first method is "used to cut the urethane from the outside of a vehicle, provided the blade can reach the urethane bead" while the power tool method "uses various power tools from inside the vehicle using a cutting or paddle-type blade."
The piano wire method uses piano wire to cut the urethane from inside and outside the vehicle with the help of an assistant.
"The Workshop Manual provides a lot of important details with regard to windshield repairs and replacement," said Bonanni said in OnTarget. "Like other repair procedures, we provide options for technicians and glass installers to choose the one that best fits the current job in
front of them. In some instances, it should be noted that repair methods may be combined to achieve the best results. Another very important note for repairers is if the windshield is damaged and is equipped with a camera bracket or adhesive mouldings, the glass cannot be reused. It must be discarded. A new windshield is required in both instances."
Other tips are provided in the issue of "OnTarget," including timing, to avoid damaging the pinch weld, and other precautions to take when replacing fixed glass.
In May, Ford launched the Ford Certified Glass Network (FCGN), promising process coaching aimed at ensuring the safe and proper installation of original equipment glass on Ford and Lincoln vehicles.
The OEM has issued warnings to body shops on the proper replacement of glass in the past and said it was the first to create its own comprehensive certified glass installer network.
For more information on Ford/Carlex OEM glass, including job aids, official position statements, repair videos and more, visit FordCrashParts.com/Glass.
Images
Featured image: 2021 Mustang Mach-E (Credit: Ford)
Share This: