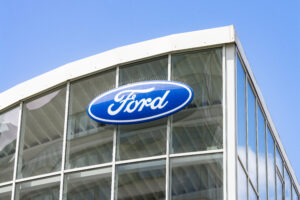 Judge rules in favor of Ford on AirPro contract, copyright, trademark violations
By on
Legal
U.S. Eastern District of Michigan Judge George Caram Steeh has ruled in favor of Ford in its lawsuit against AirPro Diagnostics regarding breach of contract, copyright infringement, trademark violations, and improperly transferring the OEM's diagnostic software.
The suit was filed Feb. 27, 2020 in which the OEM claims AirPro violated the terms of an End-User License Agreement (EULA) governing the use of Ford Diagnostic Software leading to a breach of contract and copyright infringement as well as trademark dilution "based on AirPro's misappropriation of Ford's marks to promote AirPro's goods and services," Steeh's order states.
"The accurate diagnosis of the vehicles we are working on has always been and remains our number one priority," AirPro Executive Vice President of Operations Josh McFarlin told Repairer Driven News. "It's important to note there has been no interruption in the superior service that we provide to our customers through this two-year saga. We are very diligent in complying with the complex and changing terms of End User License Agreements (EULAs) for all diagnostic software applications we work with."
During a Dec. 8 summary judgment motion hearing, Steeh asked Ford how it would show damages against AirPro because he didn't see how the OEM or its customers lost anything from an alleged contract breach, according to Law360.
Ford attorney Roger P. Meyers said damages are "clear-cut" because the breach undercuts other Ford customers who are properly following the license agreements and AirPro attorney Adam J. Brody argued that damages are an essential part of any breach of contract claim, which Ford does not deserve, Law360 reports.
Ford also accused AirPro of trademark infringement because of its alleged use of "precise replicas of Ford's trademarks to pass off aftermarket software as Ford Diagnostic Software."
AirPro asked for summary judgment in answer to all seven counts of Ford's complaint.
Steeh granted summary judgment to Ford for liability only on its breach of contract, copyright infringement, trademark dilution, and trademark infringement claims. AirPro's motion for summary judgment was denied.
"AirPro's website asserts that its products and services are a substitute for purchasing Ford's genuine software and hardware, and boasts that AirPro 'can save minimally 50% over typical dealer sublet invoice costs,'" Ford attorney Jared Cherry (Phillips Ryther & Winchester) wrote in an Aug. 15, 2019 cease and desist. "In other words, the AirPro tool and AirPro's related services are specifically intended to allow independent repair facilities to offer the same diagnostic capabilities as Ford's dealers, but without the costs associated with the legitimate acquisition of the genuine and authorized tools that enable Ford's dealers to offer these capabilities. AirPro's exploitation of Ford's intellectual property rights makes this case exceptional and subjects AirPro to enhanced damages."
McFarlin told RDN that AirPro was "quite surprised" when they received the letter and "responded immediately to explain our process and made adjustments to the process for the use of Ford software to alleviate the concerns raised in the letter."
"We at AirPro continue to believe that we were and remain in compliance as a result of the adjustments," he said.
In September 2019, AirPro informed Ford it would end its practice of transferring long-term licenses between its scan tools and would instead have its customers directly license the Ford Diagnostic Software, according to Steeh's order. "AirPro did not believe it had been in breach of the EULA, but it adopted its new practice to maintain a good relationship with Ford," Steeh wrote.
AirPro has argued that Ford authorized the transfer of long-term licenses between computers by a licensee by providing directions for doing so on its motorcraftservice.com website.
Ford alleges that AirPro differentiates its products from its competitors' products by describing them as "validated as OEM compliant."
"However, Ford contends it has never validated AirPro's product," Steeh wrote. "In response, AirPro explains that its statement refers to the hardware used in the AirPro scan tool, which meets OEM PC specification requirements and is compliant with multiple OEM diagnostic and programming applications.
"Ford alleges that AirPro's statements about using only OEM licensed software are deceptive. This is based on the fact that AirPro admits that it uses AutoEnginuity's Giotto software product to perform 96-98% of its diagnostic scans of Ford vehicles."
Steeh ruled that AirPro's business model is structured to not abide by Ford's EULA terms. "AirPro used the Ford Diagnostic Software for its customers' benefit, the software was not located on AirPro's premises and AirPro was not involved in the direct repair of vehicles. AirPro took the step of naming its customers as the licensees, but in each instance, AirPro was still the entity that installed and used the Ford Diagnostic Software," he wrote.
Therefore, Steeh found that AirPro breached § 1(a) of the EULA as alleged by Ford, which states: "YOU may install and use this Product only for Your internal use on Your premises for the direct repair of a vehicle and for no other purpose…"
AirPro also violated § 9 of the EULA by "admittedly" transferring its long-term license to different scan tools for use with different customers prior to Sept. 18, 2019, the order states.
As for siding with Ford on copyright infringement, Steeh wrote "each time AirPro installed Ford's copyrighted software, it made a new copy." meaning "every installation of the Ford Diagnostic Software contrary to the terms of the EULA is an impermissible reproduction prohibited under the Copyright Act."
"AirPro's release-and-reuse tactic is a transfer of the software that violates Ford's copyright by exceeding the scope of the EULA. 17 U.S.C. § 106(3). AirPro's actions in purchasing short-term licenses in the names of their customers, loading the software on the scan tool, using the software to perform diagnostic services, and then blocking its customers from accessing the software is also a violation of § 106(3)."
Steeh also wrote that AirPro's use of Ford's trademarked logo in the promotion of its product was "an obvious case of trademark dilution" and would likely cause consumer confusion in the marketplace so summary judgment was granted in favor of Ford on its claim of trademark infringement.
Monetary damages haven't been developed, according to Steeh's order but he stated, "the evidence shows that Ford is damaged because it loses out on licensing revenue that would otherwise be paid were it not for AirPro's practice of releasing and transferring its license. In addition, Ford is entitled to damages for each act AirPro took that violated the scope of its license. While the amount of damages has not been fully developed in the record, there is no issue of material fact that Ford was harmed by AirPro's breach of contract."
Ford's claim that AirPro violated the Michigan Uniform Trade Practices Act has been dismissed. According to the complaint, the automaker alleged that AirPro violated the act by:
"Causing a probability of confusion or misunderstanding as to the source, sponsorship, or approval of AirPro's products and services;
"Using deceptive representations in connection with AirPro's products or services;
"Representing that AirPro's products or services have sponsorship, approval, or characteristics they do not have, including Ford's
sponsorship or approval;
"Causing a probability of confusion or of misunderstanding as to the legal rights, obligations, or remedies of a party to a transaction; and
"Failing to reveal facts that are material to the transaction in light of
representations of fact made in a positive manner."
"We are pleased with the court's findings and believe they are consistent with the facts and law," Ford told RDN.
According to McFarlin, Ford's legal counsel has refused to allow a face-to-face meeting with Ford management at AirPro's request for over two years.
"It should also be noted that we have paid Ford to license their software for every use and there's been zero evidence produced by Ford to support any claims and/or damages," he said. "This point was noted by the judge in the courtroom and reported in the December 8th article by Danielle Ferguson in Law 360 immediately following the hearing.
"In reading the court's ruling we noted a number of material facts that are wholly inaccurate and are evaluating our next steps with our legal counsel. Meanwhile, we continue to pursue an alternate license agreement with Ford. Most importantly, as already indicated, none of this has had any impact on our ability to deliver the expert diagnostics and calibrations that our customers count on from us and we will continue to provide the highest levels of services available in remote diagnostics."
Images
Featured image credit: gopixa/iStock
More information
AirPro sues Drew, Opus, claiming unfair competition, breach of contract
Share This: