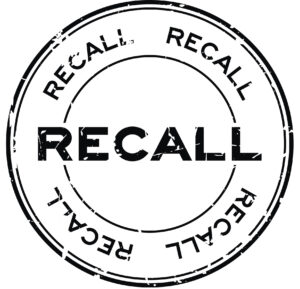 The National Highway Traffic Safety Administration (NHTSA) has released a new tool that collision repairers may find beneficial in communicating open recalls to their collision repair customers.
The tool, found on NHTSA's website, breaks down all recalls by manufacturer and provides links to the recalls so repairers would be able to check for customers to see if there are any current recalls that need to be taken care of. NHTSA still provides its VIN and vehicle recall lookup tool as well to look up a specific vehicle.
In 2022, Ford had the highest number of recalls at 67, followed by Volkswagen with 46, and Daimler Trucks with 42. Fiat Chrysler Automobiles (FCA) was close behind with 38 as was Forest River — an RV, boat, trailer, shuttle bus, and commercial truck OEM — with 35 recalls.
Most of Ford's recalls have to do with fuel systems, power trains, brakes, and hydraulics. Volkswagen's mostly have to do with fuel systems, air bags, brakes, hydraulics, and electrical systems. Daimler's top four recalls are for electrical systems, engine and engine cooling, steering, and brakes. Forest River's are, by a great margin, equipment-related.
Ford's most recent recalls, both issued in December, cover 2022-2023 E-350, E-450, and 2021-2022 F-59 vehicles for leaking fuel tanks due to peeling paint and improperly secured side impact sensors on 2021-2022 Broncos that could cause the air bags to unintentionally deploy or not deploy when they're supposed to.
Volkswagen most recent recalls were also issued in December. One covers 2015-2016 Beetle and Beetle Convertibles in which side air bag inflators may explode. The second involves a small group of 2022 Audi E-Tron GTs, which may have air suspension strut failure. The third involves 2023 Audi S3, RS3, and A3 vehicles that may not have a weight capacity warning and lead to overloading and crashes.
Perhaps using either of NHTSA's tools would help collision repairers avoid liability for failure to address an open recall, such as is alleged in a lawsuit against Volvo and a dealership. Plaintiff Ramona Randall contends that she was told twice by the dealership service department that her vehicle was safe to drive when she took it in to have it looked at because it would violently jerk. She was later involved in an accident in the car during which the safety belt "failed to perform" because it had not latched properly, the suit claims. Randall said she didn't know the belt was subject to a recall for the same problem.
Images
Featured image credit: bankrx/iStock
Share This: