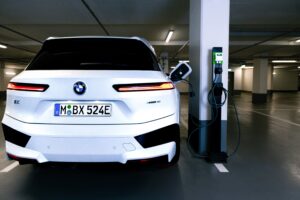 BMW takes next steps in all-solid-state battery development
By on
Technology
BMW has plans to further research the design and development of all-solid-state batteries (ASSBs) for its electric vehicles (EVs).
The research will be conducted in Munich under an expanded joint development agreement with Solid Power, a next-gen battery technology developer.
The broadened relationship will include conducting complementary cell development and manufacturing activities at both Solid Power and the BMW Group to further advance all-solid-state cell design and manufacturing know-how, BMW said in a news release.
"BMW remains committed to the pursuit of all-solid-state batteries, a technology which we believe has significant potential for the future," said Frank Weber, development member of the Board of Management BMW AG. "We look forward to working even more closely with Solid Power and adding the capability to produce solid-state cells based on Solid Power's designs at our own pilot facility. We expect this agreement to accelerate the installation of our solid-state prototype line and our companies' mutual goal of commercializing this promising cell technology."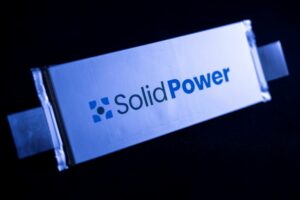 BMW Group's personnel will work hand-in-hand with Solid Power to "optimize" cell manufacturing processes and eventually an ASSB prototype line will be established in BMW's Cell Manufacturing Competence Center.
"Expanding our relationship with BMW is further evidence that both companies believe in Solid Power's technology development and the value of solid-state batteries," said David Jansen, Solid Power interim CEO, president and chair. "We look forward to working side-by-side with BMW's world-class battery team."
Solid Power plans to deliver full-scale automotive cells to BMW Group for testing later this year and a BMW demonstrator vehicle with an ASSB is planned to be ready before 2025.
In September 2022, BMW Group announced its Gen6 Li-Ion cell for the sixth generation of BMW eDrive technology used in the NEUE KLASSE, which included fundamental cell format and chemistry changes. The round cell is designed for EV architecture and BMW says could increase range by up to 30%.
BMW aims to have more than 2 million fully-electric vehicles on the roads by the end of 2025. Its MINI brand will have an exclusively all-electric product range by the early 2030s and Rolls-Royce will also be an all-electric brand by 2030, BMW said.
Last week, BMW's BMW i Ventures announced its investment in AMPECO, an EV charging management platform that "enables large-scale public, business, fleet, and residential providers to manage EV chargers at scale," a BMW news release states.
i Ventures is BMW's venture capital firm, which invests money and resources in transportation, manufacturing, supply chain, and sustainability startups. The AMPECO funding will be used to further expand into North America and Europe, while also growing AMPECO's engineering and product innovation teams.
AMPECO's customized charging systems give charging network operators full ownership over all aspects of their business, enabling them to select their preferred hardware partners, and manage branding, customer relations, partnerships, and payment flows, according to the release. AMPECO's solution can also be integrated with smart meters, building management systems, and renewable energy sources.
"As EV sales are proliferating, access to EV charging infrastructure becomes more critical than ever," said Baris Guzel, BMW i Ventures partner. "AMPECO's hardware-agnostic and comprehensive software solution enables clients to launch and grow their own EV charging networks quickly. We are convinced that the AMPECO team has the potential to truly lead the space, and we could not be more excited to join their journey. We have no doubt they could unlock the true potential of EV charging globally as more providers deploy their proven solution."
Over the past four years, AMPECO has established a global presence of 62,000 charging points in more than 45 markets with a focus on Europe and North America.
"There is an incredible opportunity for EV charging providers to build and scale a profitable business using innovative technologies," said Orlin Radev, AMPECO CEO. "This is exactly what AMPECO offers. We give them the flexibility to use our software platform by integrating it closely with their existing systems and providing them with complete control of their business, from customer relationships to payment flows.
"We are thrilled to have BMW i Ventures on board in this round to now expand our reach even further. This investment will help make AMPECO the backbone of charging network operators. Enabling them to monetize their networks will, in turn, help them move faster to deploy their infrastructure, ultimately making EV viable for more drivers everywhere."
Images
Featured image: A BMW EV charges at a charging port located in an apartment complex. (Credit: BMW)
Solid Power plans to deliver full-scale automotive cells to BMW Group for testing in 2023. (Credit: BMW and Solid Power)
Share This: